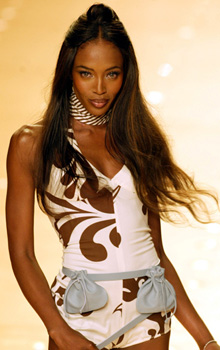 UK supermodel Naomi Campbell
The police usually look anxious when they are escorting someone to court who is accused of assault. Reporters tend to hang back. The public keep a distance. On this occasion the cops were smiling, journalists were climbing over each other to get as close as possible, and passers-by found the anticipation contagious. "Over the shoulder, please. Over the shoulder," shouted one snapper when the south London supermodel was about to disappear from view. "She's stunning," said another, starring at her waist-long straightened hair. For a while, he clearly thought he was covering glamour not news. And it is a tribute to the 35-year-old cover girl in shades and a simple black outfit that she transformed the path to the courthouse into a makeshift catwalk.
'Peace and love'
Naomi Campbell was a school girl when a talent spotter approached her in Covent Garden and suggested modelling. She has since been the face and body of Ralph Lauren, Versace, Jazz, Francois Nars, Dolce & Gabbana and Dsquared. Her album, Baby Woman, sold more than a million copies, and she co-authored a best-selling novel called Swan. Her online diary does not mention any court appearance, but provides a fascinating context for her brief appearance in court. There are photo shoots for Louis Vuitton in Paris, Mont Blanc's 100th anniversary party in Geneva, a ball in Vienna last month and lunch with Quincy Jones and Nelson Mandela - described as her "very special grandfather." She sign's off with "peace and love."
Fresh accusations
So one wonders what went on in her Park Avenue pad in March which led her to these unlikely surroundings. The charge is second degree assault - a serious offence which could land her in prison. It followed a complaint from a former employee. Ana Scolavino has accused Miss Campbell of attacking her with a mobile phone. Her lawyers deny that. But Naomi Campbell did admit to a similar attack on a former assistant in Canada six years ago. It did not land her in jail but she did apparently attend an anger management course afterwards. On the eve of this appearance, another woman who used to be on her payroll filled a civil lawsuit accusing her of battery, assault and causing personal injury. Her lawyer has denied those fresh allegations. Miss Campbell herself says absolutely nothing. Even when surrounded by the cameras, when her driver had not turned up, she smiled in silence. Inside - when I approach her quietly - her current assistant tells me she is not talking as she tilts here head away from me. I cannot help wondering whether they will end up quarrelling one day, or will this sobering experience make her as restrained and controlled in her personal life - as she is on the catwalk.
The above article is from BBC.
Who Is Naomi Campbell?
Birth Name: Nickname: Black Panther
Occupation: Supermodels, Actress
Date of Birth: 22 May 1970
Place of Birth: Streatham, London, England, UK
Sign: Gemini
Education: London Academy For Performing Arts
Relationship: Robert De Niro (actor; born on August 17, 1943)
Nationality: British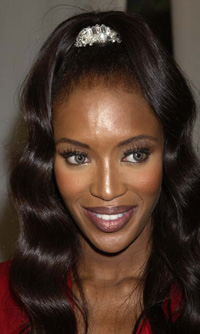 UK supermodel Naomi Campbell
Naomi Campbell, who was born on May 22, 1970, is a name synonymous with the supermodel phenomenon of the late '80s and 1990s. At the tender age of 15, Campbell was officially signed with a modeling agency, and would soon gain fame as the first black woman to appear on the covers of French and British Vogue, as well as Time magazines.She was blessed with the exotic visage of Jamaican-Chinese heritage. Her startlingly intense eyes and perfect model features earned her much success on the runway and in print, and she would go on to explore numerous realms of the entertainment world including film, television, and pop music throughout her career.Campbell was born May 22, 1970, in Stratham, London, England. As a child, she gained a taste of acting, appearing in a film called Quest for Fire. Along with her early start in the modeling profession, she honed her limelight skills by attending the London Academy for Performing Arts. Her enduring career as a model and background in performance would lead her to the Hollywood scene, where she gained credits alongside numerous big names in film. Her film debut came in 1991, when she appeared as a singer in Cool As Ice. In 1995, Campbell played Kaia in Miami Rhapsody starring Antonio Banderas and Sarah Jessica Parker, and a year later appeared in Spike Lee's Girl 6. She also made several cameos as herself throughout the 1990s, both in films and on television. Making a case for herself as a performer in various television genres, she guest starred on numerous prime-time programs including The Fresh Prince of Bel Air, New York Undercover, and The Cosby Show.Campbell would branch out into the music business with the release of her album Babywoman in 1995, and gained much attention in Japan over her hit single on the album. In 1996, she was featured in Tony Hickox's Invasion of Privacy, and in 1997, An Alan Smithee Film: Burn Hollywood Burn, starring Sylvester Stallone, Whoopi Goldberg, and Jackie Chan. In addition, her media credits were rounded off by two books: the best-seller -Swan, co-written by Campbell, and -Naomi, a collection of photographs spanning the length of the model's career. Sarah Sloboda, All Movie Guide