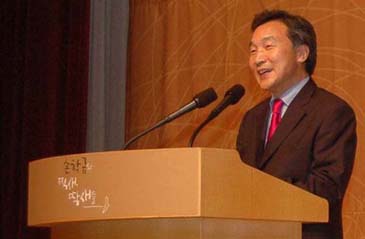 Gyeonggi Gov. Sohn Hak-Kyu at his book publication ceremony
Dr. Sohn Hak-Kyu, governor of Gyeonggi Province, celebrated the publishing of his autobiography "Sohn Hak-Kyu & His Fellow Workers: 손학규와 찍새, 딱새들" at the 63 Building in Yoido, Seoul on June 26, 2006. The title of the book in Korean is "Sohn Hak-Kyu and Zzicksae, Ddacksae-dul" .The gathering held at the International Conference Hall of Seoul's landmark building was filled with some 3,000 guests including top politicians and high-profile friends.In the book title Zzicksae means the public employees, who with Gov. Sohn, induced foreign investment in the province. Ddacksae means those who helped Zzicksae in efforts for the successful foreign investment inducement, according to Gov. Sohn.The 303-page book illustrates how hard Gov. Sohn and his fellow public employees worked in inducing foreign investment into his Gyeonggi Province for the last four years.In his book Gov. Sohn says that he made 21 overseas trips in search of foreign investment. For the last four years Gov. Sohn successfully drew an estimated 14.1 billion US dollars of foreign investment. A total of 114 foreign companies are now operating in Gyeonggi Province surrounding Seoul City, thanks to the governor.
Ex-President Kim Young-Sam (3rd from right) with other VIPs
One of the Gov. Sohn's major achievements includes creating some 80,000 jobs for his constituents within the province.In his welcoming speech at the ceremony Gov. Sohn declared his official candidacy for the presidential election. Gov. Sohn is widely received as one of the most likely presidential candidates within the mighty opposition Grand National Party (GNP), which swept to a landslide victory in the May-31 regional election."I fought against dictatorship when democracy was needed," said Gov. Sohn . "I fought for the creation of jobs as a governor." He said that he would plunge into the sea of the people and shed sweat as a leader for the entire nation."No more confrontation should be allowed," he emphasized."We should march toward grand compromise away from ideological confrontation and insular regionalism."The high-profile guests invited were from literally all sectors of South Korean society, political, business, social, and cultural areas. Scores of political big shots included Chairman Kim Geun-Tae of the ruling Uri Party, former President Kim Young-Sam, GNP leader Kim Young-Sun, and former Prime Minister Lee Soo-Sung. Governor-Elect of Gyeonggi Province Kim Moon-Soo was also present.From the business circle came Sohn Kyung-Shik, chairman of the Korea Chamber of Commerce & Industry, and Kang Shin-Ho, chairman of The Federation of Korean Industries. Such religious leaders as Kim Sung-Soo, former arch bishop of the Anglican Church of Korea, Pastor Park Hyung-Kyu, and Ven. Myung-Jin. Other educational and cultural figures were also present.Gov. Sohn will embark on a 100-day campaign as soon as he retires from the governorship on June 30, 2006.