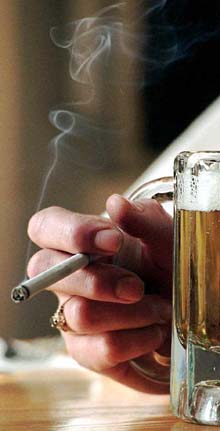 Passive smoking: why is it dangerous?

Surgeon General Richard Carmona's report on secondhand smoke and its dangers has brought back the focus on what is a very huge problem in the society. The report has called for a complete ban on smoking in public places as there is "massive, incontrovertible evidence that secondhand smoke causes lung cancer, heart disease and other illnesses in adults.""The science is clear. Secondhand smoke is not a mere annoyance but a serious health hazard," Surgeon General Richard Carmona said. "The debate is over." So what exactly is this furor all about? The following questions and answers attempt to present a picture on the inherent dangers of passive or secondhand smoking.
What is secondhand smoking?
Inhaling the smoke of other people is called passive, involuntary or secondhand smoking. Most smokers are aware that the smoke they exhale at home, work or even in their car is inhaled by people around them. The non-smoker breathes the so-called "sidestream" smoke after the main one from burning tobacco has been inhaled by the smoker.
What are the contents of the exhaled smoke?
Tobacco smoke is made up of around 4000 chemicals in particulate or gaseous form. It is estimated that almost 85 percent of the smoke in a closed room is "sidestream smoke" or the one that has been exhaled by smokers. The particles contained in smoke are tar, nicotine, benzene and benzopyrene, while the gases include carbon monoxide, ammonia, dimethylnitrosamine, formaldehyde, hydrogen cyanide and acrolein. Around 60 chemicals present in smoke are known carcinogens or cancer-causing agents. The Environmental Protection Agency (EPA) has classed environmental tobacco smoke as a class A (known human) carcinogen.
Why is secondhand smoking considered lethal?
The report says that passive smoking accounts for nearly 50,000 American deaths each year. According to the American Cancer Society, more than 400,000 smokers die from tobacco- related diseases each year. This does not bode well for the people who spend a lot of time in close proximity to smokers.
What are the health risks for a passive smoker?
Some of the common immediate effects of passive smoking include eye irritation, headache, cough, sore throat, dizziness and nausea. Asthma sufferers can expect a decline in their lung function, exacerbating their problem. Even internally, secondhand smoke causes blood cells called as platelets to become stickier. Platelets are the cells that top bleeding by helping blood to clot. When these cells become sticky, the coronary blood flow becomes sluggish and the risk of heart attacks and strokes increases. Non-smokers exposed to second-hand smoke have a 30 percent increased risk of heart disease and a 20 percent to 30 percent increased risk for lung cancer.
What is the effect of passive smoking on the heart?
As mentioned, passive smoking increases the risk of heart attacks. The mechanism behind this is attributed to a chemical called cotinine, which is a biomarker of secondhand smoke exposure. A study published in the June 2004 issue of the British Medical Journal found that the heart risks of passive smoking might be underestimated. This was because blood cotinine levels among non-smokers were associated with a 50-60 percent increased risk of heart disease.
What are the risks of workplace secondhand smoking?
Waiters and waitresses in bars and restaurants that permit smoking are at high risk for developing smoke-related illnesses. The most recent example is of Heather Crowe, a Canadian woman who died of lung cancer last month. Ms Crowe was a non-smoker and working in restaurants had exposed her to secondhand smoke and thus she developed lung cancer.
s secondhand smoke dangerous to children as well?
Children ate at an even greater risk for developing smoke-related illnesses. In fact most cases of childhood asthma are associated with exposure to secondhand smoke. Children exposed to secondhand smoke can develop sudden infant death syndrome (SIDS), acute respiratory infections, ear problems, and more severe asthma. Parental smoking also slows lung development and growth in children. About 22 million children are exposed to secondhand smoke. Infants of parents who smoke are more likely to be admitted to hospital for bronchitis and pneumonia in the first year of life.
What are the risks of passive smoking for pregnant women?
Exposure to passive smoking during pregnancy is directly related to low birth weight. A study published in the journal Thorax in 2000 found that babies exposed to their mother뭩 tobacco smoke before they are born grow up with reduced lung function.Babies whose mothers smoke while pregnant and babies who are exposed to secondhand smoke after birth are more likely to die from sudden infant death syndrome (SIDS) than babies who are not exposed to cigarette smoke.
What can be done to prevent this health hazard?
The Surgeon General's report said that there is no risk-free level of secondhand smoke and calls for a complete ban on smoking in public places. Banning smoking in all U.S. workplaces would prevent 1,500 heart attacks and 360 strokes, and it would save $49 million. in direct medical costs. Since 1994, 14 states have banned smoking in workplaces, restaurants or bars, and more than 2,000 local governments now restrict the habit.
What has been the reaction to the Surgeon General's report?
The reaction to the report is not surprising. Paul G. Billings, the American Lung Association's vice president of national policy and advocacy said that secondhand smoke was dangerous and needed to be eliminated. "Those are very powerful conclusions, because those are some of the arguments the foes of eliminating secondhand smoke try to use," he added. "I think this report will rebut those kinds of claims once and for all."
How can I protect myself and my family?
* Make your home and car smoke-free.
* Ask people not to smoke around you or your children.
* Make sure that your children's day-care center or school is smoke-free.
* Patronize restaurants and other businesses that are smoke-free.
* Teach children to stay away from secondhand smoke.
* Avoid secondhand smoke exposure especially if you or your children have respiratory conditions, if you have heart disease, or if you are pregnant.
The above article is from Food Consumer.