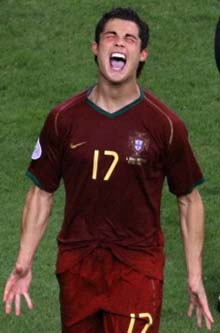 Cristiano Ronaldo (POR) Photo courtesy of AFP
Portugal defeated 10-man England 3-1 in a nail-biting penalty shootout to move into the semifinals of the World Cup after a goalless 120 minutes on July 1,2006.England had striker Wayne Rooney sent off midway through the second half of normal time but they battled through extra time only to suffer another quarterfinal defeat at the hands of Portugal, who also knocked them out of the Euro 2004 on penalties.Simao Sabrosa and Helder Postiga both scored from the spot and Manchester United star Cristiano Ronaldo converted the clincher in Gelsenkirchen after Jamie Carragher's twice taken kick was saved by Ricardo.Ricardo also saved penalties from Frank Lampard and Steven Gerrard and the Portuguese will now meet either Brazil or France in the semifinals in Munich on Wednesday.
Portugal coach Luiz Felipe Scolari has now knocked England out of their last three major tournaments. '"Big Phil" was coach of Brazil when they beat England at the same stage of the World Cup in Japan and South Korea four years ago.
Scolari said, '"Congratulations to England, with 10 players they were incredible, it was an electrifying match."'
'"We didn't take advantage because we shot too much from outside the penalty area. England closed the way to goal very well and it was like playing 11 against 11.'"
England had underperformed in their previous four matches but Sven-Goran Eriksson's men made a bright start when Rooney tested Ricardo after nine minutes.
Cristiano Ronaldo looked dangerous, though, and the Portuguese twice went close early on with Paul Robinson reacting quickly in a goalmouth scramble to collect as Tiago got ready to pounce in the 13th minute.The pace slowed as the first half progressed but Lampard threatened to put England ahead just before the interval when he forced Ricardo into action with a powerful drive.England had strong claims for a penalty waved away when Nuno Valente had clearly handled in the penalty area and moments later Eriksson substituted injured captain David Beckham for the pacy Aaron Lennon.Beckham, who had taken a clattering from Nuno Valente, was in tears in the dugout but Eriksson's move almost paid immediate dividends as the Tottenham youngster burst into the area only for Joe Cole to blast his pass over the bar.But England suffered a major blow when Rooney was shown a straight red card by Argentine referee Horacio Elizondo in the 62nd minute following a foul on Ricardo Carvalho and a confrontation with Ronaldo.Luis Figo's curling shot was brilliantly palmed away by Robinson but England did not look like they were playing with a man down and John Terry nearly snatched victory in the dying seconds of normal time after Owen Hargreaves had cause panic in the Portuguese box."'They fought enormously when they were 10 against 11 but anyhow we lost the game and we are out of the tournament. It's incredible,'" said Eriksson after his final game in charge.
"We got a performance but we are out of the tournament and it is very painful. I'm really sorry we couldn't give the fans a final." (Kyodo News)
ENGLAND-PORTUGAL: Coaches' QuotesSven-Goran ERIKSSON (ENG)
I thought we played very well, we played good football and were in control of the game at the start of the second half. Even after the red card we still played well and created good chances. But losing on penalties is not good enough. We should still be in the tournament but we are not. I thought the players showed a lot of character, it remained an equal game even at 10 against 11, they did everything they could. It will take me a long time to get over this. I was convinced we would get to the final, with a squad of this quality we should have got to at least the semi-finals if not further. I can't complain about the red card, I've only seen it on a very small screen. It was maybe a free-kick just before but the referee was right on the spot. We have practised penalties so much, I don't think we could have done any more. We missed three out of four which is not good enough. I feel sorry for the team, for the squad and for the fans because the fans deserve a team in the semi-finals. It was ok reaching the quarter-final four years ago and two years ago, but it's not good enough now. I feel sad, a bit angry because we should still be in the tournament. But we're not and we can't blame the referee. We're out because we failed.
Luis Felipe SCOLARI (POR)
It was a wonderful match, with everything a World Cup match could want – chances, passion, drama - it was electrifying. Only penalties could separate the teams. I want to congratulate England, they played an incredible match with only ten players. We couldn't take advantage because we were forced into trying too many long shots and that's just not a strong point for Portuguese players. We tried to play down the sides but they defended well – it seemed like we were playing 11 against 11. But it proved once again that the players as a group want to fight for each other. We are progressing because the players have added a new warrior spirit to what they already had which was quality. It was important to reach the final in 2004 and now the semi-final but we aspire to go even higher. We will prepare well in the next four days for our next opponent, I don't care who that will be – I will welcome either France or Brazil. The four days give us a chance for our injured players Figo and Ronaldo to recover. It's been more difficult to reach a semi-final with Portugal than the final with Brazil because there are only 10m inhabitants in Portugal compared to 180m in Brazil. Also 50 percent of the players in Portugal are foreigners. Brazil's traditions make certain games easier to win too. But now we have a chance to create history for Portugal. I have no opinion about the red card. If the referee thought it was a red card, then that's his opinion. As for the penalties, I didn't know whether we would win or not. But Ricardo has worked hard over the past years to improve on this area and although the English penalties weren't bad ones, he was in the right place.(Courtesy fifa.com)