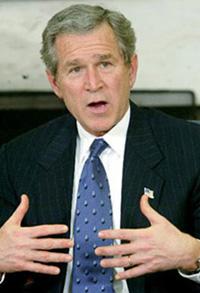 US President George W. Bush
Late US President Theodore Roosevelt coined the phrase, "Speak softly and carry a big stick." Many successful diplomats and world leaders follow this adage. The book 'How to Win Friends and Influence People by Dale Carnegie explained how a confrontational attitude sometimes causes greater difficulties to resolve a dispute. Nevertheless, US President George W. Bush fails to pursue these principles. Instead his administration follows contradictory policies. Harsh words and threats marked his diplomacy and nowhere this is more evident than with North Korea. President George W. Bush's State of the Union address on Jan. 2002 described the North Korean regime as the axis of evil. Certainly, most would agree but it ignited a firestorm in diplomatic circles. He antagonized North Korea but President Bush made no plans for war.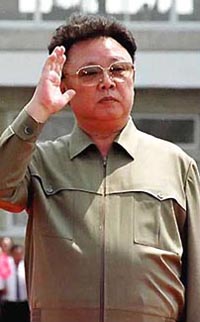 Leader of North Korea Kim Jong Il
Accordingly, Kim Jong-il, leader of North Korea, re-launched a nuclear weapons program that was halted after a self-imposed moratorium on missile development and testing in 1999. The North Korean regime admitted to building nuclear bombs when the US State Department confronted them with evidence. This revelation surprised the Bush administration because they assumed North Korea would deny all accusations. North Korea's response might have been an act of disrespect revealing that they didn't fear President Bush. Now, North Korea has test-fired a long-range Taepodong-2 missile. Taepodong-2 has the capability of striking Alaska. They previously conducted a missile test in 1998 when it flew over Japan. US spy planes have shown pictures of North Korea fueling their missile. When the testing occured the ramifications have led to a dangerous scenario. But the US doesn't deserve all the blame for North Korea's hostile acts. While America used hard-nosed tactics to contend with North Korea, the South Korean government engaged in appeasement. They call it the Sunshine Policy striving for dialogue with North Korea and offering much aid. But North Korea took advantage of their generosity. They received 500 million tons of rice and 200 million tons of fertilizer from South Korea every year. They give most of the rice to their soldiers and the ruling elite sell much rice in the black market at exorbitant prices. South Korea even provided North Korea with materials to build a nuclear energy plant. Hence, North Korea has the ability to build nuclear weapons. South Korea and American diplomacy have caused more harm than good. A proper approach to North Korea should be of moderation not extremism. North Korea understands that the more they threaten South Korea the more they will receive in return. But the Bush administration doesn't hold direct talks with them so there is no room to negotiate. North Korea claimed they wouldn't conduct a missile test if the US will hold bilateral talks with them. North Korea Deputy Chief of UN Mission Han Song-ryol, "We know that the US is concerned about our missile test launch. Our position is to solve this situation through discussions." Nevertheless, he insisted that his government has the right to develop and test missiles. On the basis of logic, the US shouldn't consider bilateral talks because North Korea conducted missile tests regardless of negotiations, but diplomacy can change a situation for the better even when prospects look dim. The Bush administration refused North Korea's offer for bilateral talks. US envoy to the UN John Bolton responded, "I must say you don't normally engage in conversations by threatening to intercontinental ballistic missiles." President Bush reiterated that his government would speak directly to North Korea only through six-nation talks. Six-nations (US, China, Japan, Russia, South Korea and North Korea) have convened to negotiate an end to North Korea's nuclear weapons program. The US offered aid and security guarantees in return for a halt to their program. Sept. 2005, North Korea agreed to the terms but in November they reneged because America wouldn't provide them with the funds to build a nuclear power plant. The US blacklisted Banco Delta Asia, a Macau bank alleged to be involved in North Korean counterfeiting, money laundering, drugs profiteering and weapons proliferation. They demanded the blacklist be rescinded. If not they won't return to six-party talks. The Bush administration asked China to play a pivotal diplomatic role in regards to North Korea. China has the greatest influence over them. That was a smart decision but refusing bilateral talks wasn't. The US doesn't risk much by talking with North Korea. They don't have to give anything to them. They're not being conciliatory by a face to face meeting. They couldn't stop North Korea from missile tests. Why not give bilateral talks a chance? As the American saying goes, "Its better to try and fail then not try at all."