"Wisdom and Beauty" by W. Horvath. Oil on canvas, 50 x 70 cm, Crete 1999.

Albert Einstein had half a dozen girlfriends and told his wife they showered him with "unwanted" affection, according to letters released on Monday that shed light on his extra-marital affairs. The wild-haired Jewish-German scientist, renowned for his theory of relativity, spent little time at home. He lectured in Europe and in the United States, where he died in 1955 at age 76. But Einstein wrote hundreds of letters to his family. Previous-released letters suggested his marriage in 1903 to his first wife Mileva Maric, mother of his two sons, was miserable. They divorced in 1919 and he soon married his cousin, Elsa. He cheated on her with his secretary, Betty Neumann. In the new volume of letters released on Monday by Hebrew University in Jerusalem, Einstein described about six women with whom he spent time with and received gifts from while being married to Elsa. In the early 1980s, Elsa's daughter, Margot, gave almost 1,400 letters to Hebrew University, which Einstein helped found. But Margot directed that the letters not be released publicly until 20 years after her death. She died on July 8, 1986. Some of the women identified by Einstein include Estella, Ethel, Toni, and his "Russian spy lover," Margarita. Others are referred to only by initials, like M. and L.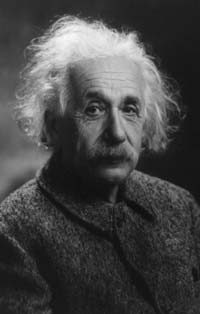 Albert Einstein (1879-1955), German-born US physicist and Nobel laureate known as the creator of the theory of relativity
"It is true that M. followed me (to England) and her chasing after me is getting out of control," he wrote in a letter to Margot in 1931. "Out of all the dames, I am in fact attached only to Mrs. L., who is absolutely harmless and decent." In another post to Margot, Einstein asked his stepdaughter to pass on "a little letter for Margarita, to avoid providing curious eyes with tidbits." The new batch of letters for the first time included replies from Einstein's family, Hanoch Gutfreund, chairman of the Albert Einstein Worldwide Exhibition at Hebrew University said. This, he told reporters, helped shatter myths that the Nobel Prize-winning scientist was always cold toward his family. "In these letters he acts with much greater friendship and understanding to Mileva and his sons," Gutfeund said. Gutfeund said that though Einstein's later marriage to Elsa was best described as a "marriage of convenience," he wrote to her almost every day, describing, among other things, his experiences touring and lecturing in Europe. "Soon I'll be fed up with the (theory of) relativity," Einstein wrote in a postcard to Elsa in 1921. "Even such a thing fades away when one is too involved with it." Einstein lived and studied in the 1930's at Oxford, where he hid from the Nazis. A German colleague, he said in a letter to Else, had told him "to not even come near the German border because the rage against me is out of control." In the same letter, which he wrote in 1933, less than a decade before the start of World War II and the Nazi Holocaust, Einstein writes: "One fears everywhere the competition of the expelled 'brainy' Jews. We are even more burdened by our strength than by our weakness."
Who Is Albert Einstein (1879-1955)?
Elsa and Einstein
Albert Einstein, (1879-1955), German-born American physicist and Nobel laureate best known as the creator of the theory of relativity was born in Ulm, Germany. Einstein did not talk until the age of three, but even as a youth he showed a brilliant curiosity about nature and an ability to understand difficult mathematical concepts. At the age of 12 he taught himself Euclidean geometry. Einstein hated the dull regimentation and unimaginative spirit of school in Munich. His professors did not think highly of him and would not recommend him for a university position. For two years Einstein worked as a tutor and substitute teacher. In 1902 he secured a position as an examiner in the Swiss patent office in Bern. In 1905 Einstein received his doctorate from the University of Zurich for a theoretical dissertation on the dimensions of molecules, and he also published three theoretical papers of central importance to the development of 20th-century physics. In the first of these papers, on Brownian motion, he made significant predictions about the motion of particles that are randomly distributed in a fluid. These predictions were later confirmed by experiment. The second paper, on the photoelectric effect, contained a revolutionary hypothesis concerning the nature of light. Einstein not only proposed that under certain circumstances light can be considered as consisting of particles, but he also hypothesized that the energy carried by any light particle, called a photon, is proportional to the frequency of the radiation.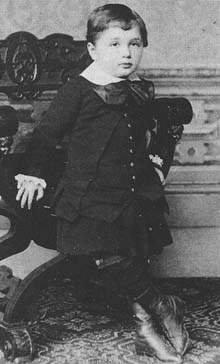 The oldest photo of Albert Einstein (1879-1955), German-born US physicist and Nobel laureate known as the creator of the theory of relativity
Einstein's third major paper in 1905, "On the Electrodynamics of Moving Bodies," contained what became known as the special theory of relativity (The theory included his famous equation e=mc 2). At the heart of his special theory of relativity was the realization that all measurements of time and space depend on judgments as to whether two distant events occur simultaneously.The full general theory of relativity was not published until 1916. In this theory the interactions of bodies, which heretofore had been ascribed to gravitational forces, are explained as the influence of bodies on the geometry of space-time (four-dimensional space, a mathematical abstraction, having the three dimensions from Euclidean space and time as the fourth dimension).On the basis of the general theory of relativity, Einstein accounted for the previously unexplained variations in the orbital motion of the planets and predicted the bending of starlight in the vicinity of a massive body such as the sun. The confirmation of this latter phenomenon during an eclipse of the sun in 1919 became a media event, and Einstein's fame spread worldwide.