When people hear the name Vladivostok ("Lord of the East" in Russian), a mysterious and chilling thought comes to mind. Westerners have usually only heard the name of this far flung eastern Russian port city associated with Hollywood spy films and espionage novels dating back to the Cold War. However I can tell you that Vladivostok is neither mysterious nor chilling except during the long winter season! It is in fact a bustling, vibrant European metropolis wedged in between the East Sea (Sea of Japan), China, and North Korea.How did this come to be? Why is this place filled with a Western looking, Western dressed and culturally Western mindset and yet so demographically misplaced?Vladivostok was first settled in 1861 just three years after Russia secured this Primorsky (Seashore) from an agreement with China. The Russians needed an eastern seaport and Vladivostok provided the perfect bay. By 1880 Vladivostok boasted a population of 7,300 inhabitants with over 300 wooden homes, and over 50 built from stone. Forty percent of the population at that time was made up of foreigners primarily from Korea and China.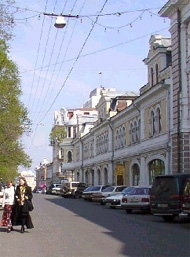 Typical street near Vladivostok Boardwalk
The 1890s saw the opening of shipping lines from Vladivostok to Shanghai and Nagasaki. In 1891 construction also began on the world's longest railroad, the Trans-Siberian eventually connecting Vladivostok with Moscow 5,771 miles away! The city opened its first universities during this decade, as well and Vladivostok became to Moscow, what the California Gold Rush was to Americans.By 1904 Vladivostok was much more than just a military outpost. It was also a cultured city with opera houses, fancy hotels, libraries and over 3,000 shops. However its military significance made it the recipient of over 100 naval cannon balls during the Russo-Japanese War as the Vladivostok Cruiser Group defended the strategic naval base of Port Arthur, which lied just beyond the city. Two more wars (the Russian Revolutions of 1907-1917) only helped increase its citizenry, as Vladivostok eventually became the final hold out from the Soviet expansion.On Dec. 31, 1917, British, U.S., and Japanese naval ships entered the Golden Horn Bay of Vladivostok and proceeded to protect its citizens from the Bolsheviks. Many remnants of the White Army and much of Russia's intelligentsia fled the west to this port. By 1922 the population reached 410,000 until finally the Red Army wrested control. Most fled to Australia, the U.S., and China resulting in Vladivostok shrinking to only 108,000 by 1926.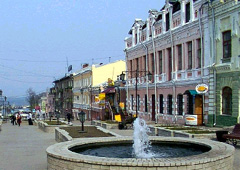 On the way to the Boardwalk
The Soviets realized Vladivostok as a strategic Naval base as well, and quickly began reconstruction of its port. During the 1930s, Joseph Stalin began his forced migrations sending many western Russians there against their will.During this period Stalin also rounded up hundreds of thousands of Vladivostniks who were of Korean or Chinese descent and shipped them 4,000 miles away to the Islamic outposts of Uzbekistan and Kazakhstan. Tens of thousands of innocent families died during the horrific 45-day train rides and little of this was known to the outside world as Vladivostok became closed from the early 1930s until well into the 1970s.Today, visitors will see many Asians in Vladivostok again. North Korean shop vendors, Japanese, South Korean and Chinese businessmen and a few tourists as well.Unfortunately many of these well-to-do tourists visit Vladivostok to take advantage of its inexpensive sex trade. The wages here are still comparable to those of a Third World country and many women cater to the desires of their rich, Asian neighbors to eke out a living during the difficult post-Soviet times.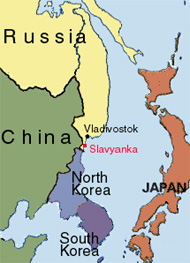 However a weak economy does not translate into inexpensive accommodations. Hotels primarily cater to businesses and therefore the average hotel costs around $120 a night. I managed to stay in a two star hotel which was only a 30 minute walk to the beach for $50 a night (Slavyanskaya Hotel) which was the best my Russian wife could find. Hot water, private bathroom and small bar, and the indispensable in-house sauna made the Slavyanska acceptable, but still *falling short of a Days Inn back home. The Vladivostok and the Primorye hotels *are also in this range of between $50 and $60 per night.The Hyundai ($220), the Versailles ($160), and Gavan ($110) hotels are all centrally located. None were inexpensive, but they all compared to European style hotels. Getting around is easy to do. Unlike our concept of taxis, in Vladivostok every car is a taxi. You simply flag down any private car and the driver will negotiate a fee to wherever you wish to go. It's safe and you can go almost anywhere for a standard charge of $3 or 3,500 won. Always carry roubles (Russian currency exchange rate is 1,000 won = 25 roubles) and always carry small bills, as making change can be tedious or impossible. Streetcars and buses are even less expensive and very frequent.Most of Vladivostok's tourist sites and fine dining is within walking distance if you're downtown. My favorite place there was easily the boardwalk or the Naberejnaya, which was at the foot of a long pedestrian mall, adorned with fountains, quaint little European shops, interlocking brick sidewalks, street artists and musicians, Uzbeks operating their tasty Shwarma kiosks and well dressed Vladivosniks.Russians pride themselves in the way they dress and despite the current financial difficulties in their economy, you would never know it by their appearance. The locals also get dressed up for a variety of holidays and events such as the first day of school (first Monday of September) when every women under 40 wears her traditional school uniform for the day. This tradition is especially odd when you see a gang of twenty something gals in their school uniforms hanging around the boardwalk drinking beer, smoking cigarettes and making small talk on a park bench.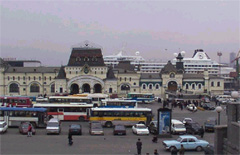 The New Vladivostok Train Station is styled after the 17th Century Moscow Train Station
Also by the waterfront is the National War Memorial complete with a Soviet era submarine offering tours inside and a collection of tanks, artillery, and other wartime paraphernalia. Large warships anchored in its harbor are also a common sight.Opened on the boardwalk in 1991 the Aquarium has an impressive live exposition of 86 species and over 1,800 kinds of marine life in aquariums, representing a variety of inhabitants of Peter the Great Gulf and other water reservoirs of Primorye.For the museum enthusiast the Arsenyev Primorsky Krai Museum has over 200,000 exhibits. Established in 1890 the Arsenyev Primorsky Krai is a nature, ethnography, archaeology, and history museum covering the Primorye Region from ancient to modern times. Of special interest on display are a Jurchengs burial complex, a Katyusha rocket machine from World War II, and a rich numismatic collection. Hours are from 10:30 a.m. to 5:30 p.m. Getting to Vladivostok from Korea will first require a tourist visa from the Russian Embassy near Seoul City Hall. This also means a letter of invitation is necessary, but this is supplied by most travel agents at a cost of 50,000 won. The cost of the visa depends on how quickly you want to pick up your visa. Generally expect five business days.Flying to Vladivostok is direct with both Vladivostok Air and Korean Air offering three flights each per week. The flight would generally only take one hour from Incheon, but due to the situation between North and South Korea, planes are required to fly out towards Japan, head north and then turn west back towards Vladivostok to avoid entering North Korean airspace adding an hour in the air.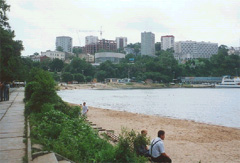 The Boardwalk or 'Naberejnaya'
An interesting alternative to flying is the 21-hour boat ride from Sokcho to Vladivostok. $150 each way will get you a cabin for four. Like most ships, prices vary depending on class preference. Boats leave every Thursday. Anyone living in Korea who yearns for European cuisine, architecture and shopping, can have it all without ever leaving the Orient. While Vladivostok isn't St. Petersburg or Paris, it still offers a unique European flavor without the long flight. Great summer weather, spectacular mountain views, and 700,000 friendly souls make Vladivostok a perfect, short-term trek for the alternative tourist living in Korea.