Flinders Street Station's facade in Melbourne
This is an introduction to a series of articles on Australian tourism in line with the current slogan, "Where the Bloody Hell Are You?," an Australian expression which has initially created so much controversy among travel critics. The campaign, however, has been gaining tremendous popularity among travel buffs who simply want to get a unique and authentic Aussie experience. The Seoul Times has this exclusive coverage. —Ed.Melbourne— Australia has been closely associated with the iconic images of koalas and kangaroos inhabiting the outback, if not the vast and idyllic Queensland's beach of Gold Coast, or the magnificent Sydney's Opera House juxtaposing the Harbour Bridge.Tourism Australia, however, has been more aggressive in promoting more diverse products that can catch every traveller's wildest imagination. The new and current tourism slogan, "Where the Bloody Hell Are You?" is a part of the campaign.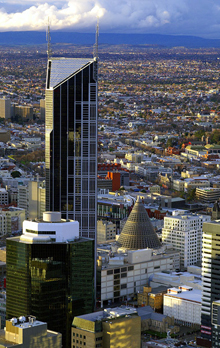 City of Belbourne
Victoria is an emerging destination for the more adventurous travellers, including South Koreans who had snatched the seventh slot of tourist arrivals in this huge and vast nation in 2005. Statistics approved by the Tourism Victoria shows that the number of Korean visitors to Australia totalled 223,377 in the first quarter of this year. And although the number of visitors coming to Victoria is still relatively modest, the state's tourism body is firm in its resolve to bring in more Koreans to experience a unique Aussie holidays. Already, Korean Air has launched its first direct chartered flight from Seoul to Melbourne last December, which lasted for over a month, to indicate of its future plan to provide direct flight to Melbourne. Mr. Kenji Takamori, Tourism Victoria's business development manager for Korea and Japan expressed optimism that the plan is very feasible considering South Korean's impressive growth arrival in Melbourne. While Koreans are gaining reputation as world-class travellers with higher spending power, Australia is no doubt in the top list of prospective places to be seen and discovered. The country has an advantage—being in the same time zone not withstanding a long-haul trip.
Yarra River in the City of Melbourne
Pristine and secluded hideaways are offered to honeymooners, while historical and educational tours are up for grabs among students, including those who want to get some exposure in an English-speaking environment. There are lists of activities for the more adventurous backpackers and incentive travelers as well. Recently, more travel products have been explored to boost Victoria's pride showcasing vast tourism resources, including cultural, historical, educational, health, wildlife, aboriginal, and outstanding natural landscape tours. Among Victoria's finest include the historic Sovereign Hill— a consistent tourism awardee at both state and national level and it is, in fact, Australia's undisputable pride. Other top destinations are the Great Ocean Road and the Phillip Island Wildlife Park. The wineries located in the Yarra Valley are spots where the world-famous Australian wines come from.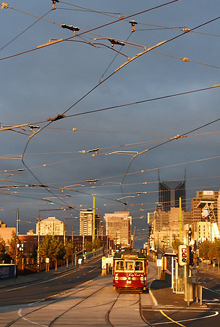 City circle tram in Melbourne
These are just a few. There are other features Victoria is known for. Melbourne is also the home of the Grand Prix, the recent Commonwealth Games, or the annual "horse race that stopped the nation"— the Melbourne Cup. Victoria occupies a total land area of 227,416 sq. km, the smallest of the six states comprising Australia. It has a population of 5.037 million with a density of 22.08 per sq. km translating as the second largest population density of the entire nation. Melbourne, formerly known as Australia's capital, is situated in the south east facing Tasmania separated by Bass Strait. It is Victoria's capital and a home to about 3.8 million people, or 70 percent of Victorians. This is a population equivalent to about one-third of the 10 million or so population of Seoul. Land area totals 7,694 sq. km. The city displays metropolitan grandiosity and cultural sophistication making Melbourne as Australia's centre of fashion, culture, and sports. Its excellent welfare, education, transportation, and other social systems have also raised the city's image as the world's most livable city.
Twelve Apostles on Great Ocean drive near Melbourne
Melbourne is Australia's most culturally diverse city with a huge number of immigrants coming from various ethnic backgrounds creating a colorful mixture of sights, sounds, and tastes. Think of the world's largest Greek community outside Greece, alongside with a huge Chinatown. Imagine the cacophonic sounds of Italian, Croatian, Lebanese, Vietnamese, or Indian languages on the train. Melbourne has all these to boot. Victoria has other major urban centres including Geelong, Ballarat, Bendigo, Shepparton, Mildura, Warrnambool, and the Latrobe Valley. A long drive for a day's tour can certainly whisk off a week's stress away! If you are still thinking of koalas and kangaroos, the Gold Coast, or Opera House, think again. You bet, there are more to see in Australia!