Global Views
No World Peace without Central Asia Truce
By Tanveer Jafri
Contributing Writer

West Bank village on hillside
On May 15, 1948, a Jewish state was declared in the Central Asian Arab region. With the rise of this country named Israel, controversial and perplexing problems arose in this part of the world. Arab countries united together to struggle against this newly formed country. Arab countries debated o who will lead the struggle against Israel. Palestinians remained silent on the issue. After a long interval, in 1964, many Arab countries organized the Palestinian Liberation Organization (P.L.O.). In 1969, Yassar Arafat became the leader of this independent Ooganization to fight for the rights of Palestinians. On the other side, just 5 years after setting up the P.L.O., an organization named 'Fateh', had blown the bugle f or armed struggle against Israelis. They started a secret mission attacking the Jews. In 1968, Fateh killed many Israeli soldiers at Karameh in Jordan. Such violence were called terrorism by Israel whereas Palestinian activists called them a war for their rights. This conflict resulted in another Arab-Israeli war on June 5, 1967. It lasted only six days but not only changed the map of the Middle East with boundaries being re-drawn also the war gave birth to more controversial matters. Israel snatched Golan Hills of Syria in the northern region and in the south; it took away Gaza snd Sinai area from Egypt. Israeli armies pushed away Palestinian soldiers from Jordan, eastern Jerusalem and western coasts. This victory of Israel over Arab countries encouraged the Pro-Israel countries including America and Great Britain. In the meantime, United Nations Organization passed a resolution no. 242 which stressed that the territory Israel gained from in the war would not be given recognition. United Nations Organization appealed to Israel to immediately vacate these areas. During the war, about 5 lakhs, Palestinians became homeless and took shelter in Jordan, Syria, Egypt and Lebanon. Syria and Egypt could not regain their land from Israel nor did Israel vacate the area, so acting upon resolution no.242 of United Nations Organization then Egypt and Syria attacked Israel again. This war too proved a losing bargain for tArab countries. Israel received direct and indirect military assistance, diplomatic and economic help from America and Britain expanded its boundaries in a war that lasted for three weeks. After the war ended with the diplomatic efforts of United Nations, America and Soviet Union. About 8500 soldiers of Egypt and Syria and 6000 soldiers of Israel lost their lives in this war. Now Israel was dependent on America in all forms, military, diplomacy & economic. Saudi Arabia put restriction on supply of petroleum products on all countries that helped Israel. At that time oil prices increased world-wide and it remained high until March 1974. Worrying about new controversies from the Arab-Israeli conflict, United Nations Security Council passed resolution no. 338 in October 1973. Under this resolution, all countries that took part in this war were urged to immediately stop their military movements and discuss proposals for permanent peace in Middle East. Now a feeling changed into a belief among the Arab world that their rights were snatched away by a planned strategy. This thought resulted in acts of revolt, revolution and terrorism. A faction of the Palestine Liberation Organization and other extremist groups such as Abu Nedal made secret attacks on important places in Israel. This type of an extremism lead to terrorists killing 11 Israeli athletes in the 1972 Munich Olympic . A surprise for the Palestinian Liberation Struggle came when P.L.O. leader Yassar Arafat, in 1974, personally visited the main office of the United Nations Organization. He made a declaration to find a peaceful solution to current difficulties by refraining from violence. In his historical speech Arafat asked for help to establish a separate and independent Palestinian state. New change occurred between Israel & Arab countries, when Egyptian President Anwar Sadat visited Israel in 1997. During this Arab-Jewish conflict, Sadat was the first Arabian leader to visit Israel. During his visit, he addressed the Israeli parliament on Nov. 19, 1997 in Jerusalem. He was the first Arab leader to recognize Israel. Now flowed a stream of improvement s in the relations between Egypt and Israel. In 1978, both countries signed the Camp David agreement. Under this agreement, a framework was prepared to establish peace. Giving limited autonomy to Palestinians was also discussed in this agreement. There was a bilateral agreement between Egypt and Israel in 1979. The increasing intimacy between these two countries resulted in the return of Sinai to Egypt by Israel. But this road building for peace process in Central Asia was unbearable for extremists. The fundamentalist elements in Egypt army killed President Anwar Sadat in 1981. The faction that took part in this killing was against all types of peace talks with Israel. Now another wave of anarchy and restlessness came about. In 1982, Israel attacked Lebanon. In 1987-88, the Palestinians started their disobedience (Intifada), strike and boycott of Israel to protest against Israeli possession of their land. Palestinians pelted stones on Israel soldiers everywhere. This disobedience movement (Intifada) continued until 1993 and more than one thousand people were killed. In spite of this, the P.L.O. leader Yassar Arafat, adopted a peace process and wanted a peaceful solution. America also began to give greater importance to Arafat. But Israel always considered Yassar Arafat as chief of a terrorist group and avoided talking with him. In 1991, during the Gulf war, Arafat took such a step because rich gulf countries avoided the Palestinian conflict. In 1991, Gulf war, Arafat stood by Saddam Hussain on the issue of illegal possession of land in Kuwait. This incident weakened the Palestinian movement. On Nov. 20, 2004 Arafat became ill and was admitted into a hospital in Paris, where he breathed his last breath. Even today Palestinians believe that the day will come when they would rule over Jerusalem and their popular leader Arafat would be buried in Jerusalem. For the time being, the dead body of Arafat has been kept in an orderly manner, in a marble stone grave at Ramalla City of the western coast so that whenever the need arises, his body could be taken out safely. Anyhow the Central Asia conflict seems far from a solution. Now, the elected government of Palestine is not getting recognition by Israel and Pro-Israel icountries saying that ruling Hamas Organization is a terrorist Organization. Consequently, this bloody game is still going on. It is not a blunder to say that without solution to this horrible problem in Central Asia, the thought of world peace is meaningless.

Other Articles by Tanveer Jafri
Shia-Sunni Conflict: An Outcome of American ...
Pakistan on the Verge of Collapse
Likelihood of Military Rule in Pakistan
Why the Fatwa against Terrorism Is ...
Angola: A Conspiracy to Ban Islam?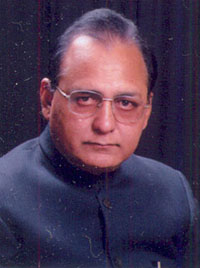 Mr. Tanveer Jafri, who serves as contributing writer for The Seoul Times, is a noted columnist in India. He writes in a variety of issues including world peace, anti-terrorism, and national & international politics for numerous news dailies and portals in India. As a devoted social activist he is a member of Haryana Sahitya Academy & Haryana Urdu Academy.