Chief Minister of Malacca Datuk Seri Hj. Mohd Ali Bin Hj. Mohd. Rustam (right) and Malaysian Tourism Minister Datuk Seri Tengku Adnan Tengku Mansor at press conference.
A group of 14 South Korean journalists visited Malaysia on the mega familiarization (Mega Fam) program organized by Tourism Malaysia in conjunction with the celebration of Citrawarna Malaysia 2006. Among the press corps were a couple of local travel agents. According to Tourism Malaysia , the Mega Fam program was aimed at generating a closer relationship with members of the international media to give them a first-hand experience of Malaysian tourism and update them with information about holiday destinations in Malaysia. Mr. Ramzi Abu Yazid, regional director of the North Asia Unit of International Promotion Division of the Malaysia Tourism Promotion Board, briefed the Korean journalists about the relationship between Malaysia's tourism industry and South Korea at the Mahkoka Hotel in Malacca on the second day of Mega Fam - July 6, 2006. Mr. Yazid said that the number of South Korean tourists have increased recently and South Korea was ranked sixth among the top ten markets for Malaysia's tourism industry.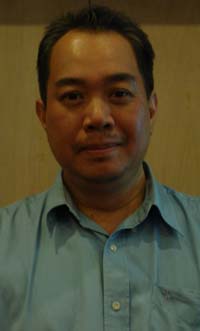 Ramzi Abu Yazid, regional director of North Asia Unit of International Promotion Division in Malaysia Tourism Promotion Board
According to his data, arrivals to Malaysia from South Korea registered 158,177 visitors in 2005, making for a 73.3 percent increase from the
previous year. South Korea has become an important market for Malaysia.
Tourism Malaysia Promotion Board (TMPB) in Seoul predicts that Korean tourist arrivals to Malaysia will be 200,000 in 2006.South Korea's largest group of visitors to Malaysia is made up of families in their 30s and 40s. Malaysia is emerging as one of the prime destinations for golfers, company incentive tours, much improved consumer awareness, Korean silver retirees, and Korean students for tertiary education. In its efforts to induce South Korean tourists TMPB in Seoul has made plans for various promotional activities in South Korea. They include tourism exhibitions and fairs, tourism seminars, consumer promotions, advertisement campaigns, and other special projects such as "Malaysia My 2nd Home Program." In particular, such invitational programs as fam tour for journalists and tourism agents turns out to be very helpful for Malaysian tourism. The media fam tour, which occurs nearly every month, is supported by Malaysia Airlines and tourism companies.During the briefing, Mr. Yazid said that South Korea is most welcome and a familiar country to Malaysia because Hallyu has spread in the tropical country. Hallyu or the Korean wave refers to the popularity or fever of South Korean popular culture in China and other Asian countries"Malaysia is truly Asia. Korean people can experience cultural diversity and uniqueness. Come to Malaysia and experience what we offer." he said.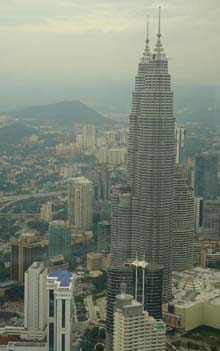 Petronas Towers in Kuala Lumpur
On the third day of Mega Fam, Korean journalists and foreign Mega Fam invitees participated in the tourism seminar held at the Melaka International Trade Centre in Malacca, Malaysia on July 7, 2006. During the seminar, Deputy Director General of Tourism Malaysia Mirza Mohamad Taiyab made a presentation about Malaysia's latest tourism developments. There were other presentations by Malaysia Airlines and historial city of Malacca."Mega Fam tour is the best solution to help solve misunderstandings and miscommunications about Malaysia," Mr. Taiyab said in the seminar. The Honorable Datuk Seri Hj. Mohd Ali Bin Hj. Mohd. Rustam, chief minister of Malacca, and the Honorable Datuk Seri Tengku Adnan Tengku Mansor, minister of Tourism Malaysia, gave a speech respectively for the official launching of the tourism seminar. Aside from the seminar all the participants visited Malacca and Putrajaya from July 6 to July 8, 2006. They were also invited to a parade at Merdeka Square, where Citrawarna Malaysia 2006 was officially launched by His Majesty King of Malaysia on July 8, 2006. A total of 238 members of international media from 30 countries took part in Mega Fam program this year. They were from South Korea , Australia , Bangladesh, Brunei, Canada , China, Czech Republic, Egypt, France, Germany, Hong Kong, India, Indonesia, Iran, Italy, Japan, Laos, Philippines, Russia, Saudi Arabia, South Africa, Sri Lanka, Sweden, Switzerland, Thailand, Turkey, United Arab Emirates, Ukraine, United Kingdom, the United States, and Venezuela.