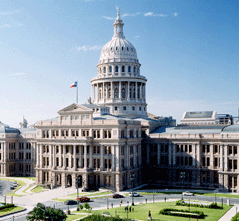 The close election in Florida during the last presidential election demonstrated how important each vote is. Republicans understood it very well and are aking steps to maximize their chances in the next elections. At the recently-held Republican National Committee meeting held in Austin, Texas, plans were developed to make inroads in traditionally Democratic strongholds. To lure Latino voters who usually vote Democratic by 2-to-1 margins, the GOP plans to push for registration drives of newly-naturalized citizens and also to offer Spanish language lessons to Republican leaders in key states. Knowing some Spanish is certainly useful in most states of the American southwest and other parts of the ountry, which already have significant Latino opulations, such as California, Texas, Arizona, Florida, and New York. But Latinos are also increasing in numbers in other states such as Iowa, Illinois, and Wisconsin. Thus the need to reach new voters becomes more urgent and knowledge of Spanish may provide an edge since the language carries both symbolic and substantive value. Even if the political candidate does not speak Spanish perfectly, Latino voters are more kindly disposed to someone using their language. Sometimes a mere "Buenos Dachas" may open a listener's heart to the message that is about follow. Language is critical to Latinos particularly in light of the anti-bilingual education movement and the English-only legislation of the past decade. The virtual elimination of bilingual education in California, Arizona, and now Colorado is viewed by Latinos as an imposition on how their children will be educated. Anglos typically vote against bilingual education by 2-to-1 argins; Latinos vote in its support by the same margin. The declaration of English as the official language in twenty-six American states has also been interpreted by Latinos as an attack on Spanish. George Bush understands very well both the symbolic and the substantive value of language. Although he has admitted that his Spanish is not very good, he still includes some Spanish phrases in his speeches. The Spanish coming out of the resident of the White House helps bring down the walls separating Anglos and Hispanics. It sends a strong message to Latinos: I am like you; I am also struggling with your language as you are with mine; I am on your side; I'm part of your family. But the message carries over to English-speaking
Americans as well. It says that it's OK to speak more
than one language. Languages are not to be feared.
Indeed, languages make us more Americans rather than less for they reflect who we really are in the country of immigrants.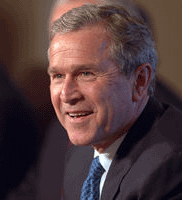 In addition to his own use of Spanish, Bush created an atmosphere of acceptance of language diversity. At the 2000 Republican Convention, Spanish was heard quite a bit. California Assemblyman Abel Maldonado gave his speech completely in Spanish. The message was clear. Spanish is part of the GOP. Latinos are welcome. Democrats, of course, labeled the presence of Spanish at their opponent's convention as pandering. Yet, George Bush's links to Spanish are too strong to make the charge stick. For example, Bush can easily claim a strong connection with the Spanish language because his brother Jeb married Columba Garnica Gallo, a native of Mexico. George Prescott Bush, the president's nephew, campaigned in Spanish for his uncle in the 2000 election. It's easy for Bush to say that Spanish is a language of his familia. Bush's interst in Spanish goes beyond mere symbolism. Bush has opposed the anti-bilingual education movement while he was governor and opposes it to this day. He also stayed away from the English-only proposals. He also has demonstrated a strong interest in Mexico both while he was governor of Texas and also as president. When Mexico was facing an economic crisis in 1995, Bush lobbied Congress to approve a 40 billion loan to Mexico. As president, he has had a number of meetings with current president of Mexico Vicente Fox. The two leaders were working on improving the movement of people from Mexico to the US when the tragedy on September 11 put a halt to those discussions. Although the war on terrorism is far from over, a return to normalcy will quite likely mean a reactivation of the talks to ease the immigration of Mexicans into the US and a regularization of those already in the US without proper documentation. In spite of the great efforts to connect with Latinos, Bush won 35% of their votes in the last presidential election. Al Gore received 64%. If these percentages were to repeat themselves in 2004, Bush would lose about 3 million votes. Considering the razor-thin vote in Florida in 2000, Bush cannot afford to lose a single vote. Clearly, while language matters to Latinos, other issues such as education, health care, immigration, etc. are more important. Democrats still seem to be ahead of Republicans on these issues. Although learning some Spanish may not hurt and in all likelihood will help, Republicans have to do much more to compete successfully with Democrats for Latino votes.