Korean kimchi or pickled and fermented cabbage. There are two kinds of cabbage kimchi — one is spicy and the other is mild one with no red pepper. The above one belongs to the latter.
Of the Asian cuisines, Korean food is less familiar to Americans than Chinese, Japanese, Thai or even Vietnamese, which may account for the fact that most Korean restaurants also sell Japanese food as a sideline.At Seoul in New Haven you can eat Japanese - the quality is good - but if you are a stranger to Korean cuisine, Seoul is also a fine place to discover it.Two of the best-known dishes in the lexicon of Korean cuisine are kimchi (spicy, pickled and fermented cabbage) and Korean barbecue (bulgogi), which is comprised of small pieces of meat and vegetables that are cooked at the table and served with several accompaniments.I first encountered Korean food at a restaurant in Manhattan, where a wood brazier was built into the center of the tables; our waitress brought raw slices of meat (marinated in soy, sesame oil and sugar, among other seasonings) and vegetables to the table and cooked them for us over the fire. At Seoul, the operation is less dramatic but still authentic. A convex, Sterno-powered grill is brought to the table along with small dishes of seasonings and accompaniments: chili-marinated zucchini, fried strips of fish cake with sesame seeds, kimchi, cooked spinach seasoned with sesame oil, a sweet bean paste (reminiscent of plum paste), crisp bean sprouts and lettuce leaves for wrapping.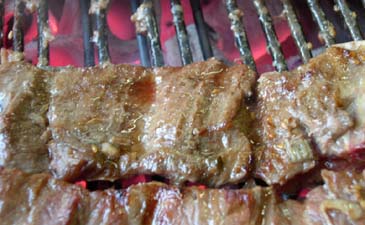 Korean galbi or barbecued rib
Our waitress grilled beef (you have a choice of squid, chicken, beef and boneless beef short ribs, although the difference between the last two was transparent to me) and vegetables, and then instructed us in how to eat it: smear a lettuce leaf with bean paste, add meat and roll it up like a spring roll.The taste was lovely and light; the beef and vegetables were mildly sweet and caramelized. (I was disappointed one night to learn the "table barbecue" was available only for two or more people; for one, the cooking is done in the kitchen and the finished barbecue is brought out on a tray. The taste is the same but the experience is far less satisfying.) I can also recommend bibimbap: a big salad of lettuce and vegetables, with a raw egg on top, along with raw strips of beef or sashimi if you like; stir it together at the table with some of the sweet chili sauce. Stone-pot bibimbap is similar but rice replaces the lettuce and it comes to the table in a hot stone pot.Kalbi tang is chicken stock (too salty one night) with wontonlike dumplings, scallions, shredded beef, cabbage and egg; the delicious beef makes the soup. Another traditional soup, beef-scallion, is made from short ribs with scallion and a very spicy red broth. If you're a fan of chilies, give it a try. I found the taste overwhelmingly spicy and unidimensional; I'm not fond of it. Several appetizers are excellent. One of my favorites is the kimchi pajun, a thick pancake about the size of an individual pizza, seasoned with kimchi. It is soft inside with a crispy exterior - wonderful. (According to the menu, the pancake is made of wheat flour, but its glutinous texture suggests there is also rice in it.) Cuttlefish moochim is a salad of raw, thin-sliced cuttlefish and watercress dressed with an appealing spicy, sweet dressing. (Our waitress suggested that the dish might be too spicy for my Western palate, but in fact it was not.)Oriental steak tartare is thin-sliced, frozen strips of raw beef dressed with sesame seeds and a similarly sweet but not spicy dressing. Shumai are mild and tender. Two final recommendations: chapchae is a dish of vermicelli noodles sautéed with vegetables in soy, sesame oil, garlic, and a little sugar. For dessert, a selection of ginger, red bean and coconut ice creams were delicious. Kalbi tang, or one of the barbecues, makes an excellent winter meal. With sake (before tip), you can eat well here for about $25 a head but a tab of $40 to $45 is not difficult.