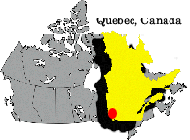 In 1995 Quebec almost broke away from Canada and became an independent country. The most recent provincial election in Quebec reveals that Canada will remain one country with a bilingual and indeed a multilingual flavor. The fear that bilingualism would split Canada into two countries seems to have abated if not disappeared altogether at least for now. The victory of Jean Charest's Liberal Party in the Quebec legislature augurs badly for separatist tendencies. Charest, who is to become the premier in Quebec, has stated that he will work to obtain concessions from the national government but will not push for separation. The losers in the latest election are Bernard Landry and his Parti Quebecois, which had separatist tendencies. The Liberal Party won 76 seats in the Assembly while the Parti Quebecois only 45. Although the separatist movement has taken a beating, French will remain the dominant language in Quebec. New immigrants will be educated in French. And the laws designed to maintain the hegemony of the French language in the province will remain in place. That does not mean Quebec will become a monolingual province. Far from it. The entire province, and Montreal in particular, will retain its bilingual flavor and indeed even a multilingual one. In the recent election, even politicians who ran on a separatist platform were satisfied that the current linguistic system works well. Some politicians, in fact, not only used their bilingual skills but have expanded them as they attempted to reach more voters. Pierre Bourque, a former mayor of Montreal and a former separatist, campaigned for a seat in the
Provincial Assembly from east of Montreal using French, English, and Spanish.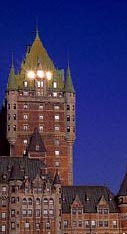 language concerns are always present, in the last election candidates focused more on the issues of taxes, health care, and the economy in general. The question of languages seems to have been settled. More and more English speakers and French speakers are finding accommodation in Quebec. Multilingualism is working.
In part, things have improved because a number of English speakers have left Quebec. Those who have stayed are increasingly becoming bilingual and intermarriages are becoming more common. One third of Quebec's English speakers are marrying French speakers in Quebec. The result is
bilingual kids are the norm. Bilingualism is beginning to be viewed not only as possible but even desirable. It was not always so, of course. French speakers used to see themselves treated as second-class citizens. The success of the Parti Quebecois bolstered the use of French in the province. The language laws of the 1970s were seen as extreme by English speakers because they made French the official provincial language. Now things are more relaxed. A recent survey found that 50% of English speakers believe language laws should be maintained in Quebec. Older respondents, however, expressed doubts about it. Some business owners still consider the language laws extreme and an infringement on their rights. One law, for example, states that the French version of business signs must be twice the size of their English translation. In addition, services in Quebec must be provided in French or French and English. Other languages can be used, but French must be given priority. Small business owners find these restrictions an imposition. These laws reflect the demographic landscape in Quebec. Montreal remains a largely French-speaking city. French speakers account for roughly 80% of the population; English 10%, and a number of other languages such as Italian, Spanish, Arabic, etc. account for the rest.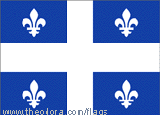 The situation in the rest of Canada as a whole also reflects a similar multingualism but English clearly is the most widely spoken language. The 2001 census showed that more than 100 languages are spoken, although English and French dominate. 67% of Canadians speak English at home; 23% speak French; and 10% speak a language other than French or English. Nationally, 43% of French speakers reported that they were bilingual, an 8% increase compared to five years earlier. 9% of English speakers stated they were bilingual. In Quebec, more than one language seems to become more and more typical. The family situation of Antonia Maioni, Director of the Institute for the Study of Canada at McGill University, is getting to be the norm. Maioni, the daughter of English-speaking Italian immigrants, married a French speaker. Their three kids speak French as their first language but can also speak English and Italian to their maternal grandmother. In essence, Canada's languages unite rather than divide.