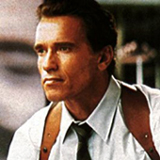 As soon as Arnold Schwarzenegger announced he was running for governor of California, he became the leading candidate. It's probably nothing more than name recognition, since he has said very little except a few generalities about his agenda for fixing California's problems. There is, however, enough information available to determine that Latinos will, in all likelihood, not support him. First of all there is Proposition 187. Schwarzenegger voted for it. The initiative, which denied benefits to undocumented immigrants, including their children, was passed by California voters by significant margins. Latinos, of course, opposed it and still remember it as an anti-immigrant initiative. Who was the proposition's chief sponsor? The same person who is one of Schwarzenegger's three campaign co-chairpersons. You guessed it, former California governor Pete Wilson. The proposition is still fresh in Latinos' minds. In one TV spot, Wilson's voice ended the ad by saying "and they keep coming" as if Mexicans were invading California.
Wilson was re-elected governor, but Proposition 187 made him the worst ambassador of the GOP to court Latino voters. Wilson's influence in Schwarzenegger's campaign goes even deeper, since his former chief of staff Bob White and several former top aides will run the Schwarzenegger campaign. In essence, it looks quite a bit like a Wilson re-rerun, and Latinos will of course be turned off. Schwarzenegger can easily say that he is not anti-immigrant. In supporting Proposition 187, he can use Pete Wilson's line that the initiative was aimed at illegal immigrants. That may be a selling point to white voters. Unfortunately, the proposition, which the courts ruled unconstitutional, also denied benefits to the children of undocumented workers.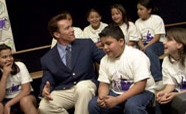 Schwarzenegger has successfully led an initiative to provide after-school programs for children. Does that mean that he believes only "legal" children should benefit? His support of proposition 187 would seem to indicate so. Some have suggested that Proposition 187 was racist and have tried to paint its supporters as such. Yet, whatever the case, Latinos clearly interpreted it as negative, not just for their ethnic group, but for any undocumented immigrant regardless of the country of origin. Suspicions raised by Schwarzenegger's support for a highly questionable initiative are strengthened by his participation in U.S. English, a group dedicated to promote English-only legislation. Schwarzenegger's name appears in the group's advisory board alongside of a number of right-wingers including Norman Podhoretz, Midge Decter, Charlton Heston, David Horowitz, etc. Walter Cronkite was also on the same board but resigned in 1998 when the then
group's chairman John Tanton wrote repugnant statements against Hispanics and Catholics. Conservative Linda Chavez, who served as civil rights administrator under President Ronald Reagan, eventually became chair of U.S. English, but she also resigned because of the group's anti-immigrant and anti-Hispanic leanings. U.S. English philosophy is detrimental to immigrants and particularly Spanish speakers. The group is against bilingual education and believes that the government should not provide services in other languages to immigrants. Tanton is no longer involved with U.S. English but the group's right-wing agenda still permeates its activities. James Lubinskas, its director of communications, has been a contributing editor to American Renaissance magazine, which promotes a racist, neo-Confederate philosophy.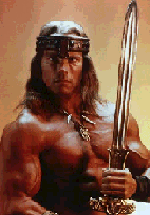 Schwarzenegger is probably not very involved in U.S. English, but the fact that he is lending them his very famous name suggests that he supports their philosophy and agenda. Unlike Walter Cronkite, Schwarzenegger has not resigned from U.S. English.
Schwarzenegger has made some general statements about wanting to be everybody's governor and that of course would include Latinos who make up 32 percent of California's total population. That's a significant number. It's no surprise therefore that Schwarzenegger has nominated Abel Maldonado and Bonnie Garcia, two Latino members of the California Assembly, as co-chairs of his campaign. Both, however, are Republicans and Latinos, who typically vote for Democrats by significant margins, will view them as a weak attempt to get their votes. Although Latinos may vote to recall Gray Davis, they will not be likely to select Schwarzenegger. Most Latinos will pick one of their own??Cruz Bustamante?? who, as lieutenant governor, is not just the legitimate heir if Davis is recalled, but also someone who knows about Latino issues like the back of his hand.