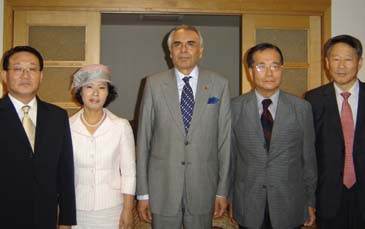 Afghan Ambassador to Seoul Nabil Malek Asghar (center) poses with Chairman Yun Ik-Han of The Seoul Times (2nd from right), Communications Korea President Kim Kyong-Hae (right), Chairman Kim Hyun-Jung of Hyun Kang (left), and Mrs. Kim Hyun-Jung (2nd from left) at his residence in Seoul on Aug. 11, 2006.
I have the pleasure to thank The Seoul Times News Paper for editing our subject, which we provided on the occasion of the 87th Independence Day of our country. Afghanistan is like Korea, a mountainous country. It is located, as we Afghans say, in the hearth of Asia and on the cross road between central Asia, South Asia, China and Middle East. The strategic location of Afghanistan has enticed conquerors throughout the history to pass and often govern in our country until 16th century. In the 19th century, Afghanistan Issue became an international problem. The Russians from the north and the British India from the south wanted to have an impact on our country. Despite of three Anglo-Afghan wars during the 19th century, a treaty was signed in 1879, in which Afghanistan's foreign affairs are to be conducted by the British, and it lasted until 1919.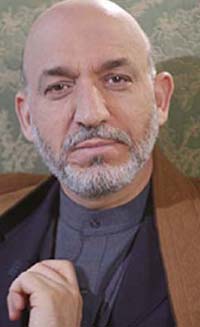 H.E. Hamid Karzai, President of the Islamic Republic of Afghanistan
After the World War I, our Amir Habibullah Khan demands international recognition of Afghanistan's full independence. This caused the intervention of Britain's and the 3rd Anglo-Afghan war begun. Amir Habibullah Khan was secretly assassinated and his son Amanullah Khan took the throne. The war lasted only one month and our country gained its independence. Our King Amanullah Khan was a reformist; he wanted to change Afghanistan into a modern society, which he wanted to bring from the West. But the people of Afghanistan at that time were not ready for these changes, therefore our King faced many problems and because of demonstration in many parts of our country, he had to leave Afghanistan. After then, Afghanistan was relatively calm and the Afghans enjoyed peace and security until 1979, when the Russians invaded our country.The Russians have been faced a strong resistance from Afghans, which resulted in killing of more than one million Afghans and destruction of major infrastructures in our country. The insecure situation in Afghanistan caused that our country become a secure place for Al-Qaeda and their terrorist actions. With the assistance of the International community, we could withdraw the Al-Qaeda group from our country and collapse the Taliban government in 2001.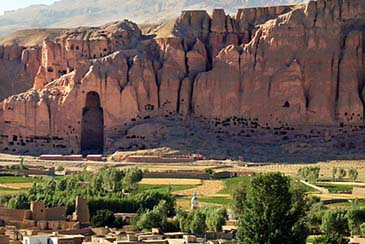 Where Buddha Once Stood — This is the Bamiyan Valley, looking across the town to the Large Buddha niche. At 55m high this used to house the tallest standing Buddha ever made and which was created in the 6th century. About 500m to the right is the Small Buddha niche with a similar carving that was 38m high.
Photo by Jonathan Wilson
A group of Afghan technocrats came together in December 2001 in Bonn-Germany to bring peace in our country. An agreement was signed and H.E. Hamid Karzai was elected as president of Afghanistan. H.E. Hamid Karzai graduated from Simla University of India. He has taken active part in the resistance against Russians invasion to Afghanistan. During his presidency, we had many achievements. The Bonn Agreement articles have been accomplished. We have a constitution now. Presidential and Parliamentary elections have been held. More than 30 percent of our legislators are women.Our Cabinet members have been approved by our Parliament. We are building now a government, in which security and stability will be promoted; and governance, rule of law and human rights will be improved. More than 6 million children have the chance to visit the school.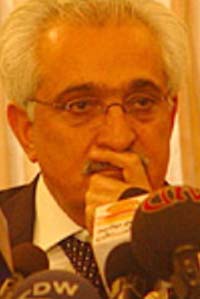 H.E. Dr. Dadfar Rangin Spanta, Minister of Foreign Affairs of the Islamic Republic of Afghanistan
H.E. Dr. Rangin Dadfar Spanta was recently selected and approved by our Parliament as minister of foreign affairs of the Islamic Republic of Afghanistan. He was previously the senior advisor on international affairs to our president. Before returning to Afghanistan, he spent many years as a scholar and professor of political science at Aachen University in Germany. I am very happy to be working in South Korea, because the people of Korea are very friendly. Our political, economical and cultural relations are improving and we are working together with the Korean government to boost it more. Thank you Nabil Malek Asghar
Ambassador Extraordinary and Plenipotentiary of AfghanistanH.E. Hamid Karzai
President of the Islamic Republic of Afghanistan
H.E. Dr. Dadfar Rangin Spanta
Minister of Foreign Affairs of the Islamic Republic of Afghanistan