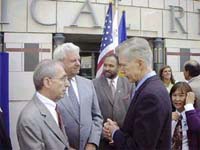 The ink is not yet dry on SB 60, the new California law allowing undocumented workers to obtain driver's licenses, and already the State's Republican Assembly is trying to repeal it. Unable to win in the legislature, the Republicans are collecting signatures to place a referendum on the ballot so voters could rescind the new law. Gov. Gray Davis signed the bill after it was approved by the state legislature virtually along party lines with all but one Democrat voting in its favor and all Republicans against it. Republicans believe that granting licenses to undocumented workers poses security risks and legitimizes individuals who have committed a crime by entering the country illegally. Concerns about security and rewarding law-breakers are valid. However, we are more vulnerable when we don't know who is in our country and driving on our highways.
State Sen. Gil Cedillo (D-Los Angeles), who had been trying to get SB 60 implemented since 1998, believes that people are already driving, but may not know the rules of the road or have insurance. In a traffic accident, they might be tempted to run for fear of being arrested and deported, rather than cooperate with authorities. Having a license will mean increased safety for everyone. It will also mean that undocumented workers will be able to take their kids to school, to a doctor, or anywhere they need to go in a secure environment.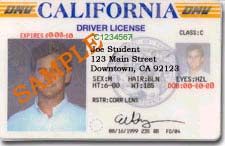 In addition, the license will give applicants some dignity as human beings. Since they are here and working, people have the right to drive and do so legally. Many law enforcement officers believe that undocumented workers should be allowed to drive legally because safety would increase for all of us. Denying people the right to drive legally, while at the same time allowing them to work, is also hypocritical. It means that we value what they do, but nevertheless want to make it difficult for them. They must work, but how they get to the job site is their problem. With an estimated 2 million undocumented workers, California's new law will affect a significant number of people. Yet, the Golden State is not alone in allowing undocumented workers to apply for driver's licenses. Alaska, Connecticut, Idaho, Louisiana, Montana, Nevada, New Mexico, North Carolina, Ohio, Rhode Island, Tennessee, Utah, Washington and West Virginia are already doing it. Although rules vary slightly with each state, the basic provisions are similar. Instead of requiring a social security number and proof of legal residency, the Department of Motor Vehicles will ask for a taxpayer identification number and other documents to determine the identity of the applicants. In California, applicants will also have to provide a legible thumb-print. In addition, they will have to undergo criminal background checks and provide proof of having lived in California at least 15 months in the three years preceding application. However, they will not have to submit proof that their presence in the U.S. is authorized. Of course, the new law may dilute the value of the driver's license as an ID card. Its value as a "domestic" or sometimes international passport will certainly diminish. Americans re-entering the U.S. from Mexico, Canada, and the Caribbean may no longer be able to use the driver's license as an ID card.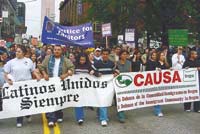 Yet, the driver's license was never meant to be used as an ID card. Its purpose is to grant the bearer driving privileges. My California driver's license clearly states that it's valid to "drive a motor vehicle" and is not to be used to establish " eligibility for employment, voter registration, or public benefits." Anyone driving an automobile in California or anywhere else should have to receive appropriate training, pass a test, and carry appropriate insurance regardless of immigration or visa status. If Republicans succeed in overturning SB 60, it will not reduce the number of drivers in California's roads nor will it reduce immigration. It will, however, make us all less safe.