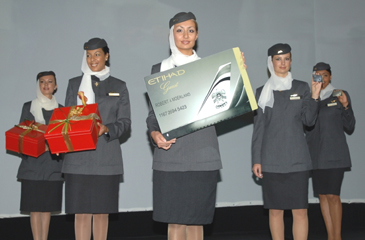 Peter Baumgartner, head of marketing, Etihad Airways (centre left) and Geert Boven, acting CEO, Etihad Airways (centre right) surrounded by Etihad Airways cabin crew at the launch of Etihad Guest.
Etihad Airways, the UAE's national airline, has been celebrating the launch and outstanding success of its new loyalty programme, Etihad Guest.Since unveiling the programme on 30 August, Etihad has already
received 8,000 online applications and more than 50,000 requests from Guests at Etihad's destination airports, flights and sales offices.The success was celebrated at a VIP gala dinner, held on Sept.6
night at Abu Dhabi's, prestigious Emirates Palace Hotel. Etihad senior management were joined at the gala dinner by international dignitaries, key industry speakers, representatives from the regional media, and trade partners."The global response we have had since launching Etihad Guest has been incredible. We have created a programme that offers flexibility, transparency, and convenience which is exactly what airline passengers have been craving for many years," said Peter Baumgartner, head of marketing for Etihad Airways.Also attending the event in Abu Dhabi was Randy Petersen, who is widely considered to be the world's leading expert on airline frequent flyer ogrammes.Mr Petersen, editor of InsideFlyer, commented: "The Etihad Guest programme has benefits for every type of flyer because, regardless of how many miles a member has, they can redeem an
award. Therefore every member has an incentive to save miles, and this is unseen in any programme throughout the globe."The membership applications come from more than 70 countries
around the world, with the United Kingdom, Germany, Saudi Arabia, Pakistan and Canada providing the top five most popular markets."Many of our new members are based in countries that Etihad does not yet fly to, which illustrates how widely the Etihad brand is known throughout the world. These new members are clearly anticipating the continued growth of the airline in which we aim to double our network of destinations by 2010," added Geert Boven, Etihad Airways' acting CEO.In the meantime, Etihad Airways on Aug. 29 launched its Etihad Guest programme, a unique proposition that revolutionises airline loyalty initiatives and echo's the airline's personalised and customer-focused approach to travel.
The initiative is being rolled out throughout its global network of 35 passenger destinations simultaneously.At the core of the programme's creation is the absence of uncompromising restrictions traditionally associated with existing loyalty schemes, replaced instead with a flexible range of features and services designed to cater to public demand.Geert W. Boven, Acting CEO of Etihad Airways commented: "With our hospitality-orientated approach Etihad Airways is certain to raise a few eyebrows amongst its peers, many of whose frequent flyer-related schemes remained relatively unchallenged by the industry until now.""However, having carried out research of the issues surrounding frequent flyer schemes, we know that the travelling public are increasingly seeking out incentives and benefits that indicate a genuine respect for their custom while rewarding them."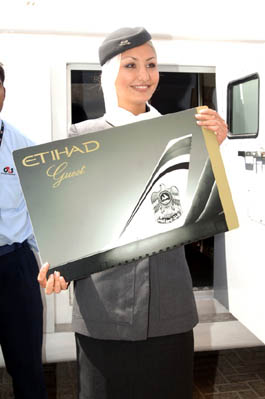 Etihad Airways unveils its new loyalty programme Etihad Guest.
Essentially, the key features that the programme will offer its Guests are:1) Flexible travel, with anytime, any flight availability:
Recognising that travellers' biggest criticism of frequent flyer programmes is that accrued miles are not always easily redeemable for the flights they'd want, Etihad's new blueprint for loyalty has eradicated the concept of blackout periods and flight redemption restrictions.
Every flight has an allocation of GuestSeats throughout each of the three Zones which offer the best value for miles and can be booked for a fixed mileage rate. However, unlike other airlines, Etihad has introduced the concept of OpenSeats to ensure that Guests are still able to choose when they would prefer to travel and redeem their miles on the flight of their choice. While the mileage required is determined according to the fare level travelled in, as long as there are seats available Guests have the option to redeem their miles whenever is most convenient to them. 2) Choice of "payment," whether purely miles or a cash contribution: Unlike most airlines, Etihad recognises that flexibility is the ultimate mark of respect to its loyal Guests. As such, it is one of the few to offer all its members the possibility of using a combination of miles and cash when redeeming rewards with its Miles+Cash feature. Using the online slider tool, Guests enter a combination of miles and cash values into the relevant MyMiles or MyCash fields. By moving the innovative slider bar they are then able to calculate which proportion of the two will work best for them at the time of redemption.3) Immediate redemption potential, as of the first mile accrued:
Mindful that frequent flyers are rarely able to enjoy instant gratification on their"points," Etihad's wide range of established partners have been carefully chosen to ensure that Guests are able to treat themselves from the moment they accrue mileage.
Whether opting to take advantage of the great range of rewards on offer or topping up the outstanding mileage balance with the flexible cash payment option, Guests are given a warm welcome and actively encouraged to treat themselves to their well deserved rewards from the moment they start accruing their air miles. Indeed, the 1MileRedemption concept ensures that members can exchange as little as one mile when taking advantage of the Miles+Cash option.4) Range of rewards, with a network of non-flight partners to choose from: Etihad has quite literally gone that extra mile by partnering with a network of airline, car rental, financial, retail and leisure partners and in doing so aims to offer Guests greater mile earning as well as spending opportunities alongside an attractive range of discounts. The Reward Shop is just a click away with the full catalogue of possibilities available on www.etihadguest.com. 5) Added value, with miles that are worth more: The initiative focuses on delivering greater value to its Guests – both in terms of dynamic miles value and added value elements, such as flexibility and choice. The result of this is that an Etihad mile is worth more than any miles offered through competitors' equivalent programmes, especially when combined with the uniquely personalised Miles+Cash option. Added to this, with three tiers to qualify for – Etihad Guest, Etihad Guest Silver and Etihad Guest Gold – members are entitled to extra benefits the more miles they earn, ranging from priority check-in, lounge access and up to up to 15kg excess baggage allowance to complimentary Limousine service and fast track immigration. 6) Earning miles on reward flights through cash contributions: An extra advantage of the programme is that Etihad Airways is the only airline to offer members the chance to earn miles on their reward flights. Essentially, Guests are able to make their miles work even harder for them by enjoying a flight reward redeemed through a combination of Miles+Cash and accruing extra reward miles through the cash element. As such, a Guest travelling on a flight which has been financed half with cash and half with miles will receive miles worth 50 percent of the total flight. This ensures that members can enjoy the best value proposition possible.Peter Baumgartner, Head of Marketing at Etihad Airways concluded: "Etihad remains committed to changing the way our Guests see the world and, with our ever-expanding network of global destinations, we will continue striving to set new industry standards which enhance the traveller's overall experience."Membership is free and mile accrual is immediate, with individuals from every country aged two years old and upwards eligible to join. For more information or to enrol online visit: www.etihadguest.com.Membership forms are also available on board all Etihad flights, reservations offices, lounges (Abu Dhabi and London) and check-in desks. Alternatively, Guests can request an enrolment form by calling the Etihad Guest Service Centre and mailing the completed form to the address provided.