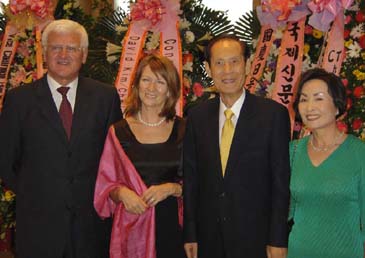 Slovak Ambassador to Seoul Pavel Hrmo (left) and his wife Mrs. Viera Hrmová (second from left) poses with S. Korea's former National Assembly Speaker Lee Man-Sup at its Constitution Day ceremony at Shilla Hotel on Sept. 1, 2006.
On the occasion of the National Day of the Slovak Republic Slovak Ambassador to Seoul Pavel Hrmo and his wife Mrs. Viera Hrmová hosted a reception at Shilla Hotel's Youngbin Kwan in Jangchung-dong, Seoul on Sept. 1, 2006.The reception, which started at 6:30 p.m. on the day at Youngbin Kwan's Emeral Hall and Garden, drew hundreds of both local and international personalities including scores of foreign ambassadors serving in Seoul.Among the high profile people was Lee Man-Sup, a senior local politician who served as the speaker of South Korea's National Assembly.Slovak Republic came into being on Jan. 1, 1993 when the former Czechoslovakia split into the Czech Republic and Slovakia. The constitution of Slovakia was adopted in Bratislava on Sept. 1, 1992, making its Constitution Day the National Day of Slovak Republic. Amb. Hrmo has been serving as ambassador extraordinary and plenipotentiary of Slovakia in Seoul since December, 2003.Slovakia established diplomatic relations with South Korean in 1993. Slovakia also opened official ties with North Korea in the same year.One year earlier before official relations, both Slovakia and South Korea singed an agreement for avoiding double taxation.In 1995 Both Slovakia and South Korea signed a visa-free agreement, and an agreement for investment security. In 1989 both countries exchanged a trade office.In 2005 South Korea imported 31 million US dollars worth of mainly machinery and chemical products from Slovakia and exported 692 million US dollars worth of auto parts, electronic goods, and machinery to Slovakia.A total of 24 major South Korean corporations are operating in Slovakia presently. The number of South Koreans living in Slovakia now amount to 1,000.For detail or inquiries please call the Slovak Embassy in Seoul at 794-3981.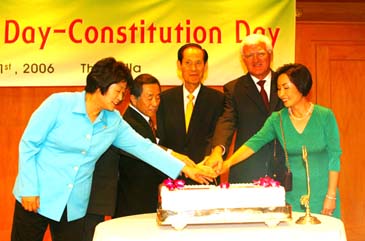 Slovak Ambassador to Seoul Pavel Hrmo (second from right) cuts a cake at its Constitution Day celebration at Shilla Hotel in Seoul on Sept. 1, 2006.
Basic Facts about Slovakia
President: Ivan Gasparovic
Prime minister: Robert Fico
Population: 5.4 million (UN, 2005)
Capital: Bratislava
Area: 49,033 sq km (18,932 sq miles)
Major language: Slovak
Major religion: Christianity
Life expectancy: 70 years (men), 78 years (women) (UN)
Monetary unit: 1 koruna = 100 haliers
Main exports: Manufactured goods, machinery and transport equipment
GNI per capita: US $7,950 (World Bank, 2006)
Internet domain: .sk
International dialling code: +421