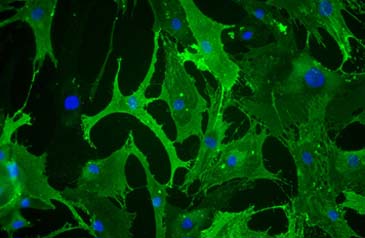 Stem cells from Adipose Tissue

It's an old trick: encourage your opponents to fight each other so they never suspect the actual threat. In the case of stem cells, conflicting worldviews are being skillfully exploited to incite mankind to "hang separately" precisely when it needs to "hang together."Stem cell advocates claim that millions might suffer if crucial biomedical research is delayed or blocked. This prediction is correct, but wrong in its tense. Millions have already suffered, but not because of a President's veto, or over religion, morals, or ethics. Proven research with immediate potentials for improving the lives of millions is being ignored, maligned, delayed, and blocked to protect financial strategies cloaked in the guise of "looking" for cures.
Preserving the Research Status Quo
"I think people who want embryonic stem cells just don't want [alternatives] to work," said Harvard's Denise Faustman to World Magazine in 2005. Faustman twice cured mice of Type I Diabetes without stem cells. She uses an inexpensive drug, called BCG, to block ongoing immune attacks on insulin producing "beta islets." She then removes the cause of Diabetes by supplying a missing protein, which retrains the immune system to recognize the cells of the pancreas as "self." Five other labs have confirmed that this method can allow the pancreas [in mice] to regenerate. Faustman believes her approach to curing Juvenile Diabetes may also work on other forms of autoimmune disease, such as Lupus and Rheumatoid Arthritis. If true, this could signal a major paradigm shift for research-related industries, including basic research, pharmaceuticals, non-profits, and biotech. Perhaps it's not surprising that the general response to her findings by science and industry has been as sunny as a cloudy Arctic day in December. If it works [in humans], wrote Gina Kolata of the New York Times, "scientists will have to reconsider many claims for embryonic stem cells as a cure for diabetes, and perhaps for other diseases." Nor is Faustman's approach the only threat to long-range industry plans. "Cord blood stem cells have produced promising results when tested in preclinical animal models of nearly every disease that embryonic stem cells have been postulated to help," said cord blood clinical pioneer Dr. Norman Ende, Professor of Pathology at New Jersey's School of Medicine and Dentistry, in Scientific American. "Regardless," Ende says, "there remains slow development in cord blood research." The public might easily believe the reverse; but it would be wrong. "For the most part, the adult-stem-cell agenda is moving forward at a very nice pace," said James Battey, chairman of the NIH Stem Cells Advisory Task Force, to Neil Munro of National Review. "The place where we think the NIH may need to give a helping hand is in the area of human embryonic stem cells."According to the July 31 issue of Newsweek, adult stem cells are being tested in over a thousand clinical trials. Indeed, an August 2 "stem cells" search of the NIH clinical trial database returned 1,186 hits. Of these, 988 involve stem cells—but many test pharmaceutical refinements of existing stem cell treatments, such as new drugs in established therapies for Leukemia and Lymphoma. Few test adult stem cell or cord blood potentials for new medical uses—especially for conditions unrelated to blood or bone marrow disorders.Of 988 adult stem cell or cord blood related trials, none are for Parkinson's, Alzheimer's, Stroke, Spinal Cord Injury, ALS, Huntington's Disease, Cerebral Palsy, or Type II Diabetes. Yet, since 2000, peer-reviewed studies using adult stem cells or cord blood safely led to positive effects in pre-clinical animal models of all these conditions. However, here too the public is told the reverse.
Hope Denied
"Adult stem cells have been used in their narrow milieu to cure diseases and help with diseases that are blood specific," said Rep. Diane DeGette (D.-Colo.) in support of H.R. 810, the pro-embryonic stem cell bill that the president vetoed. "I am here to say," DeGette told the nation last May on C-span, "that there is no scientific evidence today that cord blood or adult stem cells will cure Alzheimer's, Parkinson's, Type I Diabetes, or the multitude of other diseases that are not blood based."In 2001 Norman Ende found that 87% percent of cord blood treated mice [with a standard animal model of Alzheimer's Disease] had a lifespan of at least three hundred sixty days; 75% lived four hundred days, whereas 10% of untreated animals lived beyond two hundred seventy days. Ende found similar life sustaining effects using cord blood transfusions for Parkinson's Disease, Huntington's Disease, Prostate Cancer, Diabetes I & II, and ALS. Patients with ALS learned of cord blood's positive effects in Ende's ALS studies and in similar tests at the University of South Florida's Center for Brain Repair. They sought and gained the FDA's initial permission to receive cord blood transfusions for their fatal disease. The paralysis of 17 of 46 patients reportedly began to reverse. Denise Donnelly, sister of long-time ALS patient Major Michael Donnelly (ret.), a decorated Air Force fighter pilot in the first Gulf War, speaks with restrained emotion of cord blood's effect on her brother:"He cried with joy as he lifted his legs from the bed for the first time in years. The improvements were small, but unmistakable. His physical and respiratory therapists were both astounded at the improvements, and both said they would not have believed the improvements possible if they hadn't witnessed them in person."After first allowing this therapy to proceed, the FDA raided the Atlanta clinic that provided the treatments, denying patients further access to a partially successful treatment despite no reports of serious adverse effects and contrary to FDA regulations that govern tissue transplants, including whole umbilical cord blood.After viewing mechanically measured changes in one patient's respiratory muscle strength, which increased over five months from 9% to 109% after a single cord blood treatment, Neurobiologist Jean Peduzzi-Nelson commented, "In addition to obvious therapeutic potentials, these treatments may offer a unique opportunity for understanding causes of ALS found in much larger patient percentages than the present mouse mutant SOD model reflects. This could have important implications for the efficient development of more effective treatments."Major Donnelly died on July 4, 2005. He was the last of the 17 patients who briefly saw a glimmer of hope. ALS has no known cause in 95% of its cases, no cure, and no effective treatment.
Benefits Squandered
"Intravenously administered human umbilical cord blood cells enter the brain, survive, migrate, and improve functional recovery after stroke." University of South Florida researchers reported in Stroke, in 2001. Twelve published studies by four labs in the U.S., China, and Japan have expanded these results, confirming that cord blood cells offer therapeutic benefits for stroke by reducing inflammation, suppressing adverse immune reactions; secreting protective chemicals, and offering cell replacement and repair—critical benefits also needed for acute spinal cord injury and traumatic brain injury, and relevant to diseases such as Parkinson's and ALS. In animals, cord blood-derived treatments led to better functional outcomes in animal models of acute SCI and TBI. A 2005 study determined cord blood's "therapeutic window" for stroke:"The results from this study are promising in that the current three hour therapeutic window for the treatment of stroke victims…may be extended with the use of human umbilical cord blood cell therapy twenty-four to seventy-two hours post stroke." [Newman, et.al, Stem Cells Development, 10/05]Nevertheless, stroke remains the third leading cause of death in the United States and the leading cause of disability. No clinical trials are underway or scheduled to develop cord blood benefits for stroke, SCI, or TBI. It might be assumed that safety and performance problems—such as those that plague embryonic stem cells—restrict cord blood's clinical use for stroke. Ende says that cord blood transfusions matched for blood type are "safer than standard blood transfusions." Two clinical studies that tested cord blood transfusions without immune suppression in a hundred and 57 subjects support his claim. "Patients received two to six units of freshly collected placental umbilical cord blood without encountering any clinical, immunological or non-immunological reactions." Indian clinicians reported in 2005. The conclusions of their six-year study were published in the Journal of the American College of Surgeons. "It (cord blood) may be safely used for the treatment of malignant and nonmalignant disorders."Adult stem cells also face an uphill fight to break free of entrenched paradigms. Dr. Michael Levesque of Cedars Sinai Medical Center in Los Angeles used a Parkinson's patient's own adult stem cells to put his disease in symptomatic remission for three years. However, Levesque's FDA approved plan to test this approach in a full clinical trial was set back by a lawsuit filed by Stem Cells, Inc. The suit was eventually dropped, but crucial investors had been frightened from backing the trial.Stanford's Irv Weissman, Co-founder of Stem Cells, Inc. and Chairman of its Scientific Advisory Board, played a major role in promoting California's Proposition 71. He directs the Cancer, Stem Cells Biology and Medicine Institute at Stanford, which plans to pursue somatic cell nuclear transfer—a technical name for cloning.
Divide and Control
Mankind desperately needs the stem cells moral debate. For the first time in history the public is questioning the medical worth of broad research directions. Fraudulent claims and questionable ethics are being challenged and exposed. However, throughout these debates scandals and hype have distracted the public from considering a key point—the medical goals of society and financial goals of science must eventually conflict.The discovery that adult stem cells and cord blood are nature's design for cell replacement and organ repair presented a major dilemma for science. These cells, especially cord blood, offer far more accessible medical benefits than embryonic cells, but present fewer opportunities for research patents, biotech growth, and pharmaceutical profits. Research-related industries could choose to pursue patents, knowledge, and profits, or foreseeable treatments and cures—but not both.NIH Stem Cells Advisory Task Force member Darwin J. Prockop of Tulane University Medical School said of task force priorities in 2003, "The emphasis of the group was very much embryonic stem cells. I kept trying to introduce adult stem cells, [but] that was not much on the agenda." [N. Munro, Petri Dish Politics, National Review]A year later, Committee Chairman Battey defended NIH stem cell policies to Rick Weis of the Washington Post, insisting that basic stem cell research is just as deserving of support as therapeutic trials, "but it's a much harder sell."And yet, if successful treatments develop for Parkinson's, ALS, Stroke, Diabetes, or any condition used to promote basic science, how much harder would it be to "sell" long range, problematic research, such as embryonic stem cells and cloning—more to the point, who would buy them?While Battey and NIH were giving embyonic stem cell research a "helping hand," and while the media was selling basic science for social and political gain, Denise Donnelly was fighting for a cord blood treatment to possibly save her brother's life. "We need to act now," she pleaded, "while lives that might be saved hang in the balance!"Perhaps she fought for us all.