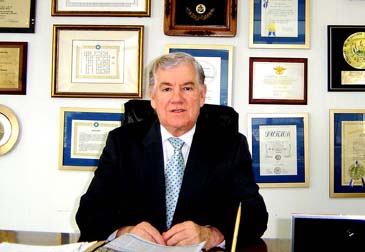 Honduras Ambassador to Seoul Rene Francisco Umana
Honduras Ambassador to Seoul Rene Francisco Umana said on Sept. 11, 2006 that he will open Honduras Commercial Office in the southern party of Seoul on Sept. 14, 2006.To be situated on the ninth floor of Hyundai Intellex Building at 261, Nonhyun 2-dong, Gangnam-gu, the Honduras Commercial Office will be in charge of drawing investment from the South Korean businesses.In an interview with The Seoul Times on Sept. 11, 2006 Amb. Umana said that the opening ceremony will be held at 4 p.m. on the day. He said that Korean businesses are interested in investment in Honduras, particularly from housing, telecom, and tourism industries.The top Honduras envoy said that Honduras will soon attract a total of 170 million US dollars for investment from the private South Korean businesses.He said that there is a severe lack of housing in Honduras, particularly for the poor people. Investment for housing from the South Korea will greatly help ease the housing problems in Honduras.According to the top Honduras envoy, such areas as telecom and energy are privatizing in Honduras.Since his arrival in Seoul as Honduras ambassador four years ago, Amb. Umana has been dedicating himself to enhancing bilateral relations between South Korea and Honduras.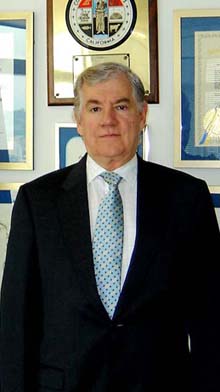 Honduras Ambassador to Seoul Rene Francisco Umana poses for The Seoul Times in his office in downtown Seoul.
With many years of his strenuous efforts with South Korea's Ministry of Foreign Affairs and Trade (MOFAT) Honduras will be able to have South Korean Embassy in the Central American country.The South Korean Embassy is expected to open in Tegucigalpa, the capital of Honduras in the second or third week of October in 2006, according to the ambassador.Amb. Umana said that currently there are about 800 South Korean people involved in mainly textile business in Honduras as of now. Honduras is the world's third largest exporter of textile to the US market.In 2005 Honduras exported to South Korea 22 million US dollars' worth of coffee, cotton, and fishery items whereas it imported from South Korea 120 million US dollars' worth of automobles, tires, and electronic goods.Amb. Umana is now working very hard with MOFAT in his efforts to have President Manuel Zelaya Rosales make a state visit to Seoul. He plans to invite President Rosales to Seoul in the spring of next year.As for South Korean Foreign Minister Ban Ki-Moon's chance for becoming UN Secretary General, Amb. Umana said that Foreign Minister Ban is the best candidate for the top UN job."I already recommended my foreign ministry that Honduras support Minister Ban for the UN's highest position," said Amb. Umana.There are six or seven South American ambassadors in Seoul who already took the similar step for Mr. Ban, according to Amb. Umana."I will be very glad to see Mr. Ban to become secretary general of the UN," said Amb. Umana. "He is the best candidate for the top UN job."Born in 1941 in Honduras, Amb. Rene Francisco Umana has spent his life in diplomacy and business. During his diplomatic years he served as ambassador in Taipei, Taiwan, and as consul general in Los Angeles, California, the US.He is married to Gladys De Umana. With her he has two grownup sons and daughters who are all married. He has six grandchildren from them.