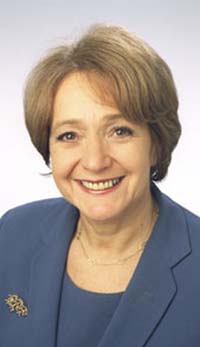 Mrs Margaret Hodge MP, British Minister of State for Industry and the Regions
Mrs Margaret Hodge MP, British Minister of State for Industry and the Regions will visit Seoul on 18-19 September with a programme aiming to increase the growing links between the UK and Korea - two countries with reputations as leaders in science and innovation.The programme will focus on encouraging even greater collaboration, including through the signing of a renewed MOU on co-operation in Information and Communications Technologies with MIC Minister Rho Jun-hyong. Speaking a few days before the Minister's arrival, British Ambassador to the Republic of Korea, Warwick Morris said: "Both the UK and Korea are countries which excel in science and innovation. A previous MOU signed five years ago led to a significant increase in collaborative activity. We are confident that this updated and refocused agreement will result in new areas of co-operation, including in the fields of telecoms policy and regulation and multi-media applications like DMB. The Minister's visit will also be an opportunity for her to meet existing British investors in Korea and some of the growing number of Korean investors in the UK. The UK has become the number one location for high technology Korean investment within Europe, in no small part due to its attractive regulatory and economic environment." Following the meeting with MIC Minister Rho, Mrs Hodge will open a roundtable discussion on technical convergence between senior British and Korean officials. Her programme also will include calls on Samsung Electronics (a major investor in the UK) and LG Electronics, a meeting with Mr Kim Jong-kap, Vice Minister for Commerce, Industry and Energy and a visit to British company AMEC's $1.2 billion second Incheon Bridge project.The UK is a major investor in the Republic of Korea with over 10,000 jobs directly created by UK investment. UK investors include Standard Chartered's $3 billion acquisition of Korea First Bank and a joint $3 billion store network programme by Tesco in partnership with Samsung. The UK is the world's second largest recipient of foreign direct investment after the US, and is the leading location for high technology Korean investment within Europe, with over 130 companies. Key investors include Samsung Electronics (European HQ, product design centre, telecoms R&D), LG Electronics (telecoms R&D), NC Soft (online games), and Kumho Tyres (R&D). A previous MOU signed by the British and Korean Governments aiming to increase science and technology collaboration has been deemed a considerable success with benefits for both countries. Examples of collaboration include previous MIC Minister Chin's attendance at the EU's i2012 conference - the first Asian guest speaker - and in June this year the two countries launched a new trial of DMB technology in London involving Korean handsets combined with UK broadcasts. The renewed MOU aims to continue this work and to encourage a focus on new areas including ICT policy and regulation, digital broadcasting, spectrum management and convergence.
Who Is Margaret Hodge MBE MP?
Minister of State for Industry and the Regions
Portfolio
Overall responsibility for Business Group issues (except Steel), including:
Enterprise, growth and business investment
Strengthening regional economies
Small Business Service
Company Law Reform Bill
Companies House
Corporate Social Responsibility
Biography:
The Rt. Hon Margaret Hodge MBE was appointed DTI Minister of State for Industry and the Regions in May 2006. She was elected Member of Parliament for Barking in 1994 and has carried out the following roles in Government: Parliamentary Under Secretary of State for Employment and Equal Opportunities, Department for Education and Employment (1998 - 2001);
Minister of State for Lifelong Learning, Further and Higher Education, Department for Education and Skills (2001 - 2003);
Minister of State for Children, Young People and Families, Department for Education and Skills (2003 - 2005) and;
Minister of State for Employment and Welfare Reform in the Department for Work and Pensions (2005 - 2006). Margaret Hodge entered politics in 1973 as a councillor for the London Borough of Islington where she was Chair of the Housing Committee from 1975 to 1979 and Deputy Leader from 1981 to 1982, before becoming Leader from 1982 to 1992. She spent two years as a consultant for Price Waterhouse from 1992 to 1994. Prior to her appointment to the DfEE she was Joint Chairman of the House of Commons Education and Employment Select Committee.She was educated at Bromley High School and Oxford High School before obtaining a BSc at the London School of Economics. Margaret Hodge is married with four children and one grandchild.