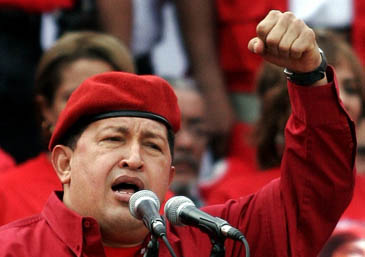 President Hugo Chávez of Venezuela
CARACAS — President Hugo Chávez of Venezuela, it is well known, talks a lot. Whether at home or on the road, in Damascus or Minsk, his speeches can last hours.
Often, as he talks on, Chávez drops the names of books he is reading or has grown to love, giving insight into the various intellectual and literary influences on his thinking and what he calls his Bolivarian Revolution, an amalgam of socialist-inspired and anti-American policies.
Favorite authors include Victor Hugo, with "Les Misérables" at the top of his must-read list, with its description of passion amid revolutionary barricades. At the swearing-in of ministers for nutrition and the people's economy, Chávez recited a passage from the introduction about the need to stamp out ignorance and poverty.
"Don Quixote" by Miguel de Cervantes also features prominently in his speeches, with Chávez identifying with the eccentric knight-errant fighting injustice. To celebrate the 400th anniversary of the book's publication, the government paid for a million copies to be distributed free last year. Venezuela also paid for 70,000 copies in English for Caribbean neighbors and 5,000 in French for Haiti.
Chávez's supporters, who remain the majority in this country, love such displays, pointing to strides made in reducing illiteracy in recent years. His critics suggest that it is yet another way for the government to raise public spending.
If there is a whiff of 1970s-style Third World intellectual pretension in the populism of his campaign and his championing of certain books, Chávez does not seem to mind. Indeed, it reflects what seems a wider strategy on his part: He seems determined to articulate and spread a national ideology, in the way of a Castro or Perón.
The government is making more books available to the population through programs like the Kuai Mare Foundation, which operates a chain of more than 50 bookstores stocked largely with nationalist or left-leaning books sold at bargain prices.
Beyond the classics of European literature, Chávez recommends works by Latin American political theorists and historians and even the occasional North American. Chávez says he read John Kenneth Galbraith as a boy growing up humbly in Barinas, where his parents taught school.
John Kenneth Galbraith's "Economics of Innocent Fraud," a witty critique of the U.S. economy, stands out for Chávez. Galbraith, who died this year at the age of 97, "is not a socialist, but still he is a critic of capitalism," Chávez recently said on his Sunday television program, "Hello, President." He has called himself "Galbraithiano."
Some of Chávez's reading preferences may be predictable, given his dislike of just about anything to do with President George W. Bush. One of his anti-Bush staples is "Dude, Where's My Country?" a book by the filmmaker Michael Moore.
Other references are a bit more obscure, like "The Turning Point," by Fritjof Capra, an Austrian-born physicist. Chávez plucked a theme in the book, on moving away from centuries of exploitation, to discuss his opposition to U.S. efforts to form a free trade zone across the Americas. Chávez cites books recommended to him by Fidel Castro, another voracious reader, including "The Hydrogen Economy," by Jeremy Rifkin, a look at moving the world beyond its dependence on oil. "The book is based on something which is no longer a hypothesis - it is a thesis," he said on a visit to Tehran in July. "Oil will run out one day."
Here in Venezuela, which has the largest oil reserves outside the Middle East, people have become accustomed to Chávez's literary recommendations. What really seems to interest many Venezuelans are books about Chávez himself.
Bookstores in Caracas carry more than a dozen titles about him, from unauthorized biographies to exposés of Bush administration efforts to oppose his government.
Cristina Marcano, the co-author of a best-selling biography, "Hugo Chávez Without His Uniform," said that in his army days Chávez cited the influence of "The Green Book" by Colonel Muammar el-Qaddafi of Libya, first published in the mid- 1970s. "Chávez read Qaddafi with great admiration," Marcano said in an interview. One of Qaddafi's ideas was to ban commercial retail activity, an event inducing economic chaos that the Venezuelan leader has wisely ignored.
How does Chávez, burdened by other responsibilities, manage to read so much? One possibility is offered by Herma Marksman, the subject of "The Other Chávez," one of 16 books on Chávez by Alberto Garrido, a noted political analyst here.
Marksman, a history professor who was Chávez's mistress from 1984 to 1993, said he would often have her read aloud to him from books while he drove a car. "He would hang on every word, especially if it was fiction by García Márquez," she said in an interview.
However eclectic Chávez's taste in books might appear, there is one constant on his bookshelf. Chávez often refers to maxims by military or guerrilla leaders, admiring their rise to power through the barrel of a gun.
They include Simón Bolívar (the father of Venezuelan independence), Napoleon, Che Guevara and Mao Zedong. In an appearance in September at the national military academy, Chávez read from Mao's writings.
"No one does this anymore in China," the newspaper El Nacional said in an editorial, "though he hasn't figured this out in his five trips to the country of Deng Xiaoping."
E-mail: pagetwo@iht.com
Tomorrow: John Vinocur writes about Germany's leaving the moral high ground and taking sides.