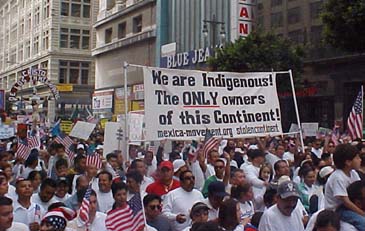 Undocumented workers in protest in the Unites States
Addressing the more than 50 migrant rights groups gathered in the Community Dialogue on Migration, Development and Human Rights in New York on Sept. 14, 2006, the United Nations Special Rapporteur on Human Rights of Migrants stated: "We have been excluded" from the high level discussions on migration policy. "The physical distance we are from the United Nations building," stated Mr. Jorge Bustamente, "is symbolic of our distance from the migration policy discussions being held there."
The Community Dialogue is running in parallel to the UN High Level Dialogue on Migration and Development being held in the United Nations Headquarters in New York and attended by ministerial delegates from around the world. The two-day event, held to highlight the economic advantages to both origin and destination countries of migration, has provided only extremely limited opportunity for those affected by the policies, the migrants themselves, to present their views and aspirations.
Mr. Bustamente, the also highlighted the need to raise awareness of migrant concerns. He noted: "Migration is a rational and reasonable behaviour; people move to where opportunities are and where they can find a better life. It is also an inherently international issue. Thus, any policy that relies on unilateral means to curb natural migration, will never be successful."
Migrant Rights International (MRI) organised the parallel Community Dialogue to bring the voices of migrants into the debate. Opening the event, Cathi Tactaquin from MRI explained: "In this conversation on migration and development, we want human rights, the rights of migrants and their families to be part of any ongoing discussion and activity."
Three percent of the world's population now live in a country not their country of birth, the number rising to 9.5% of the population in developed countries. Migrant workers, including irregular migrants, allow industrialised countries to maintain blue collar sectors such as agriculture and manufacturing, and also aid the development of home countries through their remittances, which now total more than all of the world's aid. Yet, say migrants rights groups, the rights of migrant workers are routinely violated. Migrant workers are regularly paid less than local workers, have little access to health and education services and have no avenue for redress in a labour dispute.
Mr. Bustamente ended his address by stating: "Migrants are a large and powerful electorate worldwide. We need to tap into this power and encourage our colleagues to organise and demand a place at the policy-making table." Migrants and their advocates will take up this call on 14 September at a rally to be held in the United Nations Plaza. As Bandana Pattanaik from the Global Alliance Against Traffic in Women stated: "The vulnerability of migrants marginalised by unjust government policies must be recognised by those attending the HLD. Migrants rights are human rights and this must be a part of any further dialogue process."
The Civil Society Parallel Events on Migration, Development and Human Rights are being held at the Queens College Workers Education Extension Center, 25 W 43rd Street between 5th and 6th Avenues in New York City until September 15, 2006.
For interviews and more information, please contact:
Eleanor, GAATW
Email: eleanor@gaatw.org
Arnoldo Garcia (For Spanish language media organizations)
Tel +1 510 928 0685
Email: agarcia@nnirr.org
Joey Dimaandal
Tel: +639175267171, +639278775810
Email: j-mod@rocketmail.com
Address: West Side YMCA, 5 West 63rd Street between Broadway and Central Park West, New York City.