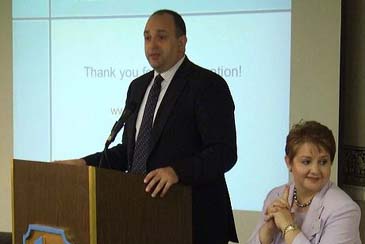 Serbian Minister Milan Parivodic (left) of International Economic Relations speaks at a gathering in Serbia.
The state and economy delegation of the Republic of Serbia, headed by the Minister of International Economic Relations of the Republic of Serbia, Mr. Milan Parivodic, will visit Seoul on Sept. 25-29, 2006.The invitation was extended by Minister of Trade of the Republic of Korea, Mr. Kim Hyunchong will visit Republic of Korea on Sept. 25-29, 2006.Minister Parivodic and delegation will have a meeting and talks with Minister of Trade Mr. Kim Hyunchong, at the Ministry of Commerce, Industry and Energy, Ministry of Finance, with Senior economy policy adviser to the President, Mr.Yoon Dae Hee.Minister Parivodic and delegation will also meet with Chairmen of Korea Trade-Investment Promotion Agency (KOTRA), Federation of Korean Industries and Commerce, Korea Trade Association (KITA) and Korea Importers Association (KITA).Delegation will also visit companies Hyundai, KIA and Samsung.Serbian companies represented in Delegation will present themselves and their interests to potential Korean partners and will have separate meetings with them.
Goals of the Delegation Visit
Although Serbia and Korea are geographically distant countries, there some historical and cultural similarities.It's been 15 years since we established our diplomatic ties. It is not a long period and also it was interrupted by unfortunate events in former Yugoslavia and financial crises in Asia and Korea. But we are now back on a right truck.Korea is among nine largest world economies and has emerged as an important economic force in this globalize world.We are here to boost economic cooperation between the Republic of Serbia and Republic of Korea, to bring to attention of RoK government, its ministries and agencies and in particularly to Korean business community open and numerous opportunities for business in Serbia and with Serbian companies.Today Serbia is becoming vibrant economy, as its growth is on an ascending trajectory. The current economic growth is around 8 percent and we hope to achieve 9-10 percent in coming years.We hope that more enviable presence of Korean businessmen and their investmentsin the Serbian and Balkan region market may brought reach dividends for both our countries.There are a large number of areas where Serbia and Korea may work together. Korea has cutting edge technology and huge foreign exchange reserves and Serbia has skilful and not enough employed human resources and now stable and conducive environment for investments. Serbia provides important regional market and more and more is serving as a hub to reach out to markets in neighboring countries.A prosperous and stable Korean Peninsula is a vital for the long-term prosperity of Asia and the world. Former Yugoslavia and Serbia itself has always stood for peaceful resolution of conflicts through dialog. We appreciate the positive contribution of Republic of Korea to Six Party Talks and particularly its efforts for resumption of the next round of talks. We hope that the process will bring long lasting peace to the region and Korean people.
Delegation
Mr. Milan Parivodic — Minister of international economic relations and head of Delegation,
Ms. Jasmina Hadziabdic — Deputy minister of international economic relations-Bilateral relations department,
Ms. Gordana Hodic — general secretary, Ministry of Trade, Tourism and Services
Mr. Goran Ilic — Ph.D., Deputy Minister of health
Mr. Aleksandar Ljubic — Director of Restructuring centre at the Privatization agency, Ministry of economy
Mr.Danilo Golubovic — general secretary, Ministry of agriculture, forestry and water resources
Ms. Tatjana Radovanov — Cancelour at Serbian Investment &Trade Promotion Agency (SIEPA)
Mr. Dragan Kovacevic — General Manager - POST-Public Enterprise of PTT Communications "Srbija"
Mr. Milos Nenezic — General Manager – Trajal, Krusevac
Mr. Veselin Jevrosimovic — General Manager - ComTrade Group, Belgrade
Mr.Ivan Djokic — Marketing Manager, "Zastava Group," Kragujevac
Mr. Predrag Rolovic — senior officer for marketing - National Tourism Organization
Mr. Mladen Adamovic — President of the Executive Board GARANT
Ms.Vesna Plakalovic — Interpreter GARANT
Mr. Miomir Pljakic — General Manager – FLORES
Mr. Zoran Malic — officer in Ministry of international economic relations, Delegation Secretary
Milan Parivodic — Minister of International Economic Relations
Who IS Milan Parivodic — Minister of Int'l Economic Relations?
Born in 1966 in Belgrade.
Graduated from the Faculty of Law, Belgrade University.
Received his MA degree at the department for intellectual property.
Second MA degree he got at University College London in international business law.
He did his PhD on the topic "Franchising Contract" at the Belgrade University Faculty of Law.
Passed the bar examination and examination for patent agent.
He gave lectures at Belgrade's Faculty of Law and published a number of works in local and foreign journals on international commercial law and intellectual property. He took part in the drafting of several laws. Worked as a consultant for the World Bank and other international institutions that work on the improvement of the legal and economic system in Serbia.
Member of the Democratic Party of Serbia.
Married and has one child.
Speaks English.