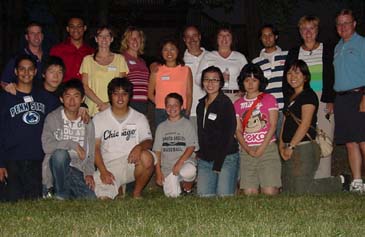 Foreign students in the United States
More than a year after exchange student Nigina Khamidova arrived in Lockport, her host mother has been sentenced for stealing her money.Ranelle M. Boskat, 29, 33 Central Lane, Apt. A, North Tonawanda, was sentenced Monday in Lockport City Court to three years of probation, 250 hours of community service, 25 days in the Niagara County Work Program and $250 in restitution.
Attorney James Perry said Boskat is studying at Erie Community College and has not been in trouble before.Khamidova's second host mother P.J. Champagne has deemed this an appropriate sentence for Boskat. "To me, the three years probation will remind her that she did something wrong," Champagne said. "During the 250 hours of community service, I hope she's thinking of Nigina the whole time."Boskat also is not permitted to come into contact with exchange students or agencies that find them housing.Khamidova, who is from Tashkent, Uzbekistan, became a victim of forgery and fraud as a result of her pocket money checks. Detective Lt. Scott Seekins said Boskat was charged May 31 with two counts each of second-degree forgery and petit larceny for endorsing Khamidova's $287.17 and $375 checks and not giving her the money.
The funds were given to Khamidova through the Future Leader Exchange Program with the help of California-based exchange program AYUSA International. The group later sent a large check for the money Khamidova never received.
Champagne discovered Khamidova, then 18, hadn't gotten her money after she went to pick up the girl at Lockport High School one afternoon. The girl also reportedly hadn't seen much of America, so Champagne made arrangements to take her in.
The teen returned home in May with a few suitcases of trendy clothing and sweet memories of her last weeks in America. Champagne said she is doing well and is now attending an area university.
The Lockport resident said she has been contacted by exchange student agencies to house more students, but has declined because she believes the programs should be more regulated.
"I would not trade that time with Nigina for anything," Champagne said. "We were blessed to have her as part of my family."
This article is from Lockport Union-Sun & Journal.