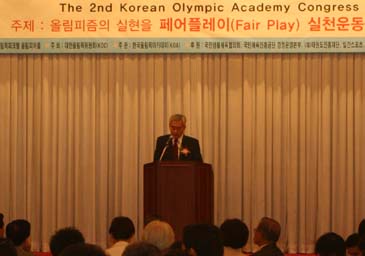 WTF President Chungwon Choue delivers a speech after being nominated as president of the newly established Korean Fair Play Committee at the committee's inaugural General Assembly at the Olympic Parktel in Seoul on Sept. 26, 2006.

Dr. Chungwon Choue, president of the World Taekwondo Federation, was nominated as president of the newly established Korean Fair Play Committee in its inaugural General Assembly in Seoul on Sept. 26, 2006. In his acceptance speech, Choue said, "The committee's launch is belated, but I will do my utmost to bring about a brighter world by spreading our fair play campaign in an organized and systematic manner to all sectors of life in Korea, including sports circles." The Korean Fair Play Committee (KFPC) will become an ordinary member of the International Committee for Fair Play (ICFP). The ICFP, established in 1963, has its headquarters in Paris, France. The international organization awards World Fair Play Prizes annually to athletes, persons or organizations for their acts or sports career promoting fair play. The ICFP aims for the worldwide defense and promotion of fair play with national and international organizations working for sport and education, high-level athletes, children, adolescents and those in charge of training them – coaches and trainers.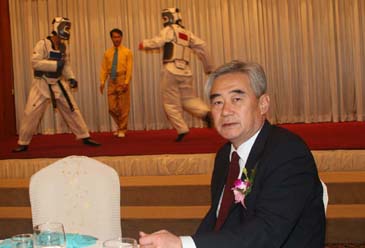 WTF President Chungwon Choue
The WTF is an ordinary member of the ICFP. The ICFP voted Iranian Hadi Saei Bonehkohal, the gold medalist at the 2004 Athens Olympic Games, as the World Fair Player of the Year 2005 for his humanitarian efforts. The ICFP has Mr. Juan Antonio Samaranch, former IOC president, and IOC President Jacques Rogge as its honorary presidents. Prior to his nomination as the first president of the KFPC, WTF President Choue delivered a keynote speech under the topic "Olympism and Fair Play" before some 250 participants, mostly members of the Korean Olympic Academy, during the 2nd Korean Olympic Academy Congress at the Olympic Parktel in Seoul. Among the participants were Mr. Jung-kil Kim, president of the Korean Olympic Committee; Mr. Seh-jik Park, former president of the Organizing Committee for the 1988 Seoul Olympic Games; and Mr. Dai-soon Lee, president of the Taekwondo Promotion Foundation. A special demonstration of electronic protectors was conducted for participants. As part of its efforts to ensure fair judging and refereeing at taekwondo competitions, the WTF is pushing for the introduction of a new electronic protector system.