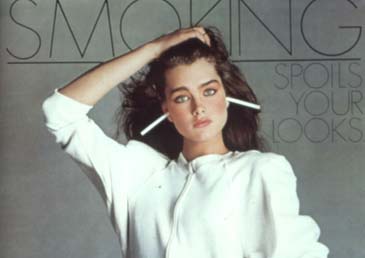 Brooke Shields in antismoking-ad campaign
One of the easiest ways to significantly bring down number of children and youth who get initiated to tobacco use in India, without any budgetary allocation for this public health exercise, is to remove depiction of tobacco use in films and TV, rightly said the Indian Union Minister for Health and Family Welfare, Government of India, Dr Anbumani Ramadoss. One of the major influences on the uptake of teen tobacco use is the glamourisation of tobacco use in movies and on television. This has been well documented by comprehensive research studies in India and US. Dartmouth Medical School, National Cancer Institute USA and American Legacy Foundation report, titled "First Look Report, Trends in Top Box Office Movie Tobacco use - 1996-2004," was released in Washington DC during 13th World Conference on Tobacco or Health by Union Health Minister of India Dr Anbumani Ramadoss. This report has an exhaustive content analysis of top 100 box office movie hits each year for nine years duration (1996-2004). This report confirms that smoking continues to be depicted in nearly three-quarters of movies. Two studies conducted earlier by the Dartmouth Medical School found that one-third to one-half of youth smoking initiation is explained by exposure to smoking in movies. Similar study done by World Health Organization and Indian Ministry of Health and Family Welfare in 2003 revealed that 76% of Indian movies had tobacco use shown in them. In 1991, where 22% of top box office movie hits had lead characters using tobacco on-screen, in 2002, this escalated to 53% tobacco use depiction by lead characters in Indian movies. This study also demonstrated that 52.2% of children in India who had their first smoke were influenced by tobacco use depicted in movies. A repeat follow-up study conducted by WHO and Ministry of Health and Family Welfare in India on top box office movie hits during 2004-2005 demonstrated that tobacco use depiction in movies has become more aggressive as compared to previous years. During 2004-2005, 89% of all movies analyzed contained tobacco use on screen and 75.5% movies depicted leading stars using tobacco on screen. Moreover 41% of movies screened had clear and distinct tobacco brand placement. Not surprising, that 33.7% of youth respondents could recall brand use in films too. Dr Anbumani Ramadoss says categorically that stopping depiction of tobacco use in films is an evidence based public health measure, and that is what he has been strongly advocating since May 31, 2005. India, says Dr Ramadoss, has the world's largest film industry rolling out over 900 films per year. Through cinema theatres, these movies reach 60 million people and through cable television network, they further reach another 70 million people in India. "Influence of cinema is paramount in India" says Dr Ramadoss. "Curbing exposure to children and adolescents to tobacco in films/TV is the single most effective public health intervention for any society in the world" remarks Dr Ramadoss.
Dr Stanton Glantz, Professor of Medicine, Centre for Tobacco Control Research and Education at the University of California, San Francisco, also runs a Smoke-free Movies project since past five years now. He says "The only exception when tobacco use should be depicted in films is when the presentation of tobacco clearly and unambiguously reflects the dangers and consequences of tobacco use or when it is necessary to represent accurately a historic figure." Dr Glantz said that Reality Check launched a massive signature campaign demanding ban on depiction of tobacco use in movies and TV and sent over 306,000 letters to Motion Pictures Association of America (MPAA). Reality Check received no response to these letters, except one letter from Julia Roberts, threatening to sue them which Reality Check later published in a newspaper as advertisement. Dr Ramadoss said "film and tobacco industry are hands-in-glove involved" and suggested big pay-offs too. Dr Ramadoss' proposal to ban tobacco use in movies and TV was vehemently opposed by film industry. Now they are considering rating movies and TV serials depicting tobacco use as "A." Another concern raised by Dr Glantz is that film industry in India is arguing that film censor board should consider the "artistic value of tobacco use in a film" before giving it "A" certificate. Tobacco kills more than 5 million in the world, and close to 1 million deaths in India are attributed to tobacco use. There is no question that depicting tobacco use in films and TV influences children and youth to begin tobacco use. Banning tobacco use in films and TV is the single most cost effective measure public health agency can take, said Dr Ramadoss. Dr Ramadoss said that 46.5% men and 13.8% women use tobacco in India. Apart from over 1 million tobacco related deaths in India, 40% of health related problems in India are due to tobacco consumption and 50% of cancer deaths, majority of cardio-vascular and lung disorders are due to tobacco too. This is a huge avoidable burden of disease, disability and death and India needs to prevent these needless deaths and ought to do everything possible to bring down tobacco-related-mortality said Dr Ramadoss. Dr Ramadoss further explained that total economic cost of treating 3 major diseases due to tobacco use in India was Rs 30,833 crores in 2002-2003. In 2004-2005, total tobacco industry in India per year was worth US$ 8 billion and yearly revenue loss due to tobacco related diseases in India was US$ 8.5 billion, remarked Dr Ramadoss. He said that there is no doubt now that tobacco control is also one of the most neglected areas impeding health and development in India. The Cigarette and Other Tobacco Products Act 2003 came into effect since May 31, 2003. He said he is in the process of constituting a National Regulatory Authority to work on enforcement of tobacco control Act in India and liaise with other relevant ministries to align their respective policies to facilitate enforcement of this important public health legislation. Explaining the amendments notified on May 31, 2005, Dr Ramadoss said that there were difficulties in enforcement of Tobacco Control Act faced by Ministry of Information and Broadcasting, and therefore they had to exempt those movies and TV serials where tobacco use depiction is done either to accurately refer to a historical figure (like Churchill), or to demonstrate tobacco-related health hazards or if it is a live coverage of an event. However he said that Ministry of Health and Family Welfare has placed certain safeguards while agreeing to the above amendments. He said Ministry of Health and Family Welfare would nominate their representative to all regional censor boards to monitor enforcement of ban on tobacco use depiction in films and TV. Movies showing tobacco use will be given 'A' certificate on the condition that the characters using tobacco on screen agree to do a disclosure stating tobacco hazards clearly either before, middle or before the end of that movie. Health warnings in the same language as that of the movie would start scrolling up 1 minute before the use of tobacco is depicted in movies and will end not before another minute after the depiction of tobacco use stops in that movie. Exposure to tobacco use in movies is clearly linked to youth tobacco use. Simply put, more must be done to ensure that tobacco use in movies is removed from films seen by our nation's youth. We have within our power one simple and effective way to jump start the decline in youth tobacco use - delete tobacco use in films from the list of influences that rob our youth of longer and healthier lives by removing tobacco use from movies, unless they clearly depict the negative health effects. Together we can ensure that movies continue to entertain and inspire our children and youth, and at the same time, save countless lives from tobacco addiction and premature death.
Mr. Bobby Ramakant is a member of Network for Accountability of Tobacco Transnationals.