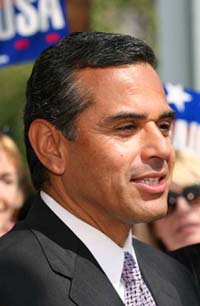 Los Angeles Mayor Antonio Villaraigosa
When he visits Asia this month on his first international trade mission, Los Angeles Mayor Antonio Villaraigosa will be accompanied by a delegation of investment bankers, real estate executives, City Council members, small-business people and attorneys from some of the city's most influential law firms. His Asian visit starts on Oct.15, 2006.Villaraigosa will, among other things, open a tourism office in Beijing, promote L.A. apparel to stores in Shanghai and attempt to secure banking commitments for new real estate developments in downtown and Koreatown.He also will try to reassure Asian air carriers that Los Angeles International Airport will be ready to accommodate the A-380 super jumbo jet, which is expected to start service to the West Coast next year.Villaraigosa's office has released the names of more than 50 people who will travel with the mayor on his 16-day tour through China, South Korea and Japan in what is billed as an effort to pitch Los Angeles to the seemingly boundless markets of the Far East. . Villaraigosa will be joined by a number of people who have close ties to his administration, such as county labor chief and Villaraigosa confidant Maria Elena Durazo, or who contributed to his 2005 mayoral campaign, including Kent Wong, director of the UCLA Center for Labor Research and Education.Villaraigosa's staff said he consulted a broad range of business and community groups throughout the city in assembling the contingent. "I chose a delegation that looks like Los Angeles, one which includes the many diverse communities that contribute to the Los Angeles economy," Villaraigosa said in a statement.The city's port and airport agency, and the Los Angeles Convention and Visitors Bureau, are picking up the estimated $500,000 tab for city employees and elected officials. All others are paying their own way, the mayor's office said.Villaraigosa's delegation will include seven of his aides and Councilmen Jack Weiss, Dennis Zine and Jose Huizar.About 15 to 17 people from Los Angeles will join Villaraigosa in each country, with some leaving after China and others picking up along the way.The delegation includes several executives from the financial sector, including three involved in bond underwriting: former state Treasurer Kathleen Brown, who heads Goldman Sachs' public finance office in Los Angeles; Edward J. De La Rosa, head of his own Los Angeles-based firm; and Donald Tang, former vice chairman of Wall Street firm Bear Stearns. Stanley Washington, regional vice president of American Express, will join them.Prominent lawyers on the trip include David Fleming, an influential San Fernando Valley resident whom Villaraigosa named to the Metropolitan Transportation Authority board, and Barry Sanders, chairman of the committee seeking to bring the Olympic Games to Los Angeles in 2016. Both work for Latham & Watkins, one of the city's biggest law firms.Architect Christopher Pak, CEO and president of Archeon Group, which designed a $160-million high-rise project being built above the subway station at Wilshire Boulevard and Western Avenue, and Ki Suh Park, a partner in architecture and planning firm Gruen Associates, will be on board. Both are active members of the city's Korean community.Ed Cunningham, the top executive in Asia for Anschutz Entertainment Group, which owns Staples Center and is building the $2.5-billion L.A. Live project next door, will be going. So will Maren Christiansen, a senior vice president and legal counsel at NBC Universal.Peter Woo, an executive of importer Megatoys, will join Villaraigosa, just as he did on similar trade missions with former Mayors James K. Hahn and Richard Riordan.Among the mayor's contingent also will be people outside the business community, including Bill Watanabe, executive director of the Little Tokyo Service Center, and Irene Hirano, executive director of the Japanese American National Museum.About a quarter of the business people traveling with Villaraigosa donated to his campaign for mayor last year. In addition to Wong, they include Brown, Pak, Fleming and Sanders.As were his last three predecessors, Villaraigosa is eager to drum up business with the three Asian nations, which are Los Angeles' top trading partners and account for more than $170 billion a year in trade. Economists and business leaders say that, aside from any immediate payoff, the trip will serve the important purpose of building relationships with government officials and business leaders in countries that harbor enormous financial potential. That is particularly significant for the Port of Los Angeles and the neighboring Port of Long Beach, together one of the world's largest port complexes. "International trade and investment in Los Angeles is more significant to our city than any city in the United States," said Gary Toebben, president of the Los Angeles Area Chamber of Commerce, who will join the mayor in China and South Korea.
The above article is from The Los Angeles Times.