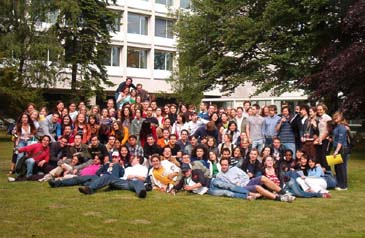 Asian students pose with other students.
Dear South Korea: When your daughter arrived in America, she soon found herself on stage with eleven other exchange students. All were required, one by one, to stand behind the microphone and tell a bit about themselves to an audience of complete strangers hoping just one would be interested enough to take her home.Knowing how shy your daughter is you can only imagine how uncomfortable this must have been for her. Before she went on stage, she received a hug by a German exchange student who told her it wouldn't be that bad. Soon her exchange agency's representative gruffly told her that she had better stop crying like a baby; that if she wanted to find a home, she needed to hurry and dry her eyes and get on stage.All eleven students arrived without a host family. You know how personal your daughter is taking this and wonder what happened to the family that was promised to your daughter. Lost only begins to describe how you are feeling.Dear Turkey: Your son was placed in the home of a woman who is approximately $6,000 behind in child support payments. What happened to the family your son was promised? You were simply told by the exchange agency that there was a sudden change in plans, but to rest assured, your son will have a home soon. What you don't know is that he shares a bedroom with a ten-year-old boy who talks non-stop. This wouldn't be such a problem if it weren't for the fact that his host mother works three jobs to support herself and your son is now the sole babysitter to three small children. Yes, this is affecting his grades, and this situation may warrant his early return home to Turkey. Dear Italy: Your daughter is thriving! Her host family has been anticipating her arrival for four months now. You can hear in her voice that happy click that only a parent can denote. Her homework is complete for the week and she is out shopping at the nearest mall with her host sister. You know how much your daughter loves to shop and will remind her this evening when you talk to remember to say thank you and pick up after herself.Dear Australia: Your son's grades have already started to decline. You look at his last report card and cannot understand what has gone wrong in such a short period of time. What you don't know is that he was dropped off last week with only $40 in cash and two suitcases filled with dirty clothes with a family who did not anticipate his arrival. He, too, arrived in America without a permanent host family, but is happy to no longer be sharing the basement of his representative's home along with seven other students. He wants to tell you, but after all, this was all his idea; to travel as an exchange student and learn another family's way of life.He cries at night. Misses his bedroom at home and your loving eyes. He worries for the exchange students he left behind who are still sleeping in sleeping bags in the basement. It's only a little better now as he sleeps on a couch in the garage. Again, his host family did not expect him and they're treating him like the unexpected arrival that he is. Dear Jordan: You are so filled with anger that you can barely see straight. You and your wife haven't slept well for going on two weeks now. You demand to hear from your son, but are promptly told by his exchange agency's representative that it will make him even more homesick. You don't care. In the background your wife is crying; something she does quite often now. You feel hopeless, but not as hopeless as your son. While he is so scared of being sent back home, he's now beginning to think returning early may not be a bad idea after all.At this point, you only want what is best for your son and do not concern yourself whether you're refunded the $12,000 you gave to the exchange agency. You demand to see your son's eyes and you need for your wife to stop crying herself to sleep at night. While you may see your son sooner than expected, you absolutely will not be refunded your money. After all, your son was forced to sign Probation Letters stating that he was hard to get along with and had emotional problems.Dear Thailand: Your son is just as happy as ever. His orientation was complete within his first week of arriving in America. Finally he is with the people that once only appeared on the Host Family Application, who are now his host family. Growing up with no pets in the home, you'd be surprised how well he has adjusted to Bailey, the 145 pound Labrador Retriever. In fact, he wants to ask his host father again if he could walk Bailey, but you know how polite he is. He doesn't want to appear to be a pest. He'll give it another thirty minutes and ask before grabbing for the dog's leash if it would be okay to take Bailey for a walk. Your son is polite and respectful. You haven't heard much from your son, but have positive feelings.
Which child is yours?
The Committee for Safety of Foreign Exchange Students (CSFES) is interested in your child's safety and well being and welcomes hearing from you.
All international visitors may also contact local law enforcement agencies directly. Anyone who suspects suspicious behavior or maltreatment of foreign exchange students, please report it to the proper authorities.
CSFES monitors exchange student abuse and provides information to interested parties in an effort to significantly reduce the number of children who become victims of child/sexual abuse, neglect and extortion. As such, we encourage
contact from schools, parents and exchange students. Even if there are no apparent problems, being aware and informed are the keys to prevention.
Sincerely yours,
Danielle Grijalva, Director
Committee for Safety of Foreign Exchange Students
PO Box 6496
Oceanside, CA 92054
www.csfes.org
DGrijalva@csfes.org
760-414-1314