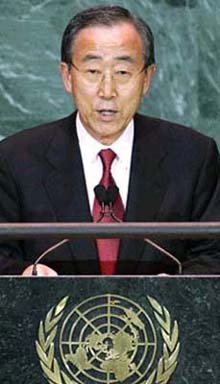 South Korea's Foreign Minister Ban Ki-Moon
Dear Editor:I am very enthusiastic about the expected tenure of Ban Ki Moon as UN Secretary General. One of the highest priorities will be to establish a permanent oversight position at the United Nations concerning Nutrition and Consumer Protection. If this cannot be achieved in this 61st Session of the General, in order to end the global era of junk food, neurotoxic food additives, carcinogens, and other harmful chemicals, due to whatever reasons having to do with objections of USA and Japanese additive makers and corporate enduser, then it must be achieved in the 62nd Session, the first for Ban Ki Moon.I am author of a resolution to that effect, which can be googled and located at:www.red-ice.net/specialreports/2006/03mar/ UNnutritionsecretary.htmlWe have been working diligently to educate heads of state around the world that they must examine these questions much more carefully, and not just accept the first pronouncement, usually manipulated by corporations, of the USA Food and Drug Administration.Korea should immediately cease all imports of Aspartame containing products, since it is metabolized as methanol and formaldehyde. Splenda or Sucralose is no better, since many toxic chemicals are used in its manufacturing process.Aspartame's largest manufacturer is Ajinomoto of Japan, also the world's largest source of another neurotoxic additive, the taste enhancer Monosodium glutamate.Just google the names of USA physicians like Russell Blaylock and H.J. Roberts, author of Aspartame Disease an FDA approved Epidemic.There are many more harmful additives, all of which are listed at the website for the UN Food and Agriculture Organization, with the symptoms they cause, which are thoroughly listed at under CODEX ALIMENTARIUS.This list is a terrible compilation largely the result of international government sloth and ignorance, which too frequently relies on the lies and misrepresentation of the corporation asking for approval for yet another terrible chemical added to harm human health.Most of the list should be prohibited, and we will see a global increase in longevity, intelligence, and productivity, and a sharp decrease in social problems, domestic violence, and other effects of junk food.This would be the realm of duty and imperative for a new United Nations Underscretary General for Nutrition and Consumer Protection, to bring truth, non-corporate manipulated medical truth to member states, so that multinational corporate indifference to protecting health will end.Let us hope that this can be achieved during Ban Ki Moon's first term as UN Secretary General. I would like to see the Undersecretariat built in Santa Fe, New Mexico, where I live and have been doing translations of related materials into 20 languages.Of particular concern to me is that the truth be presented in many more languages than just the official languages of the United Nations,
particularly African languages, South American Indian languages: no one should be denied the truth!This is a clear call to the Health Minister and Justice Minister of Korea, as well, to be very vigilent in these matters, starting with refusing imports from Ajinomoto of Japan, as well as all of the Diet Colas from Coca Cola and Pepsi Cola, whether they have aspartame or acesulfame K or splenda or whatever ghastly chemical they choose to sweeten their sodas with, as well as Wrigley's sugarless gum, like Eclipse and Orbit, as well as many low fat yogurts.Start reading labels and avoid the biochemical and chromosomal damage done by these artificial sweeteners and many other so-called "safe" food additives.I welcome questions.
Truly,Stephen Fox
Founder, New Millennium Fine Art
217 W. Water St.
Santa Fe, New Mexico 87501 USA
(505) 983-2002
stephen@santafefineart.com