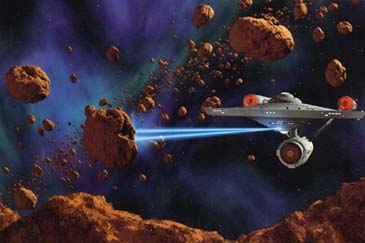 Starship USS "Enterprise" NCC1701A firing phasers in asteroid field
Is it only me, or does it seem as though things have just become far more serious and complicated than they used to be? The world is moving at a very fast pace and it can almost seem as though life is running you, rather than you running life. Time goes by so quickly, and the days and weeks can appear to blend one into the next and before you know it another year has gone by and you've only just kept up! But is there something you can do to change this state of affairs? After all, how can it be that with all the technology and advancements that are supposed to 'save us time' and make life easier and less stressful, many of us never seem to have the 'time' to stop and go after our goals and dreams, or even to spend much quality time with our friends and loved ones? Think about this for a moment – it makes no sense! We live in a world were virtually everything we had to do manually in the past can now be done by a machine; you would think this would then free us up to spend our time doing the things we like to do and having fun – but does it? Generally we seem to work harder and longer hours to stay abreast with the financial demands of surviving in the modern world. Because of this the 'living of life' can sometimes take a back seat in order to make room for time spent 'earning a living' – take a good look around you; it seems to me that we are all too busy working to be doing any 'living'! When and how did it get so serious?
Hold on to Your Dreams
What, after all, is the point to it all? If our days are filled with work and stress and worry, how much room is there for loving, and giving; for laughter and tears, and enjoying the company of others; the exchanging of ideas, and discovery of new things; of achievements and disappointments, successes and failures; the fun and excitement and anticipation of reaching for the sky, and dreaming your dreams and making them become a reality. Where has all that 'feeling' and enjoyment of life gone? Some people have argued that as one grows older life must inevitably become more serious, and "one must be more careful" and "not take the risks that one may have taken in one's youth" – that this is "how life is" and how it must be – basically that 'life changes you.' But is that really the case? Contrary to some trains of thought having fun does not need to mean 'being irresponsible.' and to be 'responsible' it does not necessarily require that you become 'serious.' Do people really change in that way as they grow older, or is it circumstances in life that seem to require a different response and they just stop dreaming their dreams, which then get lost along the way? Could it be that you still have all those same burning desires, still want them and consider them to be valuable, but that you have 'pushed them down' or adapted them to 'fit in' with the world around you? There's an easy way to find the answer to that question. First of all you need to remind yourself of those things that you have dreamt of achieving in your life. The things that you felt were important, that you wanted to do or experience or change in the world. You may have wanted to be a teacher, a builder, a doctor, an explorer, an engineer, or the best parent to your children that you could be. You may have wanted to be a painter, a pianist, a ballet dancer, a lion tamer, an actor, a policeman, or a train driver. You may have dreamed of going on safari, driving across America, going around the world in eighty days, or sailing the seven seas while taking in the seven wonders of the world. Or you wanted to go to the moon, fancied a trip in a time machine, or aboard the Star Ship Enterprise. Maybe you wanted to win an Oscar, or a Nobel prize, develop an important cure, become a missionary, discover a species of animal hitherto unknown, break the land speed record, or find a secret island and search for buried treasure. Perhaps you wanted to have a house with a white picket fence, a Ferrari, a massive diamond ring, a yacht, a pet tiger, your own football team, or a magic wand that you could use to make wishes come true, and make everything in the world come right. Whatever your desires the options are as varied as they are limitless – this world is your oyster - so go on, have some fun and see for yourself how much you can dream! Take a moment to write down those things that come to mind. Don't worry if they seem unrealistic or appear impossible or vague or don't fit in with your lifestyle now; just write down your thoughts in as much detail as you can, and add why you'd like to be or do or have the things on your list. Now, to find out the answer to the earlier question, ask yourself this: "Would I still like to achieve these things that I listed down, if I were free to do so?" If the answer is "Yes" then you have answered the question – and proven the critics wrong! You are still the same person who felt those things; you do still want to live life to the full - it's not your dreams that have changed, it's the way you react to the world around you that is different, and because of this your dreams have been clouded or forced into the background – but they are still there! The business of 'living' seems to have become exactly that – a business – it's become hard work, and the day to day of it all can sometimes make us settle for less than we originally hoped for. But just think of the times that you have achieved a goal, something that you set out to do, when you overcame all obstacles and made it happen; remember how good it made you feel? Well, that achievement started with a desire, a dream, and a stated goal that you decided you would like, and you set out to achieve it. Nobody gave it to you - it was your power of thought and determination that got you there. Sure, you may have had some help along the way, but it all started out with you deciding to do it and then going for it. It's never too late to get back into the habit of reaching for your goals - you don't need money, or power or position or circumstance to be able to have dreams and aspirations, it only takes imagination – and just remember this; before you can turn your dreams into reality you must know what they are; to picture them in your mind and keep fresh! Hold on to your dreams – they are yours to create as you will; don't let them get forgotten – keep them alive – you never know where they might lead! © 2006 Sarah Lake
info@sarahlake.com * Article © 2006 Sarah Lake. Visit www.sarahlake.com for more original content like this. Reprinting this article is permitted with this footer included.