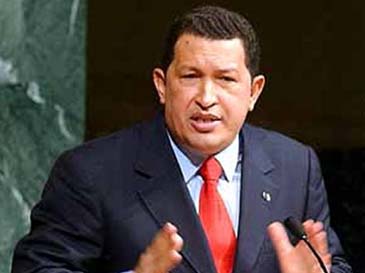 Venezuelan President Hugo Chavez
Who would have ever imagined that poor Venezuelans might one day live in Iranian-built housing? Or that Iranian cement would become part of economic development in Venezuela? Or that Venezuelans will soon be riding Iranian-made cars, buses, bicycles and even small planes, all assembled in Venezuela?These and more could be some of the long-term fruits of a 30-hour summit that ended with the birth of an alliance between two men. Mahmoud Ahmadinejad: a conservative religious Muslim, leading a regional power in the Middle East, and Hugo Chavez: a Christian socialist, leading a South American nation hoping to become a mini-power.
Two revolutions
They are far apart in geographical terms, yet close in ideological terms, at least when it comes to oil, gas, nuclear power and most importantly the United States of America.As they signed a total of 29 cooperation agreements, a banner behind them read: "Long Live the Revolution of the Free People." It hints to two revolutions; the Islamic revolution in Iran and the Bolivarian revolution in Venezuela. Although at first sight the two revolutions have little in common, both leaders linked them, saying they achieved the liberation of their people from "foreign subordination and domination."Slogans and revolutions aside, this alliance comes in handy for both countries as they seek last minute international support for two different things at the same place: the United Nations.
Diplomatic allies
Venezuela has been working hard to win a non-permanent seat at the UN Security Council in this week's secret vote by member countries. Nobody knows whether the US will manage to press enough member countries to vote for Guatemala instead, in order to avoid having a rather troublesome Latin American country - from Washington's perspective - occupy that seat for one whole year. Simultaneously, Iran is seeking votes at the Security Council which could help stop the international body from taking action against it for its nuclear activities. It feels Venezuela could be an ally inside the body to defend Iran's nuclear programme, which it says is aimed only at non-military use.
Chavez himself has expressed an interest in acquiring nuclear technology for peaceful use, but has not yet managed to acquire it. Although the two leaders did not sign any nuclear-energy related agreements this time, Chavez hinted that this may be the case in the future. Naturally, one would expect Iran to also be interested in Venezuela's uranium.
Close ties
Chavez's strong ties with Iran have clearly been a priority since he assumed power in 1999. He has been to Iran five times on official visits. During the recent world debate over Iran's nuclear programme, Venezuela has been one of the few countries in the world which voiced full support to Iran.
But why is Chavez so keen on this alliance with Iran? It comes as part of his vision of a multi-polar world. But it also stems from his need for alliances with the enemies of what he perceives as his enemy. Chavez feels that one day his country will be militarily targeted by the US. Today he warns against a US invasion of Iran and says he would stand by Tehran. He would, of course, expect the same from Iran.
For the time being, Iranians will be drilling alongside Venezuelans in one of the world's biggest oilfields. Wearing red safety helmets, Chavez and his Iranian counterpart made the effort to launch the drilling operations themselves in the Eastern state of Anzoategui. One could see Chavez's influence on his guest, who seemed more relaxed in the Venezuelan leader's company.During the inauguration of a new joint petrochemical plant in central Venezuela, a Muslim man inaugurated a mosque inside the plant while reciting the first surat of the Quran. It was read in Arabic on live Venezuelan television while the two leaders watched. Shia influenceAnd the building is not the first mosque to be built in Venezuela.
Caracas is known for its Gran Mezquita located downtown across the street from the Lebanese Maronite Church and near the city's main synagogue. Large mosques and Islamic centres are present in other Latin American cities such as Buenos Aires. But all were built and sponsored by Sunni Saudi Arabia. Whereas this time it is Shia Iran spreading its version of Islam into new lands. It is a step that Sunni Arab leaders, also friendly with Chavez, might not find amusing as they strive to stop Iran's ever-growing influence in the Middle East, let alone other regions of the world.During the war in Lebanon last July, Venezuelans, backed by the government, organised activities to condemn the war and show support for Hezbollah. One event was organised outside the Grand Mosque of Caracas after the Friday prayer.As Venezuelans waited outside the mosque for Muslims to come out to participate, most simply went home. Someone whispered to me that the Sunni mosque was not interested in endorsing pro-Shia activity.
'Brothers in arms'
Many might not realise how far Chavez's involvement has come in Middle Eastern politic.His anti-imperialist rhetoric appeals to Arabs and Muslims alike. His popularity further grew among Arabs following his decision to withdraw a top diplomat from Tel Aviv as a reaction to Israel's killing of civilians during the recent war on Lebanon, which Chavez qualified as a "holocaust."Washington was certainly watching as Chavez and Ahmadinejad enjoyed each other's company, hugged each other in public and slammed the US government and imperialism as often as they could. The Jewish community in Venezuela, meanwhile, felt uncomfortable with the presence of a leader who calls for the destruction of Israel.As the two leaders, now "brothers," bade each other farewell, they knew they were about to face their respective UN battles. But they were both relieved that they had at last found a partner who not only shared the same views on the way the world should be today, but also dared to stand up to the world's greatest superpower no matter what the consequences might be.Meanwhile, Iranian-made tractors assembled in Venezuela are already being used in both Venezuela and Bolivia. A living example of what Chavez and Ahmadinejad believe can be an efficient cooperation.
Dima Khatib is Latin America correspondent for Aljazeera.-Ed.