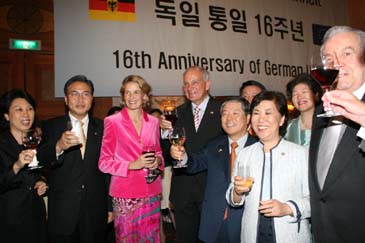 German Ambassador to Seoul Norbert Baas (4th from left) poses with guests at the 16th German Unity Day reception held in Seoul.
Germany holds an outstanding position in science, research and development, both in Europe and in international comparison. German companies are leaders in markets for innovative products, and "Made in Germany" guarantees German quality workmanship internationally. In a globalized world, scientific progress is no longer achieved in isolation inside national borders, but above all within the framework of cooperation and exchanges with leaders and centres of competence worldwide. In future, Germany will therefore increasingly aim at enhancing its technology base in partnerships with proven centres of competence and at the same time strengthening its function as a "gateway to Europe" for its partners abroad. To support this goal, the German Government is launching an initiative under the leadership of the Federal Ministry of Education and Research (BMBF) to campaign for Germany as a research location. Under the motto "Germany – Land of Ideas," Germany's attractiveness, including that of its research system, is to be presented in important target countries, and German research establishments, competence networks and strong research-based companies are to present their activities, strengths and potential for cooperation. On the basis of the good cooperation to date, Korea, a renowned high-tech country in Asia, has been chosen as primary partner for starting this campaign. The aim is to increasingly initiate R&D collaborations between German and Korean research establishments and companies which are to benefit both sides. Furthermore, special efforts are to be made to attract direct investments to Germany. A central agency, which is to act as a "first-stop agency," will provide interested Korean partners with information and access to German research establishments, competence networks and German industrial companies, as well as with assistance in finding suitable partners from science, industry and politics.
The campaign will begin on 1 November 2006 within the framework of a launch event in Seoul in the presence of high-ranking politicians from both countries. During the period until the start of the Asia-Pacific Conference of German industry in Korea in September 2007, interested partners in Korea will be provided with numerous opportunities for contacts with German research establishments and strong technology-based companies within the framework of further branch-specific presentations of the German research and technology landscape. Plans include in particular presentations at expert conferences and meetings, as well as workshops, multiplier events, partnering events and lectures, which are aimed at scientists and decision-makers at universities and in R&D-oriented companies, and at young scientists, multipliers and investors.