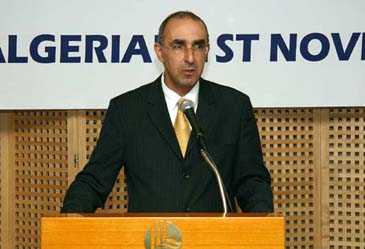 Algerian Ambassador to Seoul Rabah Hadid speaks at Algerian Revolution Day reception held in a Seoul hotel on Nov. 1, 2006.
Algerian Ambassador to Seoul Rabah Hadid wants to convey the special message to the Korean people on the occasion of the 52nd anniversary of its National Day (Revolution Day) as a way to further promote bilaterial ties between Algeria and South Korea.Amb. Hadid marked its Revolution Day in Seoul by hosting a reception and by inviting a group of selected local journalists. He will host a reception on Nov. 1, 2006 at a Seoul hotel to mark the 52nd anniversary of its National Day (Revolution Day). The reception started at 6:30 p.m. on the day at Lotte Hotel's Bellevue Room in downtown Seoul and laste for about two hours.Among the many guests were scores of foreign ambassadors serving in Seoul. Other guests included Chairman Lee Jung-Woo of the Korea-Algeria Friendship Association, Chairman Soo Leemann of Amiet Co. Ltd., and Chairman Kim Tae-Jeong of La Camerata.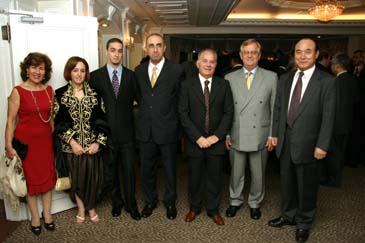 Algerian Ambassador to Seoul Rabah Hadid (4th from left) and his wife Mrs. Hadid pose with guests at its Revolution Day reception held at Lotte Hotel in Seoul on Nov. 1, 2006.At right is Chairman Lee Jung-Woo of the Korea-Algeria Friendship Association.
Algeria's November 1 Revolution Day commemorates the first well coordinated attacks on Nov .1, 1954, begun by the National Liberation Front, against French-operated military installations, public utilities, and communications facilities.The following is the full text of Amb. Hadid's message. As the Algerian people celebrates the 52nd anniversary of the 1st of November 1954 Revolution, it gives me great pleasure to avail myself of the hospitality of your columns to address warm greetings to the friendly and generous Korean people. The year 2006 has been rich in accomplishments for Korea-Algeria relations. In particular, the State visit to Algeria by H.E. President ROH Moo-hyun has given a strong impetus to cooperation in various fields, with the aim of building a strategic partnership between the two countries.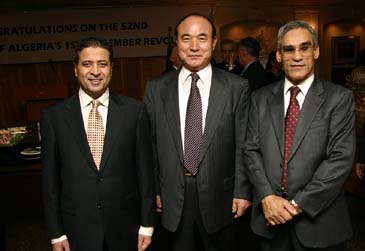 Chairman Lee Jung-Woo (center) poses with Libyan Amb. Ahmed M. Tabuli (right), and Qatar Amb. Ahmed Saif Al-Midhadi.
The Korea Algeria Economic cooperation task force and its Algerian counterpart have been set up and held joint meetings in Algeria in May 2006. Another joint meeting will take place in Seoul from 13 to 17 of November. The respective task-forces are composed of officials of all relevant governmental bodies and their meetings involve a large number of key players from the business sector and from business associations and organizations. Investment opportunities in Algeria are being actively pursued by many of Korea's top companies in the new technologies of information and communication, electronics and energy. The range of sectors attracting investors' interest is expanding as Korean companies are becoming more familiar with the Algerian industrial structure and market. Korean contractors are increasingly participating in the bidding process for the ambitious program underway in Algeria to modernize its infrastructure as well as in the planning of the three new cities to be built respectively in Sidi-Abdellah, Bouinan and Boughezoul.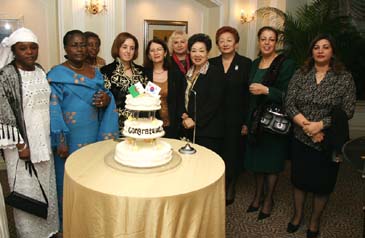 Wives of foreign ambassadors serving in Seoul
A sizable program of knowledge sharing has been initiated in the fields of capital market development, evaluation of public sector enterprises, management of public utilities, etc ... Under this program, more than forty Algerian officials have benefited from training at the Korea Development Institute, and a second group of officials will soon visit Korea as a continuation of this successful program. Trade volume is steadily increasing and it is estimated that this year it will surpass one billion dollars for the first time, which means a doubling of last year's trade volume. Endowed with abundant natural resources and well trained human resources, and located at the crossroads of Africa, Europe and the Arab region, Algeria is an emerging economy offering considerable potential for the development of fruitful partnership with Korea.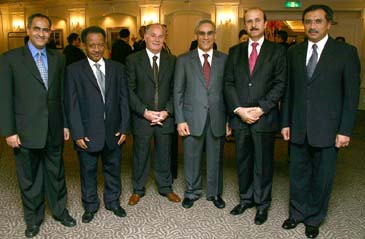 Libyan Amb. Ahmed M. Tabuli (3rd from right) poses with other ambassadors at Algerian Revolution Day reception held in Seoul.
Algeria has made great strides in recent years. It has conducted an exemplary national reconciliation process, bolstered by the overwhelming approval of its people through the referendum on peace and national reconciliation held in September 2005. Enjoying an environment of restored and sustainable security and stability, Algeria's energies and resources are heretofore mobilized towards building a prosperous country, spreading social progress, and adapting to a fast changing world marked by the globalization of production process and markets, and beset by difficult problems and ominous threats. Economic growth has been above 5% for five years in a row. The unemployment rate has over the same period decreased from a level of 27% to 15% in 2005. Inflation is well under control (1.5% in 2005). Foreign exchange reserves have reached in 2006 the amount of 70 billion dollars, while external debt is projected to be no more than 5 billion dollars by the end of 2006, Algeria having signed early repayment agreements with 17 creditor countries and the regional and multilateral financial institutions.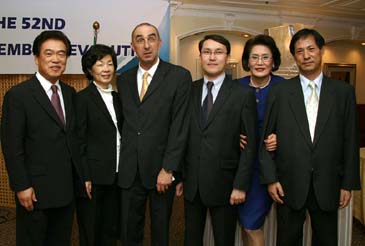 Dr. Kwak Young-Hoon (left) and his wife (second from left) poses with Algerian Amb. Rabah Hadid (3rdn from left) pose with ohter guests.
To take fully advantage of these favorable results in the macro economic indicators to accelerate and sustain growth, the legal framework to induce investment has been overhauled and is among the most attractive worldwide. In addition, the judiciary system and the education system are undergoing far reaching reforms towards their modernization to cope with the new challenges of market economy and knowledge based economy. Today I can say without hesitation that Korea is moving at a sustained pace towards the top ranks among Algeria's partners. I feel privileged to be serving here, in a unique position to contribute to deepening and diversifying the ties between our two countries and peoples. It is indeed an exciting task, given the impressive achievements of the two countries and the huge potential existing on both sides for mutually beneficial joint endeavors.For details or inquiries call the Algerian Embassy in Seoul at 02-794-5034.