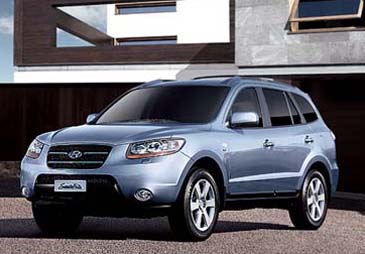 Hyundai Motor' New SantaFe
Hyundai Motor Co. and its affiliate Kia Motors Corp. sold 7.1 percent fewer vehicles in the United States in September from a year ago, whereas other automakers such as Toyota Motor Corp. and Honda Motor Co. are continuing their assault on the U.S. market to increase its market pie.Hyundai and Kia, which together forms the world's sixth largest automaker by production, sold a total of 57,261 units in the American market in September, down 7.1 percent from a year ago, said the Korea Automobile Manufacturers Association. In contrast, the Japanese automakers posted an 8.2 percent rise in sales in the same month. For the month, sales of European brands such as Germany's BMW AG fell 1.1 percent and those of the Big Three — General Motors Corp., Ford Motor Co. and DaimlerChrysler AG's Chrysler unit — declined 1 percent. In the first nine months to September, sales of Hyundai and Kia cars in the U.S. market gained 2.8 percent, compared with a 7.8 percent rise among European automakers and a 5.3 percent increase among Japanese rivals. For the nine-month period, the Big Three posted a 10 percent sales decline in their home market, according to industry sources. Toyota Motor Corp. has reported its biggest-ever group net profit and sales for the April-September period, led by a weaker yen and strong demand for its fuel-efficient vehicles in the United States and Europe.
Its group net profit for the first half of fiscal 2006 gained 36.2 percent from a year before to 777.22 billion yen on sales of 11.47 trillion yen, up 15.3 percent. Toyota became Japan's first manufacturer to post sales of more than 10 trillion yen on a half-year basis.
The world's second-largest automaker which places Daihatsu Motor Co. and Hino Motors Ltd. under its wings said its group operating profit soared 35.1 percent to 1.09 trillion yen, also an all-time high.
Moving closer to overtake General Motors Corp. as the world's No. 1 carmaker, Toyota revised upward its earnings estimates for fiscal 2006 to next March.
Its full-year group operating profit is now estimated at 2.20 trillion yen, up from the 1.90 trillion yen projected in May. If the estimate is realized, Toyota will become the first Japanese company posting more than 2 trillion yen in group operating profit.
Toyota also expects a full-year consolidated net profit of 1.55 trillion yen, up from the initially anticipated 1.31 trillion yen, on sales of 23.20 trillion yen, up from 22.30 trillion yen.
In fiscal 2005 to last March, Toyota posted a group net profit of 1.37 trillion yen and an operating profit of 1.88 trillion yen on sales of 21.04 trillion yen.
Toyota will pay a dividend of 50 yen per share for the first half, up from 35 yen a year before.
In the latest six months ended Sept. 30, the Toyota group's global auto sales totaled 4,145,000 vehicles, up 8.1 percent from a year before and a record high for the fiscal first half for the eighth consecutive year.
Its North American auto sales advanced 17.6 percent to 1,463,546 units, helped by rising demand for its gas-sipping models such as the redesigned Camry sedans and Prius gas-electric hybrid cars.
Its sales in Europe totaled 589,240 units, up 18.3 percent, but sales in Asia, excluding Japan, fell 14.8 percent to 381,799 units due mainly to sluggish demand in Indonesia and Taiwan.
Its sales in Japan dipped 1.2 percent to 1,073,457 vehicles.
While GM and Ford Motor Co., the world's third-largest automaker, are seeing flagging sales in their main U.S. market, Toyota said in September that global auto sales for the group are expected to reach 9.8 million units in 2008.