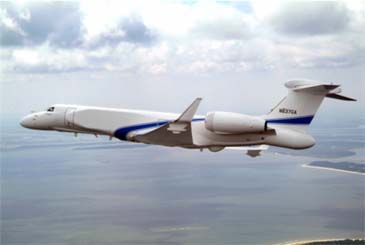 G550 AEW &C (airborne early warning & control) aircraft. ELTA is expected to test fly the aircraft in early 2007 when ELTA's state-of-the-art electronic equipment CAEW (Conformal Airborne Early Warning) is installed onto the aircraft.
Nov. 7, 2006. Seoul, Korea — The Defense Acquisition Program Administration (DAPA) met yesterday with IAI/ELTA representatives, visiting in Seoul, but refused to accept the Technical Assistance Agreement (TAA) applications, recently approved by the USG, for the execution of IAI/ELTA-DRS AEW&C program for Korea.IAI/ELTA indicated on several occasions that DAPA concerns, which led to the disqualification, stemmed from an evident misunderstanding of certain provisos included in a USG Export License (DSP-5) which was only intended for release of technical data during the proposal phase. Mr. Nissim Hadas, President, ELTA Systems Ltd. and Richard Danforth, President, DRS Technologies C3 said in the official letter to the MND and DAPA: "… the concerns, expressed in the DAPA letter dated September 15, 2006, about USG export control restrictions, have now been overcome. ELTA's proposal for the E-X Program is now fully compliant in terms of technical performance, releasability, program execution, and price."During a meeting with DAPA in Seoul in late July, the former U.S. Assistant Secretary of State for Political Military Affairs (Mr. Lincoln Bloomfield Jr.) presented his independent expert judgment about the outlook for U.S. export licensing of the DRS components as part of the IAI/ELTA system.His conclusion was that the U.S. provisos that were co-signed by the ROKG did not restrict the IAI/ELTA program, and recommended that DAPA wait until the USG could review the DRS license application. This application was still being reviewed in Washington at that time. "We have submitted to DAPA on August 2nd the guarantee letter which fully addresses DAPA requirements," said Mr. Hadas. "It is now clear that DAPA's unusual decision to disqualify ELTA in August 2006 over the provisos issue, even though the ELTA proposal was fully qualified for the E-X program, was unjust and may result in unnecessary costs of several hundreds of million dollars to the ROK" noted Mr. Hadas.IAI/ELTA's current CAEW program for the Israeli Air Force is well on track with the first aircraft arriving in September 2006 after completion of its modification and testing in Gulfstream facility in the US. Radar testing on ELTA's Test Bed is due to be successfully completed this year. These achievements support ELTA's ability to support a potential early delivery of the AEW&C System to Korea in order to support the "self-reliant national defense" interests of Korea.
Media Contact: Mr. Lee Ju-Ho, vice president of Communications Korea at 02-511-8801.