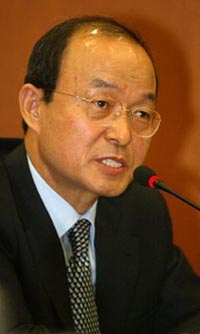 S. Korea's Foreign Minister-Designate Song Min-Soon

On Oct. 13, 2006, the United Nations General Assembly elected then- South Korea's Foreign Minister Ban Ki-Moon to be UN secretary general. He was touted for his soft-spoken personality who put everyone at ease with his charm, compassion, and calmness. Conservatives and liberals alike consider Mr. Ban to be a role model for all South Koreans. He was a natural-born diplomat destined to become the foreign minister of his country and then the secretary general of the most powerful international body.When one imagines the personality of a foreign minister, they visualize someone similar to Ban Ki-Moon. Nevertheless, President Roh Moo-Hyun of South Korea decided that he must nominate a man who fits none of these qualities to replace him. Cheong Wa Dae or President Roh's office announced on Nov. 1, 2006 that Song Min-Soon (宋旻淳) would be their next foreign minister. His nomination process would go smoothly because the legislative body, National Assembly, can only make a recommendation on whether or not he's qualified for the job. They don't have veto power. Even politicians, who maintain close allegiance to President Roh, worry about the ramifications of his choice. He's nicknamed "Colonel Song" for shouting at reporters, coworkers and those who disagree with him. When negotiating he pounds tables. His favorite hobby is boxing and not shy about proving his skills. In 2,000, he worked at the foreign ministry's American Affairs Bureau and on one occasion people needed to restrain him from punching out a reporter. Yet his words not his fists made him a menace to international diplomacy. The 58-year-old diplomat tends towards intellectual elitism. He graduated from Korea's prestigious Seoul National University. So his usual comments to reporters are, "You need to study more." Or "How can you know such a thing?" But, his knowledge of history is sorely lacking. Ban Ki-Moon was elected UN secretary general with the support of the US, one of five permanent members of the UN Security Council which have vetor power. Without its support Mr. Ban couldn't have succeed. But five days after the vote, Mr. Song showed no gratitude. He ranted an anti-American diatribe at a forum sponsored by the Joong Ang Ilbo, the nation's one of the most widely read newspaper. He claimed, "the US has probably been involved in the largest number of wars in the history of mankind. ... If we leave our fate in the hands of the US just for the sake of falling in step with the international community, it would amount to giving up our own destiny." It's ironic that Cheong Wa Dae will sue a reporter for the slightest of factual errors. But Mr. Song was the main security adviser to the president at the time. President Roh gave him a promotion to head the foreign ministry in spite of getting his world historical facts wrong. The US has existed for only 230 years but Korea has a history longer than 5,000 years. Japan and China invaded Korea so often that few could count the number of invasions. Notwithstanding, Mr. Song believes Japan has been more peaceful than America. Song Min-Soon will take the global stage representing South Korea. He's supposed to play the role of a diplomat who befriends people from all over the world. His job is getting South Korea to be more involved with global issues. He must support international organizations such as the UN. Apparently, Mr. Song doesn't think these are his responsibilities. At the Joong Ang Ilbo forum he said, "The international community can not determine our fate and there should be no dissonance. ... Normal countries never internationalize its own problems."
It"s difficult to understand why he wishes to be a foreign minister if he opposes any attempts by other nations to influence domestic affairs. The UN did a favor by letting a South Korean take the top post and Mr. Song wants to return the favor by shutting out the UN from all political matters in his nation. Most South Koreans worry Song Min-Soon will be a diplomatic disaster. They fear he will shame his country. He's got the charm of a third rate boxer. A foreign minister should always be polite even if they don't feel like it. This is why Ban Ki-Moon was such a great foreign minister. A rabid anti-American who can't control his temper should never be a foreign minister of a country that claims to be an ally of the US. "Colonel Song" would be better suited for a leadership position of a radical leftist civic organization that participates in violent demonstrations against the government. Actually, he already had. He was a student-activist at Seoul National University.