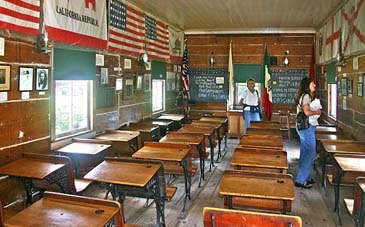 One of the American public schools
The American Public Schools as a whole have been blessed with many good teachers who view their job as a mission to help create a better and more stable community locally and nationally. Such schools tend also to be equipped with qualified administrators who are principals, superintendents, and members of the various school boards, in addition to others. Most importantly, they all mean well as evidenced by their genuine efforts to enable students develop the maximum of their potential both collectively and individually.
Excellent Human Resources
In spite of the fact that the American Public Schools as a whole have been blessed with valuable and highly qualified human resources, the problem of discipline almost everywhere cannot be taken lightly. According to Socrates, who is viewed as the first recorded philosopher of western civilization, every single problem we encounter could be solved only if we take the first step. This consists of bringing the involved problem into the open for everyone to see because unless people are aware of the problem nothing is done for its eventual solution.
However, the moment people become aware of an existent problem, they will immediately begin to figure out how this would possibly affect them. Then, steps are taken with no further delay and the problem is solved. Of course, we are all fully aware of this great problem of discipline in American public schools. We will now simply go ahead to expose it into the open and, at the same time, examine the eventual source of the said problem. Once the source is discovered then we would have no other choice except for the provision of an adequate and effective remedy.
Needless to say, once the source of this great disciplinary problem is discovered with tangible evidence, then we need to know what kind of role the various components of the American public school system should play for the eradication of such a problem. We are here referring not only to the teachers but also to the various segments of the administration, since this problem could only be solved through a full collective effort within the entire school system.
Since in a school system the teachers, as professional educators, are generally viewed to be the most important component, we need to form a clear concept of this important office. In accordance with St. Thomas Aquinas, who was considered to be a genius, the teacher is best described as the physician of the human intellect. This means that the teacher's job is not only to convey knowledge to the students but also to analyze periodically the students' individual intellect and then present a report on the findings of such analysis.
Meaningful and Intelligent Grading
Hence, the grades that a teacher may give should not be interpreted as a reward or punishment for students' attitude in general, but rather as an accurate result that stemmed from the said analysis. This means that there is no such a thing as the teacher "passed" of "failed" the students. There is no such a thing as the teacher gives good grades to students who are nice but somewhat bad grades to students who are not so nice. Let us illustrate this briefly. Six students are having health problems all of them complaining of headache and nausea.
The physician will examine the six of them separately and then he will give a report on the findings of his analysis. Although the symptoms looked the same, the source that causes such symptoms varies from one student to the other. Thus, he procures them with different treatments. For two of them, he may advocate to avoid certain activities and recommends eating more nutritious food. For another two, he may advise to see an eye doctor because he finds out they need eye-glasses. Whereas in case of the last two, he may prescribe a medication for a period due to some stomach problem that he discovers.
What will happen if the students' parents or the students themselves where to defy the doctor's advice or recommendation? In all probability, the students' health will continue to deteriorate to the point that their life may, sooner or later, be in jeopardy. Needless to say, if, as a result, such students may reach in their health status a point of no return, their precious life would have been ruined unnecessarily when it could have been easily saved from the outset if they followed the advice and recommendation of their physician.
We are assuming here that all teachers go to their classes fully prepared to do an excellent job by taking with them appropriate notes, relevant pictures or projectors to make the topic of their presentation more appealing and interesting, in addition to related appropriate material. We are also assuming that the various segments of the school management are fully cooperative with the teachers' efforts to do an excellent job in class. After all, the job of the school management has been always to give a good service to the teaching personnel in a way that the students would benefit even more than expected or anticipated.
So far, we got a very good picture of the American public schools. We have assumed that, as a whole, all of them have a good management and well prepared teaching personnel. In spite of this, the problem of classroom discipline is virtually getting out of control in many public schools throughout the nation. Many teachers are finding it more and more difficult to teach and many good students, who go to school in order to learn and to achieve great things in life, are finding it more and more difficult to learn.
Positive and Constructive Approach
We are also assuming that everyone involved with the teaching/learning process, directly or indirectly, has good intentions and would love to see our students securing a good education. We are all convinced of the fact that with a good education everyone will benefit greatly. Hence, we need to explore how we could get together the various components involved with the eventual education of children. The purpose of this would be to develop healthy dialogues, which focus thoroughly not on "who" is right but on "what" is right.
Regardless of who comes with the best proposal for the eventual solution of the problem of discipline in public schools, such a proposal needs to be seriously followed. We are assuming here that our teachers, school managers and everyone involved with the educational process, including parents, are proven to be good-intentioned, that is, they mean well in what they say and in what they try to do. This way, we may proceed together in a peaceful atmosphere with an open mind without trying to pin-point or blame anyone involved and concerned.
It should not surprise us at all if we were to find out that the eventual source of the problem of discipline in American public schools could be well traced to some political implication. When we talk to each other with dignity and respect we refer to each other by using such pronouns as I, me, you, he, him, she, her, we, us, they or them. But when we talk of politics, of a devised rule that is applied blindly to everyone without any distinction and regardless as to whether it would be beneficial or detrimental, the only pronoun used would be "it."
In this regard, we need to explore as to whether or not the American public school system is following some politically or unwise infiltrated policy that goes beyond the control of teachers, administrators, and school board members for all practical purposes. Once the eventual possible source of the problem of discipline in pubic schools comes into focus, then we have to decide either to do something radical about it as to bring it under control, or simply to accept it and to continue with the present status quo, that is, with trying to contend with this problem of classroom discipline indefinitely.
What is being stated here should not be interpreted as the expression of an opinion. On the contrary, it should be evaluated a parte rei, that is, fully on its own merit as viewed or observed in a very tangible manner, in terms of results or consequences. Here is one possible reason as to why we do have a serious problem of discipline in American public schools.
Restlessness and Misbehavior
Some students in the classrooms of American public schools do not seem to be interested in learning. This lack of interest is evidenced in their behavior that is generally revealed in restlessness, followed by talking with others, and by leaving their seats without the teacher's permission, as well as by their spirit of defiance each time the teacher tries to ask them to be quiet and pay attention. Under the circumstances, the teacher normally gives a nice warning, followed by reporting them to the principal or assistant principal, who, in turn, admonishes these disruptive students.
All this would be nice if something positive and constructive follows as a result. However, very often the moment students return to the classroom they will continue to adopt an "I don't care attitude" while they keep on disrupting the entire classroom. This persistent misbehavior tends to make our good, kind-hearted, and notably dedicated teachers literally worn out. Besides, the apparent determination of those few students who misbehave to continue to do what they like in the classroom, ends up distracting all the students who really are struggling hard to learn as much as they possibly can.
What seems to be disheartening and discouraging lies in the fact that, most of the time, such students continue to ignore the teacher as well as the principal or the assistant principal. It is obvious that some students develop compulsive misbehavior, which ultimately becomes out of control. The best way to solve this problem is to provide a remedy where students with disciplinary problems would be put in a special class to be dealt with accordingly.
But even here, such a simple remedy with such a simple solution cannot be easily implemented. The school system is pressured not to establish any class for students with disciplinary problem on the ground that such students may develop an inferiority complex unnecessarily! Hence, the system tends to view the formation of such a class as discriminatory against students with a behavioral problem. Such a system tells us that we cannot "discriminate" against students with behavioral problems, otherwise they may "risk" developing problems of inferiority complex in due time!
For the sake of argument, let us assume that this is a justified reason for preventing the formation of a classroom reserved only for students with behavioral problems. However, since the problem of discipline in public schools has increasingly become a very complex problem, we need to bring to our attention legitimately some important elements. For example, it is a tangibly proven fact that most of the students go to school to learn. They want to go into college or university later on and pursue a good career in life. This means that these students have a sacrosanct right not to be distracted by fellow students.
Respect for Teachers' Intelligence
At the same time, the teachers go to the classroom fully prepared to present students with all basic knowledge that relates to an involved subject area. Even here, the teacher has also a sacrosanct right not to be interrupted and disturbed by the periodical misbehavior of what could be termed problematic students. In this respect, some questions need to be seriously raised. Why is it that we do not create a special class for students with behavioral problems for fear that it may be interpreted as discrimination against such students? Why is it that we do not seem to show much concern for teachers who genuinely try to do a super good job in the classroom? Why is it we do not seem to bother about students who really want to learn as much as possible?
When we can help teachers to perform a super good job and when we can provide students who want to be attentive to achieve their objectives of learning, we should not hesitate to take needed steps to this end. Otherwise, this could be interpreted, in some way, to be an act of discrimination on the part of the system against the teachers' right to teach properly and effectively. It could also be viewed as an act of discrimination on the part of the system against the well-behaved students who go to class to learn the best they can without being periodically distracted with the misbehavior of problematic students.
Let us try to comprehend properly and carefully the problem of discipline in American public schools. Suppose some of the students are found with a certain contagious disease that it is assumed it would take quite a time to go away. What are we going to do under the circumstance? Of course, one of the ideal solutions would be to create a special class for such students.
This way they could be given a special type of attention to help alleviate their worries and to help them grasp the teacher's presentations properly and effectively. Needless to say, as this contagious disease starts to leave them and they begin to get better and eventually cured completely, then such students could easily return to regular classes. This solution to the problem of contagious disease would eventually make everyone happy and satisfied without exception.
The problem of discipline in American public schools needs to be taken seriously by the school system itself, the sooner the better. Such a problem needs to be faced with courage and determination. By the immediate creation of classes for students with behavioral problems, everyone is bound to benefit 100%. Needless to say, the teachers who have to contend in their classrooms with students that have behavioral problems day in and day out, must be assumed to be the most qualified to single out such students.
Need for Drastic Change in Policy
After all, as St. Thomas Aquinas well put it, the teachers are the physicians of the human intellect. They are in a better position than anyone else to analyze the intellect of their students and to present a report on the finding of such analysis. It would be wonderful if then everyone would be cooperative in the best interest of all teachers and of all students as well as in the best interest of all school administrators and school board members. It is not enough for all of us to recognize that the schools are seats of learning, that the teachers go to their classes to teach, and that the students go to such classes to learn. We need also to recognize the importance for us all to create a healthy classroom environment.
In view of this, teachers could present their well prepared lectures without any harassment from students with behavioral problems. At the same time, students who really go to the classroom to learn as much as they can to pursue a variety of careers in life would have the opportunity to do so without any distractions caused by students with behavioral problems. As many working in the American public schools could attest, most teachers tend to spend more time trying to make students behave than in the eventual presentation of their lessons.
This is certainly unfair for the teachers whose health is obviously being affected needlessly. It is also unfair for the behaved students to have their teacher constantly being interrupted by the systematic misbehavior of fellow students. Maybe, in addition to the creation of classrooms for students with a disciplinary problem, we could also device something that may make students feel more as members of the same family. Each time a device of this nature was tried both in the USA and overseas, it seems it always achieved positive and constructive results. One of such devices could be the institution of a school uniform.
In conclusion, when it comes to classroom discipline, the American public schools are faced with a clear cut choice: either continue to accept the status quo, leaving everything as is while the system continues to put unfair pressures on teachers as well as principals and superintendents; or simply take some drastic steps in the best interest of teachers and students in the classroom in a way where everyone will be a winner and no one a loser. (Mr Alexander Mercieca, B.S., M.Ed. is a Social Science Scholar & Special Consultant residing in Huntsville, Alabama, USA)