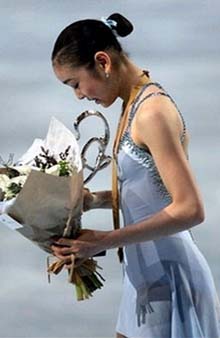 South Korea's teenager figure skater Kim Yu-Na
South Korean teenager Yu-Na Kim used the theme of one of Paris' most famous landmarks to grab pole position in the women's short progamme at the Trophee Bompard, the fourth round of six in the ISU Grand Prix series.
The 16-year-old looks set to claim her second medal in as many events after her Tango de Roxane from the film Moulin Rouge hit the mark with the Paris judges to push Skate America champion Miki Ando of Japan into second with Skate Canada winner Joannie Rochette in third.And world champion Kimmie Meissner of the United States faces a battle to book her spot in next month's Grand Prix final after tumbling to fourth position following a fall on her opening triple lutz.The first Korean to win an ISU title at the 2006 world junior championships, Kim warned that she would not make the mistake of her senior debut at Skate Canada last month when she also led after her highly artistic short programme only to drop to third after the free programme.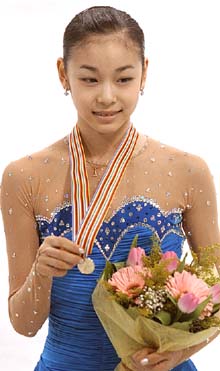 South Korea's teenager figure skater Kim Yu-Na
"I made many mistakes in Canada. I'll try to do my best this time," said Kim, who added over two points to her personal best score with 65.22.Ando, 18, continued her return to form this season with a clean skate to Sheherazade for which she scored 65.02, as Rochette achieved a personal best 58.92 for Little Wing by Jimmy Hendrix despite a point deduction for finishing after the music.Meanwhile, 17-year-old Meissner insisted she could fight back after scoring nearly eight points off her personal best with 52.56."I'm confident of coming back. I felt like I staked better than Skate America but just didn't get that jump," said the girl from Delaware who took silver at Skate America.Earlier France's Brian Joubert fired the first shot in his bid to claim his first Paris title after being runner-up in the past two editions.He leads compatriot Alban Preaubert by 5.97 points with Russia's Ilia Klimkin 12.55 behind the leader after falling attempting a quadruple.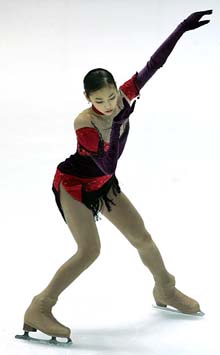 South Korea's teenager figure skater Kim Yu-Na in 2006 Ladies Junior Figure Skating Champion
World silver medallist Joubert, 22, stuck with last year's James Bond "Die Another Day" routine and was the only competitor to nail a quadruple jump."I'm satisfied that I gave a clean performance and am confident for my free programme which I'll present to an international jury for the first time," added the Frenchman.Preaubert is looking to add to his bronze from Skate America and book his place in next month's Grand Prix final in St. Petersburg, Russia.In pairs, Maria Petrova, 28, and Alexei Tikhonov, 36, are ahead of Skate America winners Rena Inoue and John Baldwin of the United States and fellow Russians Yulia Obertas and Sergei Slavnov after the short programme.World champions Albena Denkova and Maxim Staviski of Bulgaria lead the ice dance after both the compulsory dance and original dance sections ahead of France's Isabelle Delobel and Olivier Schoenfelder.The competition concludes Saturday with free skating finals in all four disciplines. (AFP)