National
North Korea Not Serious About Diplomacy
Special Contribution
By Tom Pauken II

North Korean leader Kim Jong-Il (left) meets with then South Korean President Kim Dae-Jung for a historic summit meeting in 2000 as the latter visited North Korean capital of Pyongyang.
The North Korean regime seems to relish their role as rogue nation of the Asia-Pacific region. The world watched in horror their notorious behavior these past few years. Making a mockery of diplomacy appears to bring pleasure to North Korean leader Kim Jong-il. The United Nations (UN) imposed sanctions and the international community rebuked them but neither punishment nor criticisms deterred the North from their pursuit of possessing nuclear weapons. When North Korea conducted a nuclear test in Hamhung Province on Oct. 9, 2006, their staunchest ally China joined a chorus of others to condemn them. Only their other ally South Korea stood firm in support of the North. Nonetheless, North Korea's nuclear weapons program was an inevitable result of their actions since 2003. On Jan. 10, 2003 North Korea announced their withdrawal from the Nuclear Non-Proliferation Treaty. They abruptly banished UN inspectors from the International Atomic Energy Agency (IAEA) from their country. A month later, North Korea reactivated their nuclear facilities. They claimed to do so because the US didn't deliver two light water reactors as agreed upon in 1994. At the time, US President Bill Clinton offered these reactors in return for a promise that North Korea would return to the Nuclear Non-Proliferation Treaty. Former president of South Korea, Kim Dae-jung established a diplomatic approach to the North called the Sunshine Policy. This entailed the South appeasing the North for smoother relations. Many believe their leniency has made the North more belligerent. Seoul gave Pyongyang most of what they asked for in desperation to keep them happy and were not ashamed of their cowardice. Kim Jong-il celebrated President Kim Dae-jung's last day in office on Feb. 24th by launching a missile into the Sea of Japan aimed towards Japan. The next day President Roh Moo-hyun of South Korea vowed to continue the legacy of the Sunshine Policy at his inaugural address. North Korea returned the favor on March 10th by shooting another missile in the same manner. North Korea felt determined to prove they didn't respect the South when they threatened to turn Seoul into a sea of fire. Their disregard for an ally nearly backfired. President Roh hinted he would end the Sunshine Policy unless North Korea mends their ways. Realizing he would not be rewarded for bad behavior, Kim Jong-il emphasized to the South that he would not cluster bomb Seoul. In gratitude, the South increased their shipments of aid. The US had more difficulties in regards to North Korea. President George W. Bush took a tough line, which hardened Kim Jong-il's resolve. On April 24th his regime admitted to possessing nuclear weapons at the Yongbyong Nuclear Scientific Research Center. They produced enough materials to produce one bomb per year. North Korea proved to the international community that neither sanctions nor incentives could make them more peaceful and stable. China supplied them with most of their foreign aid in food and oil. But China could not stop them from conducting a nuclear test on Oct 2006. In 2003 when Pyongyang ignited a global crisis, US government officials initiated the six-party talks meant to end North Korea's nuclear weapons program. Delegates from the US, South and North Korea, Russia, Japan and China gathered in Beijing to negotiate an agreement. Finally, on Oct. 31, 2005 North Korea succumbed to pressure by claiming they would halt their nuclear program. The world breathed a sigh of relief but it was short lived. A month later they abandoned the six-party talks and resorted to tactics worse than before. They stated they would maintain their nuclear weapons program unless the US provide them with another light water reactor. Their criminal activities such as money laundering, counterfeiting, arms and drugs smuggling continued unabated. Kim Jong-il didn't cease his purchases of millions of $ of luxury goods including a $800,000 yearly budget for Hennessy Cognac. Hence, the US government froze assets of $24 million at the Banco Delta Asia in Macau because the money was laundered from their proceeds of $100 counterfeit bills. The US had evidence to prove Pyongyang participated in such criminal behavior. But North Korean officials told the US they wouldn't return to six-party talks unless the money was returned to them, however, the US refused to abide by their requests. It seemed no surprise a year later that North Korea conducted a nuclear test but to their surprise China supported UN sanctions and pushed them into a corner. Kim jong-il said he would return to six-party talks on Oct. 31st but never specified a date. It has been almost two months after Pyongyang made this concession, as of Dec. 6, but they haven't returned to the negotiating table nor shown a desire to do so. Predicting what Kim Jong-il and his regime will do seems an insurmountable task. Pyongyang never ceases to surprise the world and mostly for bad reasons. A sports gambler would have better luck betting on games rather than prognosticating what North Korea will do one month ahead of time. For some diplomacy is a means to an end but for Kim Jong-il it as an opportunity to prove diplomacy is nonsense.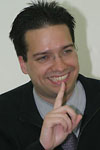 Mr. Tom Pauken II serves as volunteer contributor for The Seoul Times. A major of political science at Thomas More College in New Hampshire has been writing about his political views on the Asia Pacific region. He taught English in South Korea.