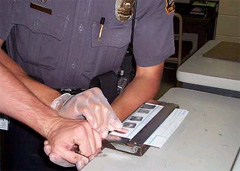 WSHINGTON, April 2 — A program requiring many foreigners to be photographed and fingerprinted before entering the United States will be expanded to include some 13 million more visitors, the Department of Homeland Security said today.The expansion will mean that, by Sept. 30, travelers from 27 countries who can enter the United States without visas will, for the first time, have to be photographed and fingerprinted. The new development also makes it probable, based on experience, that Americans traveling overseas may be subjected to more scrutiny in retaliation.Homeland Security officials said the change was decided upon after it became clear that most countries would not be able, for technological reasons, to meet the Oct. 26 deadline to develop machine-readable passports that include biometric identifiers.Among the 27 countries whose citizens will be affected are some of America's longstanding allies, including Britain, Japan, Germany and Australia.The Department of Homeland Security issued a statement describing the photograph-and-fingerprint procedure as "fast and easy for travelers" and something that provides "an added layer of security."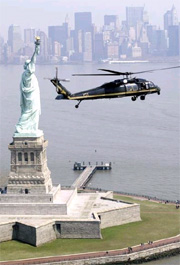 The State Department, which joined the homeland security agency in announcing the expanded program, said it has been notifying diplomats in the 27 countries. (There is no change in the status of visitors from Canada and Mexico, who may enter the United States without passports.) A State Department spokesman, Adam Ereli, rejected any suggestion that the 27 countries might view today's announcement as "a slap in the face," as one questioner put it at a news briefing."If that's the way it's seen, then it's certainly not intended in that light," Mr. Ereli said. "At the same time, there are security needs, I think everybody recognizes those security needs." The photograph-and-fingerprint procedure "is a very, very low-hassle, unintrusive way of protecting the public and protecting the United States," Mr. Ereli said.Asa Hutchinson, undersecretary for border and transportation security in the Department of Homeland Security, said today that the Homeland Security and State Departments will ask Congress to extend the Oct. 26 deadline for machine-readable foreign passports for two years, in recognition of the technological difficulties in developing them.Since January, visitors from countries that must have visas to enter the United States have been fingerprinted and photographed at scores of American airports and seaports. The new security level was put into effect in response to the terrorist attacks of Sept. 11, 2001.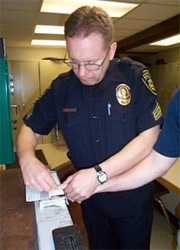 The new procedures have allowed customs officials to immediately verify visitors' identities, check their criminal backgrounds and determine if they are on watch lists of suspected terrorists and other criminals. Mr. Hutchinson said the procedures are quick and unobtrusive and have helped Homeland Security and State Department officials intercept more than 200 people suspected of criminal or immigration violations. The people have included convicted rapists, drug traffickers and individuals convicted of credit-card fraud, he said.But since January, some American travelers have complained about the treatment they have received from immigration and customs officials in other countries, apparently in retaliation. Travelers from the 27 countries affected in today's announcement have been allowed to enter the United States with only a passport, provided they stay no longer than 90 days. They will still be able to do that, but now their pictures and fingerprints will be taken.The countries affected are Andorra, Austria, Australia, Belgium, Brunei, Denmark, Finland, France, Germany, Iceland, Ireland, Italy, Japan, Liechtenstein, Luxembourg, Monaco, the Netherlands, New Zealand, Norway, Portugal, San Marino, Singapore, Slovenia, Spain, Sweden, Switzerland and the United Kingdom.
The above article is from The New York Times