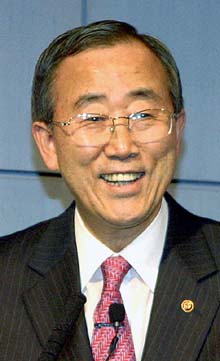 Mr. Ban Ki-Moon was elected on Oct. 13, 2006 as Secretary General of the United Nations while he was serving as South Korea's foreign minister. Mr. Ban will officially be inaugurated as UN secretary general on Jan. 1, 2007.
Ban Ki Moon, the incoming secretary general of the United Nations, got his new job in an unlikely manner for a man known for head-of-the-class performance, devotion to duty and a relentless rise through the ranks.
He got fired."I was totally out of work for the first time in my life," he said.Worse than that, the professional lapse that cost him his high-level position in the South Korean Foreign Ministry required a public apology in Washington from the country's then-president, Kim Dae Jung. Aides to Ban had accidentally left a positive mention of the Anti-Ballistic Missile Treaty in a communiqué at a time when the Bush administration had decided to abandon it. "You must understand the political impact in Asia that public apologies have," Ban said, wincing at the memory.As it turned out, he survived, thanks to another Asian cultural tradition."I had what we call a 'jeon-hwa-we-bok' experience," he said. The maxim, well known to Koreans, means that a misfortune has turned into a blessing.While waiting in Seoul to be shunted off to a remote embassy, as he expected, he was tapped by Han Seung Soo, the General Assembly president for 2001, to come to the United Nations to be Han's chief of staff."Had I been appointed to an ambassadorship somewhere, I simply wouldn't have had this opportunity to be selected secretary general," Ban said.The full realization of this reversal of fortune comes this Thursday with his formal swearing-in as the eighth secretary general of the United Nations.He will assume the office on Jan. 1, replacing Kofi Annan, who completes his second five-year term on Dec. 31.Courtly and deliberate, with an easy smile, Ban, 62, is an unknown at the United Nations, particularly compared with the high-profile globe-trotting diplomat he is succeeding.With the exception of his misstep in 2001, Ban has been almost surpassingly unassuming and inoffensive, noticed, when he is, for his steady record of incremental achievement at the South Korean Foreign Ministry where he has spent his entire 37-year career.The elusiveness may be intended."When I was the foreign policy adviser to President Roh Moo Hyun, everybody was caught up in controversy with what they said to the media, but I avoided the tricky, sometimes nasty, questions," he said. "The press people called me the 'slippery eel' because they could never grab me."A loyal and dependable company man, he once wrote by hand letters of apology to 120 Foreign Ministry officials after being promoted ahead of them. "They were very much grateful for my gesture," he said."With that, I was able to lessen the sorry feelings of my senior colleagues." His bent for not stepping on toes and his repeated public expressions of humility during the months that he was campaigning for secretary general have raised doubts about his suitability for the job.How can someone with such a retiring manner lead an organization undergoing a hotly contested reformation, ridden with regional rivalries and subject to competing demands from the great powers and the nations of the developing world?Addressing this concern in his acceptance speech to the General Assembly on Oct. 13, he asked that people accept his modest mien as a cultural attribute and not misread it as lack of decisiveness or passion."Modesty is about demeanor," he said, "not about vision and goals. It does not mean the lack of commitment or leadership"In campaigning for the job, Ban presented himself as a "harmonizer and bridge builder" who would try to dispel the widespread mistrust of the United Nations.With the choice of each secretary general, the question always arises which part of that title the new person will inhabit. Given Ban's résumé and style, the prediction now is that he will be more a secretary, less a general.But the same expectation greeted Annan 10 years ago, and, to the particular dismay of the Bush administration, he ended up being more general, less secretary.John Bolton, the outgoing U.S. ambassador, left no doubt what the American hopes are for Ban, whom Washington backed vigorously.He repeatedly pointed out that the job of secretary general is described in the United Nations Charter as simply "chief administrative officer."Ban was born June 13, 1944, in Eumseong, a farm village in Japanese-occupied Korea, and raised in Cheongju, a nearby town.His family lost its middle- class standard of living when his father's warehouse business went bankrupt, and Ban was to spend his early years as a diplomat deliberately picking posts where he could save money to send home.When he was 6, his family had to flee to a remote mountainside to escape the fighting in the Korean War."We were safe and in a place where neither the South Korean nor North Korean armies would come, but we were poor and hungry," he said. "I could see the fighter jets bombing the towns and cities nearby."The eldest of six children, he was a standout student, applying himself with particular zeal to learning English. The method of study was arduous, with students required to write the same English sentences 10 times as a way of memorizing them.He married another high achiever, his school's student council president, Yoo Soon Taek, in 1971, a year after he had passed his diplomat's exam.The couple have two daughters, Seon Yong, 34, who works in Seoul for the Korea Foundation, a nonprofit organization that promotes Korean culture, and Hyun Hee, 30, a field officer for Unicef in Nairobi.They also have a son, Woo Hyun, 32, who is studying for a master's degree in business administration at the University of California at Los Angeles.He received his bachelor of arts degree in international relations from Seoul National University in 1970 and earned a master of arts in public administration at the John F. Kennedy School of Government at Harvard in 1985.Ban has long associations with both the United States and the United Nations.He was assigned twice to the South Korean Embassy in Washington and is a former director general of American affairs for the Foreign Ministry.He served as first secretary to the South Korean mission at the United Nations and as the director of the ministry's United Nations Division, in addition to being the chief of staff to the president of the General Assembly.Ban said the United Nations had great resonance for all South Koreans, who credit the organization with creating the country in 1948 and then freeing it from North Korea two years later by authorizing the American-led forces.In 1956 Ban was picked by his class to address an appeal to Secretary General Dag Hammarskjold over the Hungarian uprising against the Russians.But whether there is an interesting historical footnote here, Ban can't say. "I never found out if they ever sent it," he said.
The above article is from The New York Times.