South Korea's Yu-Na Kim (center) smiles brightly after she won the ISU Grand Prix final women's figure skating title. At left is silver medalist Mao Asada of Japan and at right is bronze medalist Sarah Meier of Switzerland.
South Korea's Yu-Na Kim shocked defending champion Mao Asada of Japan to take the ISU Grand Prix final women's figure skating title, as France's Brian Joubert won the men's gold.
The 16-year-old Kim had been in third after Friday's short programme behind Asada and Japan's Miki Ando.But Kim, the first skater from Korea to win an ISU championship at the 2006 world juniors, surged to the lead with her free skating programme to Vaughan Williams' The Lark Ascending.She scored a combined 184.20 points to take the title ahead of 16-year-old Asada (172.52) and Switzerland's Sarah Meier (170.28)."I wasn't expecting to win this competition because I have a back injury coming into it," said Kim."This is a great result for me. I can't believe it yet. The Japanese skaters are strong competitors and it was a great experience to compete against them."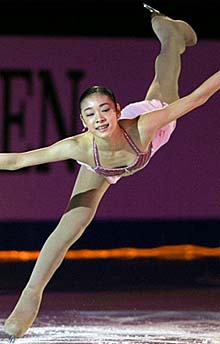 South Korea's teenager figure skater Kim Yu-Na
Asada struggled in her free programme to "Czardas" achieving just the fourth highest scores, but despite taking silver as a result of her combined marks from both rounds the 16-year-old left the St. Petersburg Ice Palace without commenting on her performance. Japan's Fumie Suguri finished fourth (158.78) ahead of Ando (157.32) and Hungary's Julia Sebestyen (142.69).In the pairs event, two-time world champions Shen Xue and Zhao Hongbo of China won their third straight title.The two-time Olympic bronze medallists lead all the way to score a combined 203.19 after a flawless presentation to Meditation from Thais by Jules Massenet.Germany's Aliona Savchenko and Robin Szolkowy prevented a Chinese 1-2 as they took rose from fourth after the short programme to take the runners-up spot with 180.67 ahead of China's Zhang Dan and Zhang Hao, 175.93."We're so happy, tonight we showed our best and we finally cracked the 200 points (total score)," said Zhao.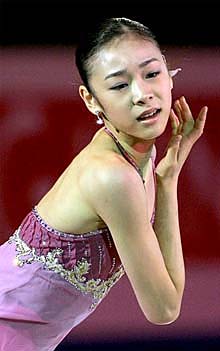 South Korea's teenager figure skater Kim Yu-Na
The 33-year-old refused, however, to be drawn on whether they would retire at the end of the season as planned."We don't know yet, we'll take a decision after worlds," he said.
Zhang Hao added: "It was not a good performance. We had many errors. Zhang Dan is not feeling well."Earlier Joubert won the men's title for the first time despite a fall.The 22-year-old held his lead from the short programme and despite tumbling attempting a second quadruple jump in his free programme to "Appocalyptica" took the gold ahead of Japanese duo Daisuke Takahashi and Nobunari Oda.Japanese national champion Takahashi was the only other skater to land a quadruple jump in his routine to Andrew Lloyd Webber's Phantom of the Opera, to hold his second position despite suffering from flu. "I was nervous, because I knew I was tired. This is my fourth competition in five weeks and I won all of them, that's very important for me so I made a mistake on the first quad," said Joubert, who scored 233.46 with Takahashi achieving 224.83 and Oda 216.86. Takahashi said: "I felt ill and I didn't feel at all well but I wanted to complete the programme." Oda admitted that his fear of falling on his jumps prevented him from giving his best presentation. "I worried about my jumps. I didn't want to fall, especially on the triple Axel. The result was unfortunately that I wasn't able to show everything that I have learned since last year, and I have learned a lot," added Oda. American Johnny Weir withdrew from the competition for medical reasons the day after compatriot Evan Lysacek, who injured his right hip in training Friday. As a result for the first time ever the men's free programme did not include an American or a Russian skater, after the hosts failure to qualify. In ice dancing, world champions Albena Denkova and Maxim Staviski of Bulgaria took gold ahead of Canada's Marie-France Dubreuil and Patrice Lauzon with Russia's Oksana Domnina and Maxim Shabalin claiming the hosts only medal of the championships with their bronze. (AFP)