Did you go to Itaewon last Sunday? If not, you missed a good chance to see a famous festival.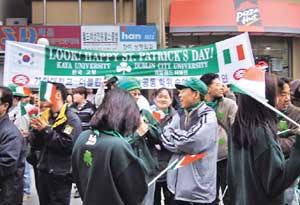 March 17th was St. Patrick's Day. Of course, foreigners held the big festival in Seoul on that day. It started at 11 in the morning, citing Irish poem in front of the restaurant Three Alley Pub near the Itaewon subway station. An Irish folk performance was also held in the pub. It was only the beginning of a number of important events held in celebration of St. Patrick's Day.One day earlier(March 16) in the second basement of Seoul Finance Building nearby "St. Patrick's Day Party" was thrown at 7 p.m. signalling the start of two-day festival. This year's celebrations were jointly organized by Irish Embassy, Korean Tourism Corporation, and Itaewon association of businesses. Last year St. Patrick's Day Party was held in Myongdong downtown Seoul, the first in Korea.There was an Irish-Korean music festival in open space in front of Dongho Plaza Building in the afternoon. A big street parade followed the poem citation. EUSA(Eighth US Army) Band and local "Lotte World" brass band, and Seoul Metropolitan Police Band marched on Itaewon street under the command of Kang Young-hoon, former Korean prime minister.The festival continued into the late evening around that area. A number of both Korean and expats participated in the festival. Spectators lined the street and cheered the parade.Various parts of traditional Irish culture including food and dance were introduced. And face painting for children, performance of Irish dancing team took place with the play of Lotte World's band. An Irish movie festival was also held at the Irish Embassy in Korea, showing "The Butcher Boy," "Michael Collins" and "My Left Foot." "A Charity Pop" was also held in the Three Alley Pub at 5 in the afternoon. The funds raised will be used for local orphans and the physically handicapped.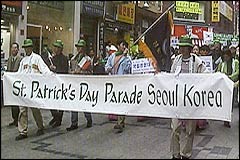 Western Chosun Hotel prepared several events for St. Patrick's Day. The hotel served full-course Irish cuisine with green beer. Customers in the hotel on St. Patrick's Day had a good time entertaining themselves with such games as hand-wrestling contest and drinking draft beer from the tap. Winners of these contests were awarded with such gifts as coupons for hotel restaurant food.St. Patrick's Day was a festival for not only 200 Irish people living in Seoul but also for other foreigners as well. This year, a good number of local Korean people also participated in the festival. A series of Irish cultural events offered both local and foreign nationals good opportunities to learn and experience Irish culture.St. Patrick(385~461) is "the originator of the Catholic in Ireland." He was born in 385 of noble origin, but he was caught by Ireland invaders and sold as a slave. He escaped after six years and spent the rest of his life spreading the Catholic faith all over the country after receiving a divine revelation.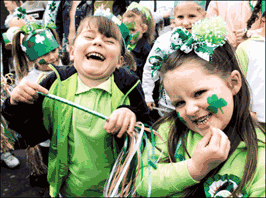 He had many churches built, baptized and preached the gospel to Ireland which was not a Catholic land. Therefore, St. Patrick's Day (the day of his death) became one of the most important and biggest festival days in Ireland, and people still celebrate it. On St. Patrick's Day, people have a party with their friends wearing green clothes which is like clover, the symbol of Ireland. And they give four-leaf clover to their girl(boy) friends as a present, so this special day is regarded as another proposal day followed by Valentine's Day(February 14th) and White Day(March 14th). Now, St. Patrick's Day is not the only Irish festival. Big events are held every March 17th, in over 30 countries including America, Japan, Korea, and, of course, Ireland.In New York, they have a "St. Patrick's Parade." It is the oldest non-governmental event in this area, and over 150,000 people enjoy this popular festival. People who participate in this parade wear green clothes, and they play a trick on others who don't . Many people kiss "the Blarney Stone," They believe that any one who kisses this stone has good luck.