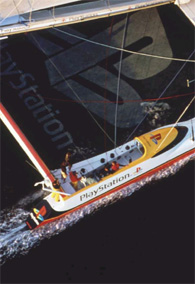 Isle d'Ouessant, France, April 6, 2004 — 58 days nine hours 32 minutes 45 seconds after taking the start on February 7, 2004, American skipper Steve Fossett and his international crew of 12 aboard the 125' maxi-catamaran Cheyenne crossed the official WSSRC start-finish line here at Le Stiff lighthouse on the French island of Ouessant (Ushant).They have just demolished the two-year old "Round The World Sailing" record by almost six days (an improvement of five days 23 hours four minutes 39 seconds). Their time topples the May, 2002 mark of Bruno Peyron and Orange I and fulfills Fossett's decade-old ambition to achieve "the most important record in sailing.""The past 24 hours were slow at first, but improving winds became very strong by the time we crossed the line with two reefs and staysail it was very dramatic we had our hands full — around this island the tides were whirling," said Steve Fossett from Cheyenne via satellite phone at the finish line. "Everyone is just so happy we are all emotionally drained. It's quite a celebration. Everybody on this crew is absolutely delighted; this is a satisfying moment for all of us."When asked if he ever thought he would not make it Steve said "When we started out I thought the chance was 50/50 that we would get around. Then I wondered that the boat might not be fast enough."The official WSSRC course calls for an eastbound passage from Ouessant, leaving the three great capes — Cape of Good Hope (S. Africa), Cape Leeuwin (SW Australia) and Cape Horn (Chile) — to Port, returning up the Atlantic to Ouessant. The past eight weeks have seen Fossett and Cheyenne cover over 25,000 miles along this course at a blistering pace, through every sort of weather, accompanied by a fistful of new RTW segment records.We averted numerous potential technical disasters including a separated forestay, shorted out instrumentation, broken mast track and just this week a disintegrating forward beam connection at the starboard hull. But all resolved in a series of astonishing "running repairs" by Cheyenne's brilliant crew.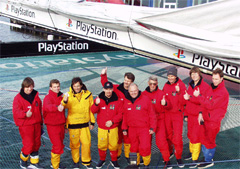 Cheyenne's RTW crew members are: Steve Fossett (skipper) USA, Adrienne Cahalan (navigator) AUS, David Scully (watch captain) USA, Brian Thompson (watch captain) GB, Jacques Vincent (watch captain) FRA, Guillermo Altadill ESP, Mike Beasley NZL, Fraser Brown NZL, Mark Featherstone GB, Damian Foxall IRE, Nick Leggatt ZA, Justin Slattery IRE, and Paul Van Dyke USA.The following RTW segment records have been set: Ushant — Leeuwin, 25 days 14 hours eight minutes; Ushant — Cape Horn, 39 days 16 hours 15 minutes; Ushant — 2nd Equator, 50 days three hours two minutes; Indian Ocean crossing — nine days 20 hours 29 minutes; Cape Horn — Equator, 10 days six hours 47 minutes; Equator — Ushant, eight days six hours 30 minutes.All of Steve Fossett's record-setting adventures and challenges are supported by Michelob ULTRA, the new low-carbohydrate premium beer from Anheuser-Busch. Supporting Cheyenne and crew on the RTW record attempt are NOBELTEC Admiral electronic charting solutions and MUSTO Performance clothing.
David Scully's final report
This is, I hope, the last communication you will receive from me at sea. The micro-depression has released us, and we are again on course for Le Stiff lighthouse with an ETA sometime Monday afternoon. So ... have I answered your questions? I think we covered the usual ones.What do you eat? Where do you sleep? Do you anchor for the night? What about going to the head? The only outstanding questions are: would you do it again, and why do it in the first place?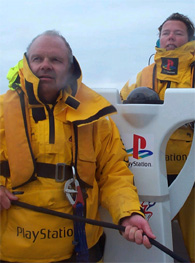 Steve Fossett and Dawn Riley on Playstation for the record breaking sail from Miami to New York. Courtesy Seascoutcup
To answer the first question first, yes, I would. This is my second successful circumnavigation, out of three attempts. The first was as a competitor in the BOC Singlehanded Race. The second was as part of "The Race," which we were forced to abandon. I would do it again because the greatest luxury in life is to concentrate on one thing, and that, here on our little platform, we have been able to do.I would do it again because it is a privilege to experience our planet from this point of view, and to be a part of the great physical scheme that makes our world work. I would do it again because I love the action and the energy of sailing in the deep south. Why do it? For the record? The record is a worthy goal, but beyond that has no real significance compared to the achievement of the goal. The late Dale Earnhardt, of stock car racing fame, once said something about the real miracle of car racing is not the car performance, but finding 20 guys who you can trust to drive, bumper to bumper, around a track together at 200 mph.Breaking the record is an incidental consequence of the teamwork it took to achieve it. When we launched Cheyenne, then PlayStation, naval architect Robert Perry described her as possibly the most dangerous boat ever built. Having sailed her for four years and countless record attempts, I would not dispute his point of view.Twelve guys and a girl have succeeded in getting her around the planet in a time a few hours in excess of her calculated theoretical potential of 58 days. The skill, resourcefulness, and determination of all the crew came together to achieve the goal. I am proud to have been a part of that, and that is a good reason to do it.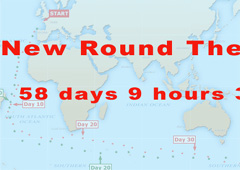 When we were battering across the Indian Ocean, I had a real feeling of what it might have been like to be on a Clipper ship, halyards padlocked to the cleats in an all consuming lust for performance. We are the clipper captains of the modern era, testing technology against nature, dancing on the edge of the precipice dividing seamanship and stupidity.Another reason to do it is to be able to share it with you sailing enthusiasts, who, I hope, have been entertained, and, in some cases, inspired by our adventure. Judging by some of the mail we have received, there are those who have enjoyed a vicarious thrill via these pages. Thank you for your readership and support. I leave you with a good line for returning adventurers, from T.S. Eliot's "Four Quartets."
"At the end of all our wanderings, we return to the place of our very beginning, and see it, as if for the first time."
Day 58 — April 5, 2004 9:43 a.m.
What a long night last night was! We've been a little delayed by light winds as a high-pressure ridge formed over us yesterday. For six to eight hours this reduced our speeds to five to 10 kts, but we punched through it and we're back on track now chewing up the miles, 22 to 28 kts boat speed, wind of 20 kts from the southwest, pointing directly at Ouessant with 114 miles to go. Five hours more at this pace! Determination evident on everyone's face! No one wants to spend another night out here!A half an hour ago. A very loud bang stunned everyone and our silent sail came crashing down! The Halyard broke! 15 minutes we we're back up to speed using our gennaker 2:1 halyard at 3/4 hoist which is doing the job nicely.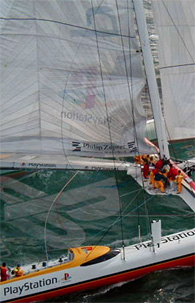 Once across the finish line we'll change our course and head for Plymouth — this will probably take us an estimated five to six hours to complete the 120 mile — hopefully relaxing, no drama, easy going delivery to our final destination! I have suggested that we crank the gear on and fly a hull maxed out all the way home! I didn't get much support though! I think everyone has had quite enough!
Justin Slattery
Day 58
Not 18,000 miles, not 1,800 miles, just 180 miles to go ... The coast of France is coming up fast on the charts. We keep having to change scale as we approach, exposing more and more detail of the coastline. It's a perfect morning, the sun has just come up and we are making 20 knots towards the finish line at Ushant. We expect to finish this afternoon.Yesterday was one of our slower days, just under 300 miles sailed, as we had to pass through a high-pressure ridge that was blocking our way. This caused us 15 hours of sailing under 10 knots of speed. It was always going to be slow, and at least we kept moving all the time, and on course. We spent a lot of time with our Code 0 sail on the bowsprit, our lightest sail.Now the wind is about 15 knots and forecast to increase to 20 to 25 by this evening. If all goes well we should reach Plymouth between sunset and midnight. The moon will be bright so I am looking forward to seeing the rolling hills of Devon and Cornwall painted in silver, as we enter Plymouth Sound tonight.It is a little hard to believe that the trip is almost over and that this routine of life on board, is about to end. If we do finish today then we will have set a fantastic time, one that we could not have expected at the beginning of the voyage. We have had our slow days, and our equipment problems, some of them very serious, but then we have had huge doses of good luck to counterbalance that.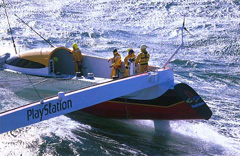 Most of the sailing has been great, and the experience of sailing in the Southern Ocean was priceless. I have learnt an incredible amount on the trip, about sailing and life in general. I have also made a lot of good friends on board, and heard from many old friends, who have written to me through my website. Thank you so much for all the messages.Our last watch of the record is coming up, the last one for Steve, Damian, Nick and myself to spend standing in the cockpit, working, talking and looking out over the ocean at the waves, the clouds and the stars. Tomorrow morning at dawn there will be no more trimming, helming, changing sails, getting cold, hot, wet or sun baked. I will be waking up in a warm bed and looking out over Sutton Harbour, the seagulls calling and the sound of traffic humming by on the tarmac.It will be interesting to see how it feels to be back on dry land after 58 days at sea. Normally the only really strange experience is being a passenger in a car; the speed, the silence and the smoothness is very bizarre. When the car goes over 30 miles an hour you can find yourself reaching out for the mainsheet traveler, ready to ease, but you can't find it.There will be lots of great things to look forward to. Family, friends, the smell of land, fresh food. On the other hand after so long in such a clean, quiet environment outside the boat, anyway, there are some things I do not look forward to; pollution, crowds, traffic, the news.Either way it's all rushing up fast, soon it will be 18 miles to go, then 1.8 miles, and then we will be done ... Will write when we finish.
Brian
End Day 58 — 202 miles to go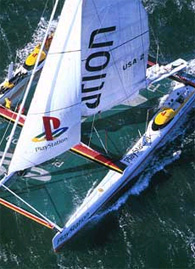 "Micro depression" Sunday delays Cheyenne drive to line by several hours 294 miles run over past 24 hours (12.25 kts avg). Latest estimate to cross finish line 1500 GMT Monday — (approximately 58 days 10 hours) Arrival home in Plymouth late Monday evening.Monday April 5, 2004 — 0510 GMT — 208 miles W/SW of l'Isle d'Ouessant, France: An unexpected "micro-depression" Sunday afternoon through early Monday morning slowed skipper Steve Fossett and the crew of Cheyenne on their drive for the finish line for several hours, but by 0510 GMT this morning as they ended their 58th day on the "Round The World Sailing" record attempt they were back up to over 21 kts boat speed, with a fresh westerly wind blowing from the West.Yesterday's 294 mile total (12.25 kts avg speed) has left them 208 miles from their starting point — a N-S line drawn from Le Stiff lighthouse on the island of Ouessant (Ushant) and the Cornish landmark known as "The Lizard." Estimated time across the line at Ouessant is now 1500 GMT — or approximately 58 days, 10 hours from their February 7 start.Ken Campbell of Commanders Weather Corp advised this morning: "They are out of the last sticky spot. I estimate they will finish around 1500 GMT — they should accelerate from here to the finish." Arrival at home base in Plymouth Yacht Haven marina will be late evening (Monday April 5).
Day 56 —Damian Foxall — 590 Miles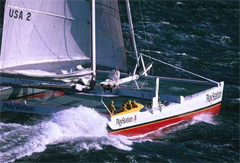 Home waters, we pass between the Azores and Canaries, and are now back in European waters. Despite trying to slow her down the boat still insists on doing 27 kts all day under 1 Reef & Staysail. We are heading straight at the barn door. With the wind forecast to lift and lighten, will be gybing of Finisterre tomorrow and a gentle crossing of the Biscay for our last days run ... at least that's the plan.
Day 57 — 497 Miles — 40N 17W
Downwind along the Portuguese coast, full sail. We put in our final gybe 50 miles off Finisterre and are heading North to the finish.Often at the end of a long race or crossing one feels conflicting sentiments of being glad to get to port, whilst also realizing that a good trip has come to an end. It has been a great trip, but I think we are all ready to blast across the finish line, we can finally say that we deserve it.
Damian
Micro-depression still slows Cheyenne through Sunday evening
Finish expected Monday 1200 — 1800 GMT at Ouessant; Plymouth later that night 320 miles SW of Ouessant, FranceSunday 4 April 2004 — 2010 GMT — Plymouth UK (arrival update): Having traveled only 25 miles in the past three hours, Cheyenne Skipper Steve Fossett has confirmed that they are still hobbled by the localized micro-depression — with relief not expected before 0300 GMT — and crossing the finish line at Isle d'Ouessant in France is now expected for between 1200 and 1800 GMT Monday.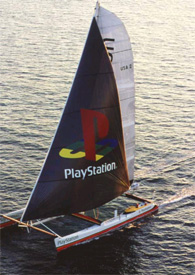 At 1854 GMT Steve Fossett reported: "We now have enough information to estimate a finish time. It should be between 12z and 18z Monday. We are moving on course at nine knots. Improvement in wind speed is not expected until 03z." Plans are still to press onwards to Plymouth Yacht Haven marina, Plymouth, UK after crossing the line. Stay tuned for additional updates as soon as we have more information.
Micro Depression
Dave Scully's report on today's micro-depression delaying line crossing a bit ... "In sailing as in life, one minute you are sailing along at good speed, on course with all sails drawing, and then, all of a sudden, tout d'un coup, completely unexpectedly and without warning, the wind drops, the fog rolls in, the sails flap, and you are headed 90 degrees. "What's up?" you ask, "I have an weather forecasts, ETA's, people to see, plans and hotel reservations. What the hell is going on?" The answer is ... you have sailed into a Micro depression.And that where we are right now, readers, slapping through a minor weather phenomena, too small to spot in the synopsis, but big enough to bring us to a dead halt. I believe that these micro depressions probably form on concentrations of plans and ideas of what one will do when one finishes. The rising hot air generated by the discussion of these ideas sucks up cold surface air, disrupting gradient wind flow, creating dense fog, and dampening expectations.They are generally brief in duration, but may interact with larger scale circulation to create progressively later and later arrival times. For more information, look up "Temporal and Spatial Ambiguities Triggered by the Approaching Finish of Long Distance Sailing Events," by the same author.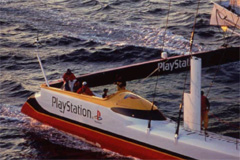 Meanwhile, Neptune is chuckling in his undersea command center, watching the little green boat on his PC screen and saying, "You didn't really expect me to let you just reach across the line, did you? Not without at least one more wander through sail inventory?"356 nautical miles to go. At this rate, we will finish in three or four days. Sic subito transit gloria Cheyennis. See you for Easter, and any Lenten pledges to abstain from alcohol will be well fulfilled.Actually, this band may be only 30 to 50 miles wide, so it will serve more to frustrate the media than to deter us from our objective. We are counting down the final watches. The best food from the reserve store will be broken out tonight, and we may even tap the dregs of the gas bottle for a hot brew tonight. Time to go and hold the wheel in the fog."
Brian Thompson writes on Sunday — 1 day to go
"We sailed another night on our global voyage without incident, and so only one more night to go before we should finish. We are almost abeam of Cape Finisterre now, and so we have to cross the Bay of Biscay, and sail 480 miles, before we can call this mission completed. Winds are looking lightish, but our forecasters are confident we can finish sometime late Monday morning.Even if delayed it should be daylight when we arrive in Ushant, which is great, as we will have spent 58 days at sea to return to this little rocky island, and to see it as we finally pass by, will make the finish all the more memorable.Yesterday we had another great days sailing, and put almost 500 miles behind our transoms. The day started off a little squally but soon settled into sunshine and steady winds. These winds slowly went behind us, so by the afternoon we had set our big downwind sails. We kept the big gennaker up all night, and just at dawn we gybed on to port, heading north. It's been nearly 10 days on starboard tack, since well before the equator, and not far north of Rio.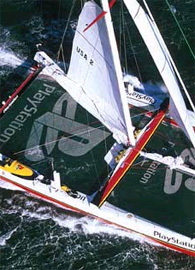 We will be finishing in the typical westerly winds of the North Atlantic for the last 12 hours. Most boats in the past have had to go around the Azores High, then spend the last several days in the Westerlies, and consequently sailed a longer route. We have been very lucky, with a low pressure temporarily replacing the Azores High and letting us sail a more direct course up to the east of it.We still have to go through a transition area today, from the Southerlies we have been getting, to the Westerlies, and this will cause the light airs. Already the wind is down to 13 knots, and it should drop more until later in the afternoon, when it should then start to pick up again and increase close to 20 knots by the end of the night.All is good on board; all the various repairs we have made, seem to be holding in there, touch wood. Dave's eye is much better, he can go on deck without his Terminator style, single lens sunglasses, and his vision in the eye is rapidly getting back to normal. Nick's scar is healing up much better than you would expect if you first saw the cut, and I am standing in for his mother, making sure he puts sun block on it every day.We saw several turtles swimming their way around the Atlantic yesterday. They were about a meter long, and light brown in color. They did not have time to do their usual duck dive down, before we had flashed past them. Also saw dolphins twice, they were leaping above the waves to get a glimpse of us, as we dived for our cameras or just enjoyed the show.
Brian
For detailed maps, images, bios, stories by the crew, plus all position data and media support information including access to video and hi res photos visit
Steve Fossett's official homepage
.