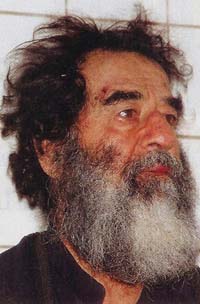 Deposed Saddam Hussein:
the former Iraqi President. This file photo was taken after the former Iraqi leader was captured by the US soldiers. He was beaten by them.
Like a mortal, Iraqi former president Saddam Hussein became a name only for the pages of history books. The first ray of sun at the day break on December 30 brought a message for Saddam & made him a name of the past. On the day at 6 AM, according to local time, he was hanged in North Baghdad under tight security. The Iraqi court convicted him for his crime against humanity. American President George Bush must have felt a sigh of relief on his death & his father George Bush 1st will have felt pleased on hearing this news. Whether the American public favoured this decision or not was proved in the last days mid term elections held in America. Undoubtedly the Bush administration wanted to know the opinion of the public regarding it &, that is why, only two days before a midterm poll in America, a so said Iraqi court decided to award Saddam the death sentence. The chief religious office of the Christians in Vatican criticised the death sentence to Saddam and felt great sorrow. In a statement issued from Vatican it was said that life must be made for natural death & hanging is not a natural death. Undoubtedly, Saddam is an accuse of carnage but it is wrong to retaliate a crime with another crime. The European Union has also requested to not to hang Saddam. Italian Prime Minister Rozane Prodi was also not in favour of death sentence to Saddam. And at the same time, he said that his aim was not to give a lower estimate of the so said crimes. Many countries of the world including India gave such statements about the death sentence of Saddam that there should be an effort to save Saddam from death sentence. But as the world has been witnessing since a century, something happened. Just according to the plan & the will of the American administration, Saddam had to go under the gallows. No doubt the life of Saddam Hussein always has been full of struggle & controversies. As a person, Saddam was stubborn, obstinate & dictatorial nature. He always thought of ruling all the Arabs. This desire of his compelled him to take such steps because of which the Iraqi public had to face war, destruction, massacre & casteism. Undoubtedly, hanging of Saddam too, is a result of his these wrong steps. During his reign, lakhs of Iraqi people died because of wars & massacres. Saddam & his two sons Uday & Kushay treated Iraq as their heredity & people of Iraq just like their pet animals.There was a new Islamic Revolution, in Iran, in 1980. This new Islamic Revolution under the leadership of Ayatollah Khomeini uprooted the American influenced ruler of Iran, Ahmed Raza Shah Pehalwi at that time. Saddam sent his soldiers on the border of western Iran to weaken the influence of that Islamic Revolution. As a result of it, there was a war between Iran & Iraq & it continued for eight years. Lakhs of people from both the countries lost their lives in this war. After a constant struggle of eight years, the peace was restored. As a result of this war Iraqi economy was badly shattered. To cope with these circumstances, Iraq raised the price of crude oil. The western countries didn't like this step of Iraq. In the meantime Kuwait too lessened the oil prices. Saddam couldn't bear it. Saddam, who told Kuwait as the part of Iraq, sent his forces & attacked Kuwait in August 1990. The duration of war was from 2nd August 1990 to 28th feb1991. This was the period of American President George Bush 1st. In January 1991 Bush 1st sent American forces in Kuwait & those forces uprooted the base of Iraqi soldiers & thousands of Iraqi soldiers were made war prisoners. Many thousands of Iraqi soldiers died in the war. These estimates ranged as high as 100,000 Iraqi troops killed and 300,000 wounded. Hundreds of oil wells were set on fire in Iraq & Kuwait & as a result of it both the countries had to face a huge damage to their oil resources & their economy.Saddam's dictatorial behaviour was not only with the neighbouring countries of Iraq but the people of Iraq too had to face his unjust & arrogant behaviour. He was not willing to hear any word against him or his actions. Those who spoke against him were considered hypocrites & were sentenced to death. Hundreds of alleged massacres during Saddam's regime were only because of alleged revolution against Saddam. Even he got his two son-in-laws killed because he doubted his loyalty. Saddam got his opponents killed many times, by chemical weapons attacks on their colonies & thus thousands of innocent persons were killed too. Because of these issues, even at present, many cases are lying pending against Saddam. All these cases were left pending & Saddam was convicted of carnage of 148 persons in Dujail & all these were of Shia sect. Why was it so? It needs attention. The execution of Saddam is a grave challenge & a test especially before the Muslim world. America, very well knew it that Iraq which is passing through a phase of civil war, the execution of Saddam would add fuel to the burning fire. It will increase the intensity of the struggle going between Shia-Sunni sects thus increasing the hatred between them. This Shia-Sunni struggle will spread in the Muslim world. The rulers that govern with the principle- 'Divide & Rule' can do better at such occasions. In such circumstances, after hanging Saddam Iraq will had to face serious troubles & it will be a challenge & an awaited chance for America that is responsible for smooth administration in Iraq. In fact, America is always in a wait to kill two birds with a stone in countries like Iraq which is a source of crude oil production. This will make America successful in his aims.If the Muslim world & Iraqi people don't understand this far sighted manoeuvre of America then Iraq is sure to fall prey of civil war in future. It is also possible that on the pretext of this class struggle America may divide Iraq in three parts. All this will give America an excuse to sent more American soldiers in Iraq, just on the pretext of controlling law & order situation. In all these works, then nobody can stop the American control over the oil production of Iraq.The American public is strongly opposing the step of their government to send soldiers in Iraq. The American economy is also badly affected by it. By now America has spent $ 35, 43, 600, 00,000. In spite of all these, America will not like its soldiers to come back defeat. To save the situation America would spend more money & send more troops. America will try its best to dig a deep ditch between the Shia & the Sunni sects, so that the Arab unity is weakened. If the Muslim world is watchful in time then the advancing steps of America- Divide & Rule, would be stopped otherwise it is only step of America.