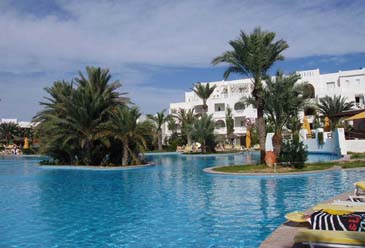 Djerba, Island located on southeastern coast of Tunisia
Tunisia, which is ranked as the most competitive country in Africa and the Arab world and 30th in the world, offers an attractive investment site for Korean Investors looking to expand their business presence in our region, Tunisian Ambassador to Korea Moncef Baati said .In a new year interview with the Seoul Times, he noted that Tunisia is an ideal crossroads for investors seeking access to European, African and Middle Eastern market thanks to its geo-strategic location in the heart of the Mediterranean Sea.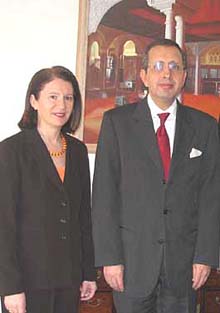 "Besides this geographical proximity, Tunisia offers free market access to the major neighbouring markets," he said stressing that establishing partnership between Tunisia and South Korea in terms of attracting Korean Investment to Tunisia is one of the top priorities of his embassy in Seoul. The association agreement with the European Union signed in 1995 provides for the free access to Tunisian industrial products to the European market.Tunisia has also signed a number of free trade agreements with Arab and African countries, he explained.Tunisia and South Korea will celebrate in 2009 the 40th Anniversary of the establishment of their Diplomatic relations. In deed, Tunisia was one of the first Countries from African region to establish diplomatic ties with South Korea.Political, economic, scientific, cultural and academic cooperation between the two countries witnessed since the 60's, a significant development with the signing of numerous agreements. Dialogue over the international issues of common interest does exist in regular basis between the two countries."While Tunisia and South Korea have over the past decades set up the guidelines for fruitful bilateral cooperation that resulted in remarkable achievements, I believe strongly that it is time for the two countries to enlarge the scope of their bilateral cooperation in the light of the large potentialities of partnership that can be developed in fields like IT, sciences, trade, tourism and culture," he said.In particular, Tunisian envoy underscored the need for increase of two-way tourist traffic to promote the bilateral relations for better understanding of each other."With more than six millions and five hundreds thousands tourists annually visiting the country, Tunisia is the first tourist destination southern of the Mediterranean," he said.Located at the core of the Mediterranean Sea, with 1,300 km of coastline, the country offers to its visitors a great deal of diversity: a Mediterranean climate in the north, an arid tendency to the south where it becomes a Saharian type. Hence, the highly contrasted landscape: forests in the north, steppes in the centre, and desert and oases in the south, he explained.He went on to say that over the last few years, Tunisia developed other segments of tourism activities including namely:Medical tourism, which is already the principal magnet for many tourists. With 25 Thalassotherapy centers - medical treatment with seawater, today Tunisia is amongst the top world destinations for this cure."Sport tourism, with nearly twenty modern courses along the country, golf tourism is another potential niche which attracts a wealthy clientele from all over the world. Recently a unique golf course located in the deepest desert has been inaugurated. Travelers can also enjoy several kinds of sport activities including sailing, windsurfing, water-skiing, horseback riding," he said suggesting more Korean tourists to visit Tunisia.Cultural tourism, Tunisia, a crossroads of various civilizations, boasts a rich cultural heritage, as testified by its prestigious museums and cultural institutions.Eco-tourism, from north to south, many national parks and natural protectorates have become privileged observation sites to protect species reproduction and several plants, including some rare ones, he added.Tunisia is practically among the few countries in the world which can offer its visitors the impressive Saharian desert within easy reach. The vast Tunisian south with its lush oases and sweeping Saharan landscapes is increasingly becoming a favoured shooting location for international film productions, according to the Tunisian envoy."A promotional action is being undertaken to develop this promising market. Japanese tourist market can be mentioned as a successful example. In fact, starting to discover Tunisia, just a few years ago, as a new tourist destination, Japanese tourists visiting the country scored ten thousands in 2005," he disclosed.From this perspective and taking into account the fact that Korea, which scores millions of tourists visiting the world every year, is certainly one of the most promising Asian markets, one of the pivotal Embassy's actions is to promote Tunisia as a new tourist destination for Koreans, he maintained."To this regard, our embassy has started since 2005 a serious and comprehensive promotional plan targeting the main tourist operators in Korea going from Tour Operators to Tourist Media. After one year and a half, this undergoing action has come out with encouraging results," he explained adding that Koreans like Americans and most European tourists do not require visas to enter Tunisia.