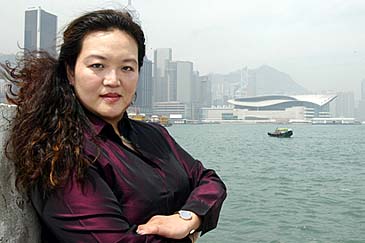 Yang Liu, managing director of Atlantis Investment Management
London — Atlantis Investment Management ('Atlantis') believes that 2006 has just been the start of another boom cycle in Chinese markets that will continue through 2007 and 2008.Atlantis says that even though Chinese stocks have made tremendous gains since the summer, the market is well supported by impressive fundamentals which should ensure the bull run continues throughout this year and in to the next.
Yang Liu, Managing Director of Atlantis Investment Management (Hong Kong) and Fund adviser to the Atlantis China Fund and Atlantis China Fortune Fund, commented:
"The gains in the last 4 months have been phenomenal but we do not believe the market is overvalued as it is supported by impressive corporate earnings and a stronger Renminbi (Rmb). In fact, we believe the fundamental force driving continued appetite for stocks is the anticipation of further Rmb appreciation and given we expect 5-7% annual appreciation for 2007 and 2008 this appetite should continue.
"2006 will be the fifth year that China has recorded spectacular growth, with GDP expected to rise more than 10%. We were not surprised to see the H share index pass the 10,000 point mark in December."
The Atlantis China Fund returned 98.1% in 2006 and the Atlantis China Fortune Fund 73.3%.
However, Yang Liu believes that a sharper than expected slowdown in the US could have a big impact on China's export growth, which in turn may result in Chinese economic growth underperforming its potential. Therefore, both the Atlantis funds are positioned to be defensive against a US cycle downturn and resilient to China's upturn cycle.Yang Liu added: "Chinese consumer demand is continuing to grow and has offset renewed concerns of a slowdown in the US economy. This private consumption is a lot stronger than many people believe and will become an increasingly important investment theme in China. October's retail sales showed the strongest growth in nine months, rising 14.3% year on year, and all three key drivers of consumption – rising wages, positive wealth effect and better access to consumer credit – have strengthened in recent months."Looking back at 2006 Yang Liu, added:
"The IPO of the Industrial and Commercial Bank of China in October should be viewed as a milestone in the development of the Chinese economy. The top five Chinese commercial banks have now all listed in Hong Kong and have become a brand new sector to invest in as a proxy for Chinese economic growth. This has had a huge effect on those investors who until now have had a 'wait and see attitude' towards the market."
About Atlantis China Fund and Atlantis China Fortune Fund.
Atlantis has two China focused funds, both advised by Yang Liu, who has a long track record in Chinese equity investment. Based in Hong Kong, Yang is assisted by four dedicated analysts in Hong Kong and mainland China and manages over US$1,600m of assets.
The Atlantis China Fortune Fund was launched in July 2005 and has recorded a return of 113.2%* since launch. It is an absolute return focused Equity Fund that seeks to preserve capital through the use of cash and index futures where appropriate, but does not short individual stocks. The Fund size is now US$359m*.
The Atlantis China Fund was launched in March 2003 and has recorded a return of 319%* since inception. The Fund currently has assets of US$374m*.
Both funds are focused portfolios and managed in accordance with the Atlantis investment philosophy of bottom up stock selection driven by fundamentals with a reliance on primary research.
* Figures as at 31st December 2006
For further information, please contact:
Ben Curson/Matt Battersby
020 7786 4870/4869
Penrose Financial
James Alexander
020 7826 9677
Marketing Director
Atlantis Investment Management
About Atlantis Investment Management
Atlantis Investment Management is a 100% owner managed, independent specialist in Asian Equity Investment Management, including Japan, with over US$3.7bn under management and offices in London, Hong Kong, Seoul, Mumbai and Tokyo.
It has a distinct investment style, favouring a bottom up fundamental approach, targeting undervalued growth companies with a mid to small cap bias. For all the managers, company visits and primary research are the key source of stock ideas. Each fund manager may limit maximum assets under management in order not to compromise performance.
Atlantis Investment Management Limited ("AIML") is authorised & regulated by the United Kingdom Financial Services Authority (the "FSA"). AIML is entirely independent and has no ownership ties with any other financial institution or marketing group. Investment in offshore funds is open to institutional and other sophisticated investors and is not available to the general public in the UK. AIML does not manage money for private clients; it provides instead a bespoke segregated account service for institutional sized accounts. Investors can access AIML's expertise through a UCITS fund established in Dublin and an Investment Trust listed on London Stock Exchange. Eligible investors may also do so through the Atlantis range of unregulated offshore funds.