Bantayan Island, Cebu, the Philippines
Following success of sustained promotional campaigns and vigorous marketing scheme, Philippines' oldest city — Cebu — reclaims its reputation as one of the nation's top tourism resource drawing the largest slice of local and international tourists in 2006.The island is now officially the most sought-after destination in the entire archipelago cornering about 80 percent of foreign visitors and two-thirds of domestic visitors, the Philippine Department of Tourism (DOT) confirmed.Lured by white sandy beaches, expansive diving spots, world-class amenities— complemented by rich history and colorful traditions, Cebu drew a total of 1.3 million guests during the last 10 months of 2006, up 19 percent over the same period earlier, latest statistics released by the DOT shows.Koreans, meanwhile, have solidified their footing as the most visible guests in the Island Paradise. They dominate foreign arrival figures of 141, 693 during the same period.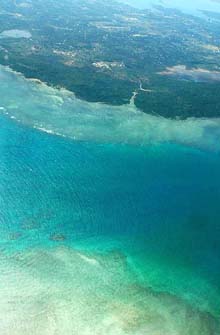 Aerial view of seas from Cebu to Puerto Princesa
DOT Secretary Joseph Durano, who consistently brings delegates to the annual Road Show in Seoul, Busan, and other major cities in Korea, anticipates that Koreans will continue to arrive in the bustling island, as well as other destinations in the archipelago of 1,700 islands ...Bohol Province in the Visayan Region, east of Cebu, has been drawn on the world map as top diving spot as well. The province ranked second in the number of tourist arrivals with over 182,000, followed by the provinces of Negros Oriental (over 129,000 tourists), and Siquijor (over 9,000 tourists).
Cebu is also set to transform itself as an investment and a business convention capital of the nation. The recent ASEAN Summit it hosted on Jan. 10- 15 is an indication that the city is firm in its resolve towards this direction ...Local government invested $151 million in building the Cebu International Convention Center (CICC) on a 3.8 hectares in Mandaue City reclamation area.The CICC is one of the venues of the 12th ASEAN Summit, which gathers together the heads of states of the 10-member ASEAN and its six dialog partners, including China, Japan, India, Australia, South Korea, and New Zealand. Local government expects to bring in P1.2 billion in economic benefits in the form of infrastructure and tourism related events for hosting the summit.