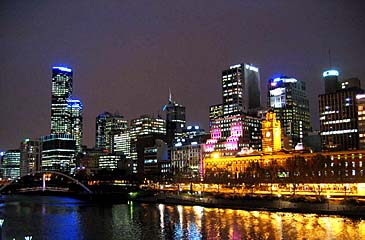 Nightly view of city skyline, Melbourne, Victoria, Australia
Australia has beaten other destinations to be visited this year when it topped the latest survey conducted among honeymooners by the latest poll.According to the poll, Australia has been voted as the favorite country married and to- be wedded couples want to visit this year for their honeymoon ahead of other traditional honeymoon spots in Southeast Asia and elsewhere.Tourism Australia conducted a special survey in coordination with one of the leading travel journals in Korea on behaviors of Korean newly weds for the year 2007 as well as those who got married between 2005 and 2006 as to their favorite honeymoon destinations overseas. Joining the survey, which took place in December 2006 included 478 married and 1,197 would-be married couples in 2007. The following is gist of the survey.
Of 1,197 respondents who are about to get married this year, 99 percent of them said they will spend honeymoon tours overseas. Naming their choice, Australia emerged as top destination (31%), followed by Maldives (17%) and Guam (8%), respectively.Australia took the first place as favored honeymoon destination in the second and third choice groups while New Zealand took the second spot in the second and third choice groups.(Chart 1)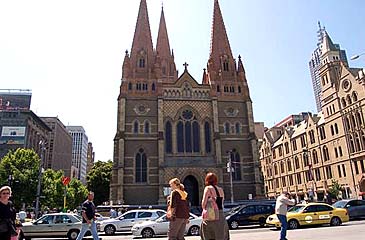 A scene of Melbourne
Most newly weds shared the same views in selection of the honeymoon destination, except for Maldives which was favored more by brides than bridegrooms. Of the total respondents, bridegrooms who voted Maldives as their first choice took 13 percent while the comparable ratio for females stood at 21 percent.For Australia, comparable ratios for bridegrooms and brides stood at 33% and 29% respectively, indicating that bridegrooms were having a stronger say in selecting trips to Downunder.
As to major factors behind the selection of destination, 22 percent of respondents cited internet web sites and cafes as No. 1 information source providing them with practical travel-related information as well as feedbacks of married couples.Coming next were advices and experiences from friends and close acquaintances (19 %), web pages of major travel agents (15%), and travel pages of online newspapers (14 %) in that order.When asked on the major factor in their selection of final destination, more than 33 percent of respondents said internet travel-related cafes had most influenced their choices. (Chart 3).There were slight differences between male and female respondents as to impact of internet cafes on their final decision on honeymoon destinations, however.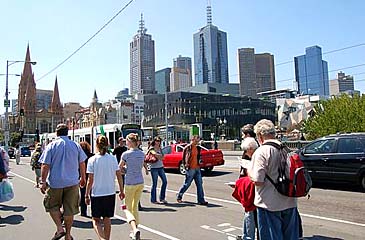 Melbourne CBD
About 35 percent of male respondents agreed that their decisions on selection of honeymoon destination was largely influenced by internet cafes, but 33 percent of their opposite sex respondents cited "comments and suggestions made by their friends and acquaintances" as decisive factors in deciding on final destinations.
5 to 7 days of honeymoon travel favored
As to desirable duration of honeymoon trip, most of respondents said five to seven days are desirable. When asked to go into details, 28 % of respondents picked up seven days as most desirable duration of honeymoon trip followed by five days (27%) and six days (19 %). At present, most of work places in the country practice five work days a week with up to nine days of vacation for their employees.When asked to mention about honeymoon trip budget in mind, 25 % of respondents said they set aside 2 million won to 2,490,000 won for the trip whereas 17 % of respondents put the budget figure at 1.5 million won to 1.9 million won followed by 2.5 million won to 2.99 million won (16 %) and 3 million won to 3.49 million won (16 %). This indicates that 49 percent of respondents belong to the group whose honeymoon trip budget range between 2.5 million won and higher.The upward trend of honeymoon trip expenses appears to have been caused by the ongoing trend for long-haul honeymoon trips favored by newly weds nowadays.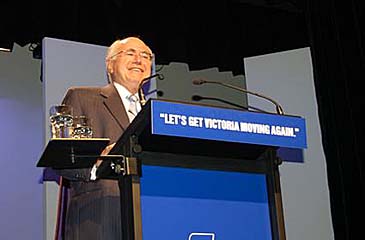 Prime Minister John Howard
Honeymoon trips
Of 478 respondents who got married between 2005 and 2006, 35 % of them said what they favored most as honeymoon destinations are ones which are not easily come. Honeymoon trip is once-in-a-lifetime event for most of the people and the destination should be far from Korea with unique and romantic features, 27 percent of respondents maintained.This compares with 26 % of respondents who simply listened to recommendations made by their friends and followed their advices in selection of honeymoon destinations.As to the first choice of overseas honeymoon destination candidate which they want to recommend to friends, 26 % picked up Australia, followed by Maldives (21 %) and Guam (6 %).
Australia was also selected by 21 % of respondents as the second choice of desirable honeymoon destination followed by Maldives (10 %) and Thailand (8%).
Taking into account the general tendency of would-be newly weds who depend heavily on advice of closer married friends in selection of honeymoon destinations, it is crucial for overseas destinations to improve their branding image through better service for Korean honeymooners on a long term basis in view of the fact that there would be sustainable correlation between married and to be married in selection of honeymoon destinations, a market watcher said.As to most favored activities while on honeymoon tour, 24 % of married respondents replied "rest" as the No. 1 consideration followed by having funs with venturesome activities (22 %) as compared to the married couples (13 %) who favored rest as the primary concern. In fact, most of married respondents joining this poll turned out to have traveled to Thailand.
Married couples depend on web sites for info
There was a striking difference between married and to-be married respondents as to main information source of honeymoon travel they depend on.In the course of selection of travel destinations, 20 percent of married respondents said they refer to web sites to travel agents and internet cafes for information about travel itinerary and budgets. This is a strong sign that web sites of travel agents inclusive of web site of Tourism Australia are having an impact in bringing potential travellers closer to making their dream of an Australian holiday a reality.
The survey also showed that Australia tends to remind Koreans of kangaroo and koala, among others.In particular, of those who are yet to visit Australia, 43.9 percent of respondents said kangaroo and koala always hit their mind when they come across name of Australia whereas 35.5 percent of respondents, who have been to Australia, showed the same reaction.Of those who have been to Australia, 90 percent of respondents expressed satisfaction with their trips with half of them saying "very much."Noteworthy was that 50 percent of them expressed willingness to visit Australia again within one year or so showing their "loyalty" to Australia as tourist destination. As to reasons why they choose Australia to visit, natural resources (38.6%) and varied tourism attractions (32.3 %) were cited by would-be newly weds.In the meantime, of 360 persons who did not want to visit Australia, 46.1 % of respondents said expensive travel cost as a main reason why they don't like to make trip to Australia followed by long distance (25.8 %).